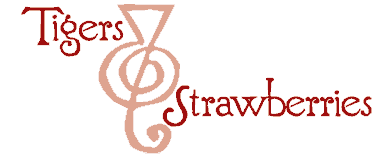 Cook Local, Eat Global
At long last, Tigers & Strawberries is completely transferred over from Blogger — at least all the text is. Everything had transferred over safely except for the posts & comments from January through March. No matter what I did, Blogger refused to give them up.
Tonight, that changed.
Every single old T&S post is now in place. Barbara still has to categorize the posts I just successfully transferred, and I still have to update the older photos so they appear, but the hard & frustrating part is now over. Thank you all for your patience.
I know Barbara has lost a lot of folks as a result of the move, but, hopefully, that will turn around quickly. If you know of anyone who's lost T&S, please show them in! And if they haven't heard of the blog, well…you know what to do. 😉 (Barbara's terrible at tooting her own horn. I'm good at tooting her horn. Erm. I mean. Uh. Nevermind.)
Now I will go away, hopefully never to be seen posting again, and I gratefully return you to your regularly scheduled food porn.
Posted by Zak on December 12, 2005 in Admin | Comments Off

on A brief (and hopefully final) non-food related post
No Comments yet
RSS feed for comments on this post.
Sorry, the comment form is closed at this time.
Powered by WordPress. Graphics by Zak Kramer.
Design update by Daniel Trout.
Entries and comments feeds.