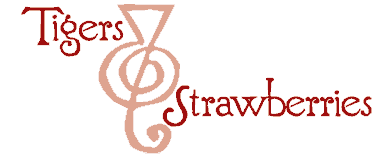 Cook Local, Eat Global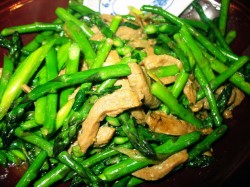 There are few flavors more evocative of spring than asparagus, lamb, green garilc and mint. And, as it so happens, they are also extremely local flavors as well; all over the farmer's market on Saturday, there were bundles of asparagus, ranging from thumb-thick spears to dainties thinner than a pencil. Lamb, too, is a traditional spring food enjoyed all over the world, and I had some tiny lamb flank steaks in my freezer from Bluescreek Farms Meats wiating for something special to happen with them. Green garlic tempted from several booths at the market as well; I bought enough of it to last a week. (The farmer quipped to me, "You got vampires?" "Nope," I answered, "just a bunch of garlic-loving eaters.")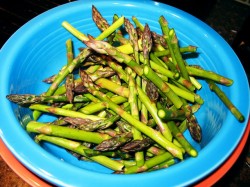 And nothing, but nothing is more local than the mint that is springing up all over my perennial bed. We inherited it from the house's former owners, so I have no real idea what variety of mint it is, though from the color of its leaves and stem, and the shape of it, I think it is probably chocolate mint. Some think it was named for a chocolatey flavor, which is something I cannot personally discern; I think it was named for the dark reddish brown of the stems and the veins in the leaves.
Whatever kind of mint it is, there is a lot of it, and it is very strongly flavored. A little of it goes a long way.
What to make with this abundance of springtime joy? What sort of dish could utilize all of these happy flavors in a cohesive fashion?
I immediately latched onto the idea of a stir fry for several reasons. For one thing, lamb flank steaks are perfect when they are sliced across the grain and stir fried, and it just so happens to be my favorite method of preparing that particular cut of meat. Besides, stir frying asparagus is also a very fine way to showcase a flavor that is to me, the epitome of spring.
So, a stir fry it was to be, but in what context? Green garlic obviously will do well in a stir fry, but mint?
It was the mint that got me to thinking.
I had read about Chinese food in India on Meena's blog, Hooked on Heat a while back, and the thought that I should attempt some sort of Indo-Chinese fusion had been simmering in my head ever since then.
"Why not," I thought to myself, "do an Indian-Chinese fusion stir fry?"
Fusion cuisine can be either some of the best food in the world when it is done well and with care, or a nasty, messy glop when executed poorly. In my opinion, there is seldom any comfortable middle ground.
In my opinion, the best fusion foods are those that arise naturally from the interaction between two or more food cultures. This intaction often comes about because of immigration, but it can also come about through trade in foodstuffs.
India and China have a long history of cultural interaction between the two countries, both directly, through immigration and indirectly, through trade and trade routes. Both countries have long culinary histories, with very diverse regional differences in cooking style and flavors. And, as Meena pointed out in her post–there already exists in India, an Indo-Chinese fusion that came about when Chinese restauranteurs did what they always do in whatever country they settle: cook their foods to reflect the foods of their new homeland, and the tastes of their customers.
My general personal guidelines that I use in determining whether or not I will attempt a culinary fusion between cultures is to look at the two cusines and pick out commonalities. If there are enough commonalities between them, then a fertile and flavorful fusion is more likely to be successful.
In the case of Indian and Chinese food, and in the ingredients I had chosen, there are a great deal of commonalities.
Lamb is one of the most commonly eaten meats in India; it is also popular in some parts of China, noteably the northern and western provinces.
Garlic of any sort is popular in both cuisines.
Mint is extremely popularly used in Indian foods; while it is not common in Chinese foods, there is still a tradition of using fresh herbs, noteably cilantro, in garnishing stir-fried dishes.
Finally, while asparagus is not generally considered either a Chinese or Indian vegetable, I have cooked it in the contexts of both cuisines to excellent effect in the past.
So–a fusion it was to be.
What other ingredients would I add as I performed an alchemical marriage between Indian and Chinese cookery?
Ginger is an obvious ingredient; it, like garlic, is extremely prevalant in both culinary traditions.
What spices should I use? Black or white pepper would be the perfect answer–they are common to both cultures–but, since I have discovered I am allergic to peppercorns, I saw no reason to use them. Cardamom popped into my head first; its flowery scent would go well with the verdant snap of the asparagus and it always tames the gamy richness of lamb. Coriander, which is used sometimes in red-cooked dishes, and is, of course, the seed of the cilantro plant, is another good idea. It also pairs well with cardamom, because its lemony flavor blends seamlessly with the floral qualities of cardamom. My third and final spice was a tiny bit of fennel seed. It has a similar aroma and flavor to star anise, which is favored in Chinese cookery, and when used sparingly, heightens the effect of any other slightly sweet spices that are used with it.
I decided on premium light soy sauce, and after sniffing my ground masala mixture of cardamom, coriander and fennel in tandem with it, Shao Hsing wine. The sweetness of the spices brought out the nuttiness of the rice wine perfectly, while the soy sauce would add depth, umami and a salty richness to the entire dish without being overpowering.
I have to admit to being somewhat nervous when I served the dish to Zak and Morganna, since it was very much an experiment.
However, my fears were groundless. Once they smelled the dish and then tasted it, there was no dissent: it was a very good marriage between fresh, locally available foodstuffs, and two distant cultures.
My fnal proof that they liked the dish: there were no leftovers in evidence. Every scrap of it was eaten.
So, I want to thank Meena for giving me the inspiration for trying such a fusion, by naming the dish for her.
Meena's Stir Fried Asparagus and Lamb
Ingredients:
3/4 pound lamb flank steaks, trimmed of silverskin and excess fat, and sliced thinly across the grain
1 tablespoon premium light soy sauce
1 tablespoon Shao Hsing wine or dry sherry
2 tablespoons cornstarch
1 teaspoon coriander seed, 1/8 teaspoon cardamom seeds and a pinch of fennel seeds, ground together and divided
3-4 tablespoons peanut oil
4 stalks green garlic, white and light green parts sliced on the diagonal 1/4″ thick, green tops sliced on the diagonal 1″ long, separated
1 1″ cube fresh ginger, cut into thin slices about 1″ long and 1/4″ wide
1 tablespoon Shao Hsing wine
1 tablespoon premium light soy sauce
1 pound very thin asparagus spears, trimmed and cut into 2 1/2″ lengths
2 tablespoons chicken broth
handful of fresh mint leaves, roughly chopped
Method:
Mix together the lamb, the first quantities of soy sauce and wine, and 1/3 of the spice pixture with the cornstarch and toss until well coated. Marinate at least for twenty minutes, but no more than an hour.
Set aside the rest of the spice mixture.
Heat wok until it smokes, add oil and heat until it shimmers. Add garlic and ginger and another third of the spice mixture and stir fry for about one minute, or until very fragrant.
Add lamb, reserving any liquid marinade in the bowl. Spread into a single layer on the bottom of the wok and allow lamb to brown on the bottom–about one and a half minutes. Stir fry with the aromatics until the cornstarch marinade browns on the sides and bottom of the wok. Add second quantities of soy sauce and wine, and deglaze the cornstarch, stirring the meat in well.
Add the asparagus, stir frying all the while, until it begins to deepen in color.
Add two tablespoons of chicken broth, and stir fry until sauce clings to the meat and asparagus. Sprinkle the reserved green garlic tops and mint leaves over, stir to wilt and combine, and sprinkle a pinch or two of the last third of spice mixture over the dish, stirring once more to combine.
Scrape into a heated platter and serve immediately with the steamed rice of your choice.

Note: This dish is my entry for Kevin of Seriously Good's "Asparagus Aspirations" blog event. If you are into asparagus, go check out the great lists of recipes for the noble harbinger of spring that participants from all over the world have sent in so far.
15 Comments
RSS feed for comments on this post.
Sorry, the comment form is closed at this time.
Powered by WordPress. Graphics by Zak Kramer.
Design update by Daniel Trout.
Entries and comments feeds.