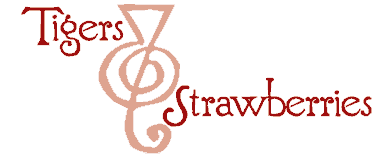 Cook Local, Eat Global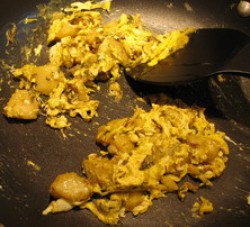 I love juxtaposing words with opposite connotations.
Breakfast is one of the most beloved meals in any culture. Everybody loves breakfast, and waxes poetic about it. Folks declare the staples of breakfast–regardless of culture–to be the ultimates in comfort food.
Leftovers, on the other hand, get a bum rap from most people.
Fed one too many "mystery casseroles" by harried Moms that contained flotsam and jetsam from prior meals, many people have developed an attitude against leftovers of any sort. In the US, leftovers are a bit of a national joke; food writer Calvin Trillin once said, "The most remarkable thing about my mother is that for thirty years she served the family nothing but leftovers. The original meal has never been found."
Not me. I love leftovers.
Oh, now, don't get me wrong. I have had some wretched concatenations of leftover bits and canned pieces in my life that were only barely edible, but in general, I have to say that I love leftovers, and I have a good time eating them.
I like them so much, that I have been known to make too much of a dish, just in order to eat it warmed over in a day or two.
Lentil soup, or dal, or really, any sort of dried bean dish, whether soupy or dry, are always better after they have sat about in the fridge overnight or longer, letting the flavors all get friendly and develop. The broth of soupy beans thickens and becomes rich, refried beans just get tastier and tastier over time, and the spices in dal create a marriage so tight you can no longer pick out individual flavors.
In fact, I am of the opinion that Indian foods, in particular, are almost universally better the next day. This is why whenever I make Indian food, I always make extras, so I can enjoy them, either simply heated up, or transformed into another dish, the next day.
Witness what I had for breakfast this morning: an egg and potato hash made with about three tablespoons of leftover Aloo Methi. Aloo methi is a curry made of par-boiled potatoes cut up and fried with browned onions, garlic, chiles, ginger, spices and fenugreek greens. They are deliciously fragrant, and are so full of flavor that it is hard to believe that they started out as simple boiled potatoes. I adore them, and had made them to take to a neighborhood potluck on Saturday. Most of the little bit that was left I ate heated up in the microwave, but there were about three tablespoons of it left that I could neither throw away, nor give to the dogs to eat.
So, this morning, waking up in a fit of ravenous hunger that is characteristic of the second trimester of pregnancy (this is the time when the baby grows the most quickly–and most women can tell it, because their appetite goes into overdrive), I tottered downstairs, and ducking my head into the fridge, I spied the tiny mound of aloo methi sealed up in their wee plastic container.
There was not enough to satiate my hunger, but I was not deterred.
My Grandma, a frugal farmwife who had to make substantial breakfasts every morning, would sometimes take leftover fried potatoes, and reheat them in a pan with bacon grease. Sometimes she added flakes of leftover ham, and then, she would stir up a passel of fresh eggs, and dump them into the pan, scrambling them among the potatoes and ham. This made a one-dish breakfast she called "Egg and Potato Hash," which I loved. She varied it, of course. Sometimes, she added sauteed onions and green peppers, and sometimes cheese or crumbled sausage. But always, the base of the dish was nothing more than cold, leftover fried potatoes from the night or so before, and farm-fresh, pastured eggs, thier yolks a rich yellow from extra beta carotene from the grass and clover the chickens ate.
"Hash" as a word, comes to the English language from the French "hacher," meaning to chop, and so refers to a dish that is composed of bits and pieces of different foods. In American parlance, it usually refers to a sort of fried potato dish, wherein the potatoes are combined with bits of meat or other vegetables and all are cooked together in the same pan. Canned corned beef, one of my nightmare foods of childhood, often appeared in hash on my mother's table, but leftover ham made a nice dish. Sometimes cabbage was fried in the mixture, which I did not approve of, which is not surprising, as I only liked cabbage raw.
Generally, hash is looked down upon as a low-quality dish made of poor ingredients, but I think that is not necessarily so. My Grandma's breakfast hashes were all quite tasty, and made a nice filling start to day filled with physical labor. Stick-to-the-ribs breakfasts are necessary on a farm where the morning's activities were endless and varied. One could be called upon to herd cattle, feed and water chickens, dig postholes, mend fences, plant potatoes, or build bean trellises. All of these activities require a good amount of energy, and if one is a skinny kid, a hearty breakfast allows one to do a great deal of work before noon without passing out.
Gestation is also hard work, though I admit, it is nowhere nearly as taxing as posthole digging. But, it does require a filling breakfast if one is to make it until noon without tearing into a snack of cat or husband.
In the interest of not consuming either a beloved cat or an innocent husband, I dragged out my very own carton of local pastured eggs, and cracked two in a bowl, and stirred them up, then heated up the skillet with a dab of butter in it. (Bacon grease I had, but I thought that it would inject a rather odd note into the proceeding, as it is not often used in Indian cookery, if it is used at all.)
The potatoes went in, and I stirred, chopped and lightly mashed them into the pan, cutting them down to smaller pieces so they would brown a bit and heat faster. Smaller potato bits also incorporate better into the eggs.
This I did on medium heat, and once the potatoes were sizzling and steamy hot, I gathered them into a pile and poured the eggs over them, immediately stirring them like mad. Most of the time I scramble my eggs on low heat, so that they are all delicate and custardy-soft, but with potatoes in the midst, I wanted them to be cooked faster, and a bit harder.
The eggs solidified rapidly, melding their saffron-colored yolks to the turmeric-tinged potatoes perfectly. All told, I think the dish took about five minutes to cook, and as I turned it out into a bowl, the incomparable scent of fenugreek, ginger and onions mingled with the deep eggy richness to create a tantalizing aroma that had my mouth watering instantly.
It was a perfect breakfast.
Filling, fast, and for the most part, from local ingredients. The only non-locally sourced ingredients were the spices, the ginger and the dried methi leaves. The potatoes, onions, garlic, chiles, eggs and fresh fenugreek greens, were all locally grown and produced.
It tasted divine, it stopped the hunger-beast from twisting my mood into utter despair, and it was pretty darned healthy, too.
You can't beat that.
I have always loved Indian breads. Naan, pooris, chapati, roti and paratha are all great favorites of mine, but I think that my best-beloved is bhatura. This is probably because the first time I had it was at Akbar in Colubia, Maryland, where we were surprised by a basket of it by one of the waiters. We were eating channa masala, one of our favorite dishes, and out of the blue, we looked up to see a basket of steaming hot bread that we had not ordered set before us.
The waiter smiled broadly and said, "Surprise–compliments of the chef." He lifted the enfolding napkin that cradled the bread, revealing golden, fragrant, puffy rounds of fried yeast dough. "Bhatura. We call them bhatura," he said. "In the north, where our chef is from, these go with the channa masala. Everywhere, there are roadside stands, little restaurants on the corner, and vendors with carts, selling only channa masala and bhatura. Everywhere. We eat them for breakfast, for lunch, for tea–even a midnight snack." He watched us tear open the bread, the yeast-scented steam warming our faces. "You can dip it, or you can put the channa inside–like a pocket. It is good."
I scooped up some chickpeas with mine and took a bite. He wasn't kidding. It was good.
Satisfied to see our eyes roll back in our heads, and to hear our appreciative noises, he nodded and went away to procure more chai, leaving us to our new obsession: bhatura.
Zak said, "You must learn to make this. It isn't even on the menu. We may never eat it again if you don't learn how."
So, instead of learning something simple (and lower in fat) like chapati or roti first–I learned bhatura.
It isn't so hard as all of that.
The dough is similar to some versions of naan. In fact, I think that the chef at Akbar used naan dough to make his. I originally used a naan recipe for the dough, until I got an actual bhatura recipe from Lord Krishna's Cuisine by Yamuna Devi. I have, of course, changed it a bit over the years to make it more to our liking. For example, I have often started it the night before and let it rise slowly in the refrigerator instead of letting it rise quickly as Devi's instructions specify. I have found that this develops a more complex and interesting flavor. (I have also cooked one half of a batch of bhatura, and left the rest in the refrigerator for a day or two until I am ready for another meal with fried bread. Then, I simply take the dough balls from the fridge, pat them down into thin rounds, let them warm to room temperature, heat the oil and fry them. The flavor is even better after it has been left to continue fermenting in the refrigerator for several days.)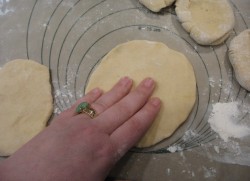 I also ended up using kamut flour instead of semolina–I liked the flavor and the softer texture better. (Kamut is an ancient Egyptian form of wheat which has a higher percentage of protein than modern wheat and boasts a sweeter flavor.) Instead of ghee, I generally use butter, and I always use full fat yogurt, with the cream stirred in. The addition of these small amounts of fat yield a softer, tenderer dough which fries up crisp on the outside and airy and puffy on the inside.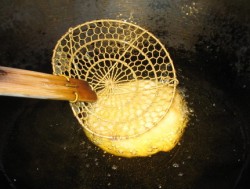 I use only peanut or canola oil to fry the bread, and I use my wok for the operation, since one can use less oil and still deep fry in a wok. I pour about 3/4″ to 1″ of oil in, and heat it up on medium high heat. It is important to get the oil perfectly hot before you fry your bhatura–otherwise the bread will soak up oil and be heavy and greasy, which is utterly uappealing. No one wants oil-sodden bread.
I also discovered that in order to inflate bhatura and have them make pockets that you can stuff with channa masala, you can tap the dough with the back of your skimmer or strainer–this will cause large bubbles to form. (This is how it works with pooris, too.) Otherwise, the bhatura themselves will only make smaller bubbles if left alone. (Which way you like them is your own personal choice. They are good both ways, but I like them inflated so I can fill them with channa masala, or as you will see later, scrambled eggs.)
Once the bhatura is brown on both sides, you just take it from the oil, let it drain on paper towels, and if you want to keep it warm, cover them with another towel and pop them in an oven warmed to about 170 degrees. That's it.
Now, what are they good with besides channa masala?
Well, I like them with any dal and raita, really. I discovered this week that they are good with scrambled eggs: I had four eggs in the house and a handful of discs of bhatura dough, and was hungry. So, I took the dough out to warm up, and heated up the warming oven to 170. When they were at room temperature, I flattened them out into five inch diameter discs, heated the oil and fried them, then popped them into the oven. I heated a little butter until it was foamy, tossed in some mustard seeds, beat the eggs with a tiny bit of milk and some garam masala, and waited for the mustard seeds to pop. Once they popped, I poured the eggs into the pan and cooked them, then ate them with the bhatura, and discovered that they were quite delicious.
If only I had some cilantro to toss into the eggs at the last and a bit of raita! But, I was fresh out of yogurt, so it was eggs and bread for breakfast that day. (And, since the theme of "From My Rasoi" this month is "breakfast," I guess this is my entry. Check out Meena's Hooked on Heat for more details.)
Bhatura
Ingredients:
½ ounce fresh yeast
1 teaspoon sugar
½ cup lukewarm water
1 ¾ cups all purpose flour
½ cup kamut
½ teaspoon salt
1 tablespoon ghee or butter
2 tablespoons plain yogurt
oil for deep frying
Method:
Mix the yeast with the sugar and water in a measuring cup and allow to proof.
Place flour, semolina and salt in large bowl, and mix together. Using hands, rub in ghee or butter.
When the yeast mixture is foamy, add to flours along with yogurt and mix to form a dough. Turn out onto a lightly floured surface and knead until smooth and elastic: about ten minutes.
Place in a lightly oiled bowl, cover with either a damp towel or lightly oiled plastic wrap and allow to rise in a warm place until doubled in bulk: about one hour.
Turn out onto a lightly floured surface and punch dough down. Divide into 10 equal pieces by rolling into a rope and cutting it 9 times. Shape each piece into a ball, and flatten into discs with the palm of your hand. With a floured rolling pin, roll into 5 inch rounds. (Or, you can do as I did in the picture above and pat it into a circle with your fingertips, or between your palms.)
Pour oil to depth of about 3/4 inch in a wok or karahi. Bring to temperature: test with a bamboo chopstick. (When hot enough, lots of bubbles will form on edges of chopstick when you put it into oil.) Gently slide bread, one piece at a time, into oil, frying for about one minute: turning after thirty seconds.
Drain on paper towels and serve while warm with channa masala and raita. (Or, scrambled eggs!)
Most people get cake to celebrate a birthday.
Not Zak.
He wanted waffles and bacon.
And, because I am a good wife, that is what I got up early this morning and made for himself, his Dad and Grandpa.
Oh, and I had some, too. (And I made fried apples, because I insist that everyone eat a fruit or a vegetable of some sort at every meal.)
Yes, I recycled this photograph from an earlier post about waffles, but that is because, while I used a new and improved waffle recipe, the breakfasts looked entirely the same.
They just tasted vastly different.
I found the ultimate waffle recipe–that is, if you don't want to make yeast-raised waffles, which is an entirely different animal than what most of us think of as waffles.
So, here is a link to the article and recipe that I used, though I changed the flavorings a bit (I used double strength vanilla extract and added the scrapings of vanilla bean and a pinch of cardamom–surprise, surprise).
It was originally printed in Fine Cooking Magazine, which is my favorite cooking magazine and is the only one to which I subscribe. Pam Anderson, (not Pamela Anderson–I doubt she cooks much) the genius who came up with this recipe, has never failed me–her recipes always work as advertised. She uses cornstarch in order to help crisp up the waffles, and does the intelligent thing of using the sugar to stabilize the eggwhite foam which also helps make the waffles light and fluffy.
Since the article and recipe (you have to click on the "next" at the bottom of the article to get to the recipe) are beautifully illustrated, I decided to just cook this morning and not bother with detailed photographs.
It was all done pre-coffee, after all.
So–if you have a waffle iron, copy this recipe and enjoy–and write back to let me know how it went.
I am going off with the birthday boy to enjoy the rest of our day.
More on Zak's birthday pie, later.

The ingredients for a mostly local, fresh Sunday breakfast.
As many of you know, I tend to emphasize eating a lot of fresh, locally produced foods. Not only are you getting something that tastes amazingly better than what you get at the grocery store, you are usually getting more nutritious food and you are helping to protect the environment and boosting the local economy as well. In addition, you can feel good about helping out a local farmer as well.
Last week, a fellow blogger named Jen from Life Begins at Thirty, began chronicling everything she ate in a day, noting where and how the food items were all produced in an effort to see how much her food intake matched her philosophy of eating local food. The results were interesting to follow, and as was her intention, it made me think about how differently Zak and I have been eating in recent years and how radically moving to Athens has changed our eating habits.
Witness the breakfast I cooked for Zak and I yesterday: the bacon, eggs, bread and strawberries were all locally produced and harvested. The spices, milk and coffee were not, and neither was the maple syrup, though I bought it a year ago when we were on vacation, directly from the man who had collected the sap and boiled it down.
The bacon came from Harmony Hollow Farms out on Terrell Road in Athens County, where Rich and Jane Blazier raise Duroc pigs in a free range set up. Allowing hogs to forage for their food not only makes for happier, healthier pigs, it makes for sweeter, firmer meat. The bacon itself was firm and meaty, and due to its careful hardwood smoking and curing, was not overly salty and was full of the sweet pork flavor accented with just the right amount of smokiness.
The strawberries came from a stand by the side of the road off in a parking lot of a gas station. Two young women sell them from a farm beside the Hocking River in Beverly, Ohio. These are raised conventionally, and some pesticides are used, but I'd rather have delicious local non-organic berries and wash them than awful organic berries from California that taste as good as cotton balls in my mouth. Besides, as the price of oil increases (and it will, and there is not a thing anyone can do about it), the cost of shipping those disgusting berries from one end of the country to the other will make them unreachably expensive in the next decade. Why pay more for something that isn't even good in the first place?
The cinnamon currant bread (made with organic whole wheat) came from a cooperatively owned and run bakery here in Athens called Crumb's Bakery. This co-op was started by a group of idealistic young folks more than a decade ago, and has become a local not only a feature in grocery stores locally, but has begun shipping products as far away as Columbus, Ohio. In addition to whole grain breads, Crumbs makes granola, pizzas, pasta, including tofu-based pasta, and crackers.
And finally, the eggs. Normally, I buy eggs at the farmer's market from any one of a number of folks who sell chicken or duck eggs. But these eggs are special. I didn't buy them–they were given to me by our friend Bryian who came driving up on his motorcycle with two dozen of them stashed carefully in his backpack. And how he came by them is a story in and of itself.
Bry runs a computer servicing company, and in addition to doing work for his paying clients, he donates time to various non-profit organizations. While he was working for the local AIDs Task Force, one of the folks there pointed out a huge bunch of eggs that had been donated the day before by an elderly woman who had brought them from her farm in Morgan County. They asked Bry to take some of the eggs with him, as there were more than they could use. He tried to refuse, but they pressed four dozen on him, and so, knowing that he couldn't use all of them, he passed some along to me.
So, we have been eating a lot of eggs in the form of scrambled eggs and omelets, but mostly as french toast, or as it is called in French, "pain perdu"–"lost bread." French toast is one of those dishes that is essentially frugal in nature, being as it is a method to use up bread that is too stale to eat alone. It is akin to bread pudding, another necessity born dish meant to make the best of an ingredient that is no longer fresh; both of these dishes take something essentially non-palatable and instead of just making it edible, raise it to the level of the sublime. I like dishes that do that–take scraps of nothing and turn it into something better than it was before. (Sausage is another example of taking oddments of something barely palatable like meat scraps and intestines, and making it taste better than can generally be imagined.)
Crumb's currant bread is perfect for french toast because it tends to be somewhat dry in the first place, owing to the presence of only whole wheat flour, and because it is lightly sweet. It is also of a firm enough texture to stand being soaked in the egg mixture without becoming soggy or falling apart as many spongier breads will. The currants themselves are a nice touch–sweeter and softer than raisins, and tiny so they stay in place when the bread is sliced.
French Toast is also easily made, so much so that I feel silly giving you a recipe, but here is one, anyway. It is rather sketchy, as I don't measure anything when I make it, so I am estimating amounts here.

French toast with strawberries and bacon.
French Toast
Ingredients:
3 eggs, at room temperature
1/4 cup milk
1 teaspoon vanilla extract
1/8 teaspoon ground cardamom
1 tablespoon raw sugar or evaporated cane juice (optional)
dash cinnamon
6 slices stale bread
butter or canola cooking spray
Method:
Beat together eggs, milk, extract, spices and sugar until well combined. Heat oil or butter in pan over medium heat. Lay bread slices, one at a time in egg batter, and allow to soak very briefly, about thirty seconds total, turning once.
Fry, turning once, until bread is golden brown and fragrant. Serve with maple syrup and fresh fruit.
Notes:
Use a firm textured bread to make french toast–many store bought brands are too spongey and will fall apart when you try and soak the bread in the batter.
You can simulate stale bread by leaving how ever many slices you need out overnight.
You can hold french toast in a warm (170 degrees) oven for fifteen minutes or so while you finish cooking up enough for everyone. You can do the same thing with bacon, by the way. That is the secret to cooking breakfast for a crowd–a hot oven.
Fried apples are great with french toast in the fall. Fresh peaches are great in the summer, but not as good as strawberries.
The only gap I have found in the Athens food pyramid is a lack of local dairy products. I, personally, want to see if I can start producing goat cheese, but I need to look into the state laws governing dairies here in Ohio to see if it is worth my time attempting it. I know that they are extremely strict; I know of several folks at the farmer's market who have herds of dairy goats but who cannot sell the milk because of these health codes. So, I will have to do some research and see what I can come up with myself, as I would very much like to start making local cheeses, as I see a market for them and I know how it is done.
Until then, I will continue my quest to eat locally, and I urge everyone to try and do the same. Not only is it good for the earth and your neighbors–it is good for you.
Eggplant is one of my favorite vegetables of all time.
Even though, when I was growing up, it only appeared on my Grandma or Mom's tables fried with marinara sauce (and there's nothing wrong with that, mind you), fairly early on in life I was introduced to moussaka and baba ganoush through Mom's Greek friends, Pete and Sylvia, and my Aunt Nancy, who's half Syrian, and loved all sorts of eggplant-based goodies. (Half Syrian, half Portuguese, and ALL good. I love Aunt Nancy, who lovingly broadened my food horizons from a very early age, God bless her.) My Uncle George, Mom's brother and Aunt Nancy's husband, loved Eggplant Parmesan so much that it was the only thing he ordered at Joe Fazio's when we went out to celebrate his birthday, but even so, he'd let me have a bite to try it when I was very, very small. Fried eggplant, great marinara and melted mozzarella cheese–what's not to love?
But, when I was younger, the only eggplant I knew about or ate was the Rubenesque deep violet aubergines that are commonly grown throughout the Mediterranean and Middle Eastern regions. I'd never heard of, or even seen one of the long, thin, pale violet colored Asian Eggplants that are now fairly commonly seen in farmer's markets, Asian markets and even some regular old grocery stores around the US.
They don't even really look like eggplants being that they aren't egg shaped, but are instead slender and curved, like long, stretched out teardrops. Most commonly they are either deep purple, like their plump cousins, or a pretty rosy violet color, but sometimes they are white, or striped violet and white or even a pretty mint green.
No matter what color these pretty Asian eggplants are, they have several things in common. One, when picked young, they have very few seeds. Two, they almost all lack any of the bitterness which can sometimes plague the more common chubby eggplants, and so never need to be pre-treated with salt. Three, they do share the ability to act as sponges with their larger cousins, and so are very good at taking up and holding flavorful sauces and oils.
They are used in the cuisines of China, Japan and Thailand, where their abilities to soak up flavor is used to great effect. In Japan, they are grilled with a miso marinade, in Thailand they are cooked in coconut milk-based curries, and in China, they can be either deep fried or stir fried then served in a sauce.
My personal favorite is a Sichuan dish where thin slices or slender shreds of young Asian eggplant are stir fried with minced pork and served with what is technically called, "Fish Flavored Sauce," but which is usually translated into English as "Garlic Sauce." The eggplant is soft and slippery and bathed in the darkly sweet, hot, tangy sauce, while the minced pork bits are sweet and a bit chewy. Sometimes shreds or slices of fresh water chestnut are used to add crispness and a shattering sugar flavor to the dish, but I've most often had it in restaurants with just the eggplant and pork.
Eggplants are madly in season right now–there are piles of them in all shapes, sizes and colors at the Farmer's Market these days, so I picked up a couple of the little Asian ones to add to some stir fry or another.
It wasn't until I was digging around in the vegetable drawer to find something for dinner a couple of nights later that I came up with this dish which is a twist on the traditional Sichuan Eggplant with Pork and Garlic Sauce that I love, but seldom find in restaurants. Lacking fresh water chestnuts, I came upon some beautiful green beans and decided to use those to make a crispy counterpoint to the richly soft and unctuous eggplant.
Since the green beans are long and thin, I decided to cut the eggplant into shreds to match the shape of the beans. According to Chinese culinary traditions, matching the shapes of your ingredients is a more aesthetic way to cook, and it ensures that foods cook evenly in the wok. Cutting Asian eggplants into shreds is simple–just cut the fruits into steeply diagonal 1/4″ thick slices so that you are making long ovals, then stack the slices and cut those into 1/4″ wide shreds. Voila–simplicity itself.
Instead of mincing the pork tenderloin (which is what I had), I shredded it as well–by cutting it into slices against the grain, and then cutting each slice into a 1/4″ thick shred.
When it came to cooking the dish–I put the eggplant into the wok not long after the pork so it had plenty of time to soak up the flavors of the minced scallion, garlic and ginger that is put into the wok on top of the pork. Basically, I waited until the pork was half cooked–the colors showing were equal parts brown and pink–before tossing in the eggplant, and then stir fried as normal, putting in the blanched green beans when most of the pork shows brown instead of pink. Then, in went the already blended sauce components, and within about a minute and a half, the sauce is reduced and thickened, everything is cooked through and all that is needed is a sprinkling of scallion tops to bring everything to a delicious finish.
How did it taste?
Amazing. Using green beans in a dish of eggplant and pork with garlic sauce may not be traditional, but I don't care, because it's damned good. Zak said it was one of the best things I've cooked in a long while, and he and I and Kat pretty much ate the entire platter in one sitting.
Mind you, I said almost. There was also enough left over the next morning for a nice cold topping over warmed over rice for breakfast.
And yeah, it makes a great breakfast, too.
Eggplant, Pork and Green Beans with Garlic Sauce
Ingredients:
2 tbsp. rice vinegar
2 tbsp. black rice vinegar
2 tbsp. dark soy sauce
1 tbsp. Shao Hsing wine
2 tbsp. sugar
2 tsp. chili garlic paste
1/4 tsp. sesame oil
1 teaspoon cornstarch
2 tablespoons canola or peanut oil
1/2 pound pork tenderloin, shredded as explained above, then tossed with 1 teaspoon Shao Hsing wine or sherry and 1 tablespoon cornstarch (about 2 cups after cutting)
5 large garlic cloves, minced
4 scallions, white and light green parts only, minced
1″ cube fresh ginger, minced
2 small young Asian eggplants, shredded as directed above–about 2 cups after cutting
1 1/2 cups young green beans, stringed and blanched then drained
dark green tops of the 4 scallions up above, sliced thinly on the diagonal for garnish
Method:
Stir together the first eight ingredients–from the vinegar to the cornstarch–in a small cup or bowl until well combined. Set aside.
Heat wok over a burner on high until a thin ribbon of smoke spirals up from the steel or iron surface. Pour in the canola or peanut oil and heat for another 30-60 seconds, until the oil shimmers and moves lightly over the surface of the wok.
Add the pork in one layer and allow to sit on the surface of the wok, undisturbed, for a minute, or until the meat browns well on the bottom side. As soon as the pork is settled into the wok and arranged so it can brown, sprinkle the minced scallion, garlic and ginger evenly over the meat, then sprinkle the eggplant evenly over that.
Once the meat is well browned on the bottom, stir and fry until most of the meat is brown with only a little bit of pink showing. Some of the aromatic bits will likely stick to the wok, but don't worry over that much. Add the green beans and stir fry for about ten seconds, then pour in the sauce ingredients, and cook, stirring and scraping until the sauce boils and thickens and everything is fragrant and cooked through.
Stir in the scallion tops, and remove from heat. Scrape into a heated platter and serve immediately with steamed rice.
Powered by WordPress. Graphics by Zak Kramer.
Design update by Daniel Trout.
Entries and comments feeds.