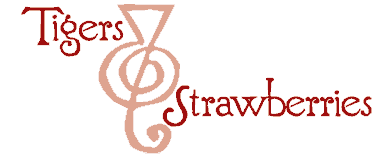 Cook Local, Eat Global
Last Saturday was the first official CSA box from Athens Hills CSA/Green Edge Gardens, and Becky, the farmer/proprietress/all-around-awesome lady packed us a box filled with absolute treasures. Baby beets, some late asparagus, fresh shiitake mushrooms, gorgeous chard (and so sweet, too), fresh flat leaf parsley, baby carrots and the sweetest minature baby zucchini, yellow crookneck and pattypan squashes you can imagine.
I also happened to pick up at the farmers market some sugar snap peas, green beans, paper-thin skinned new potatoes, fresh onions, garlic, and some cherry tomatoes that were started in a passive solar greenhouse back in January that taste like summer's sweetest kiss. God, those tomatoes were heavenly!
What to do with all of that bounteous beauty?
Well, I happened to have a lemon or three in my refrigerator and some bushy basil plants ready to be cut back up on my deck, so my first thoughts were towards pasta, and one of my favorite early summer pasta dishes is pasta primavera, which is essentially a mixture of springtime vegetables and greens, in some sort of sauce dressing pasta. I wrote about it last year, and I made a similar sauce this time around, and added one locally raised free-range chicken breast for a bit of protein. When I added sauteed squash, mushrooms, snap peas, asparagus, chard, onions, garlic, blanched garlic scapes and a wedding bouquet sized bunch of basil, the flavors were out of this world. I ended up dressing two pounds of pasta, and feeding six hungry adults on a very, very small budget! It was great!
The best part of it, though, was this–Morganna's boyfriend Donny, who is, apparently a picky eater, though I would never have guesed that by the way he eats at our house, ate every one of the vegetables in the dish without complaint and liked it so much, he joined everyone else in having second helpings. Picky eater, indeed!
So what goes into pasta primavera? Well, as far as I am concerned, any spring or early summer vegetable is fair game. I didn't add beets because they would have made some weird color issues that I am not sure I would have approved of. Besides, I am saving those baby beets to be roasted and served in a salad with chevre, mixed greens and sunflower sprouts.But, just about everything else that came home with us was used. No potatoes, because I didn't want to add starch to the already starch-based pasta. That just seems rather redundant. But the mushrooms, scapes, asparagus, green beans, squash, and chard all did fine together. I did use quartered cherry tomatoes, a bit of finely grated lemon zest and Greek Columnar Basil leaves as garnish at the end, and they added a fresh zip to the whole affair.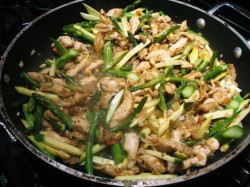 As for the sauce–I did make it essentially the way I made according to last years recipe, with a few twists and changes. I used more sherry than last year, and I used the juice of one more lemon. I left out the lemon oil, however, and the turmeric from the flour coating the chicken slivers. This led to the sauce being a pale beige in color. However, I added a huge amount of basil minced–about a cup and a half of it, that I had minced in the food processor, at the very end of cooking. This changed the color and flavor of the sauce considerably. Whereas last year's recipe was really lemony, this one was much more complex, with the sweet nuttiness of the sherry combining with the tangy lemon juice and the neutral chicken broth to make the base of the sauce, that was then made fragrant and sensual with the addition of that huge amount of basil in the end.
Oh, and I added three Thai bird chiles, cut on the bias into thin slices to the saute, to put a quiet zing in the sauce.
So–if you want to replicate this dinner, and I thiink that you should–just take the recipe from last year, and make the changes I did to the sauce, and use whatever early vegetables you like in the saute.
I have no doubt that what I made is not what could ever be called "traditional" Italian–however, I am certain that it was very flavorful, and that my family, friends and I would all have no problem making it and eating it again.
Eating this way–with the freshest produce of the seasons–retrains one's tastebuds and even one's way of seeing food.
I have found that because I was raised eating the vegetables, fruits, meat and eggs from my grandparents' farm, that I am predisposed to wanting to eat this way, but Zak grew up with the grocery store mindset, and his taste has changed a great deal since we started being strongly committed to eating the bounty of our local foodshed. Morganna, too, has become very attuned to the seasonal dance of fruits and vegetables, and with each trip to the farmer's market, she finds new treasures to be excited about. Last Saturday is was sweet and sour cherries, blueberries and raspberries. Who knows what she will cause her to dance with excitement this week?
I think that when we talk about local foods and why it is important to eat them and support local farmers, we often lose sight of the sensual aspects of eating seasonally and locally.
When we wait with joyful anticipation for the first sweet ripe tomatoes of the season, instead of settling for the plastic, flavorless imports that grace the produce department of the grocery store twelve months out of the year, we really appreciate the flavor, texture, aroma and colors of the local, real product. We become emotionally invested in our food–we become connected to it, and it stops being mere fuel, but instead becomes a physical pleasure that is undeniable in its strength.
We must not overlook the strength that the sensual pleasures of the table when it comes to bringing people together, and creating bonds of love, fellowship and friendship among people. It is fundamental to human culture to eat together, to share the bounty of food and to thus be nurtured and sustained, not only on a physical level, but also on an emotional and spiritual level.
Food stops being just something we need to keep our bodies going, and returns to being one of the strands of human culture, woven over thousands of lifetimes as we come together to share the physical gifts of the Earth.
So, when I talk about local food, I really want people to remember that eating locally isn't just a political or economic action.
It is also a sensual choice that offers as a profound opportunity to reconnect with the Earth, with our food, and with each other.
What can be more healthy, on an individual or community level, than that?

The ingredients for my lemon pasta primavera. Everything except the lemon is locally grown.
It all begins at the farmer's market Saturday morning.
The sun was bright, the air was warm and breezy, and the parking lot upon which the tents and awnings had been staked was filled with a teeming throng of shoppers, people-watchers, buskers and strollers. Kids laughed and babies squealed, grandmothers sniffed huge bouquets of flowers and fathers gave tastes of honey to their children, while mothers stood around, shading their babies from the sun, and discussing which type of cloth diaper system they favored.
Music from South American flutes trilled and soared over the waterfall of language and the galloping rhythym of calloused hands thumping the goathide skin of a djembe put a dance in the steps of young and old as the river of people ebbed and flowed through the market.
Stepping boldly into the fray, Zak and I began our weekly excursion, with no thought in our minds except procuring foodstuffs for a dinner to go with the promised Strawberry Rose ice cream that night.
First, I stopped at Canaan Valley Farms, and picked up a frozen chicken breast, and passed the time of day with the dear farmer whose chicken is so delicious.
Let me tell you about his chicken.
The meat is firm and velvety to the touch, not slimy and mushy. Even Bell and Evans organically raised free range poultry has a rubbery texture that slithers under my fingertips as I cut it up for cooking. This usually comes from the addition of water in the form of injected saline that is part of standard poultry packing these days. It plumps the meat and makes for a higher price for the buyer, who is paying for extra water, and it supposedly tenderizes the bird. What it does is it makes the meat slimy and unpalatable to the point where I usually wear latex gloves when I work with chicken.
This is not the case with the truly fresh, truly pasture fed birds that I get at the farmer's market. They are a pleasure to bone out and cut up. There is no slick residue left on my hands and touching the meat and skin doesn't make my skin crawl.
It is an honest prelude to the succulent moistness of the meat and the truly light and fresh flavor it delivers to every dish I have cooked in it. So far I have used it in Thai Spicy Basil Chicken, Chicken with Bitter Melon and now, I planned on using it in whatever I cooked for Saturday's dinner.
Moving on, I decided on making a version of Pasta Primavera with shiitake, chicken and asparagus, with a cream sauce based in lemon.
Pasta Primavera is meant to be cooked with springtime vegetables, and is a celebration of the sweet green things after a winter of dried and canned foods. I figured that since I could always get the shittake and I knew exactly where to get pencil-thin asparagus, that I could add whatever baby spring vegetables I happened to find. Tiny carrots or scallions or maybe morels, if anyone had any for sale.
I headed for Art and Peggy Gish's awning, for they are purveyors of very fine tiny asparagus that has the freshest flavor imaginable. As I sauntered up the table, I spied not only the asparagus, but quarts of freshly picked sugar snap peas! Plump lime green pods sat in little baskets, thier skins stretched tightly over the pearly peas within, they shimmered faintly in the sunlight.
Grinning like a possum at Art, I indicated the peas and asparagus. "A quart of the peas and two pounds of asparagus, please," I said. He smiled and busied himself with weighing out the produce while visions of sugar snap peas in pasta primavera danced in my head.
At my final stop, Athens Hills CSA/Green Edge Gardens, I picked up salad greens, microgreens, and a lovely bunch of basil. The snappy licorice-edged green basil scent wafted up from my bags as we headed back to the car, and drove back home.
Later that day, I began work on the pasta primavera, which went something like this:
Lemon Pasta Primavera
Ingredients:
Olive oil as needed for saute
1/2 pound pencil thin asparagus spears, bottoms trimmed and cut into 1″ lengths
1/2 pound sugar snap peas, strung and rinsed
1 small red onion, peeled, cut in half and thinly sliced
1/4 pound fresh shiitake mushrooms, stems removed, caps thinly sliced
1 1/2 chicken breasts, skinned boned and cut into thin strips about 1″ long and 1/4″ wide
1/4 cup flour
1/4 teaspoon. turmeric
salt and pepper to taste
3 small heads fresh hardneck garlic (or four fat cloves of regular softneck garlic), peeled and minced
1/4 cup sherry or dry white wine
1/4-1/2 cup chicken broth or stock
Juice of two lemons
2-3 drops lemon oil (optional)
1/2 cup heavy cream
1 1/2 pounds of pasta, cooked al dente
zest from two lemons
Handful of fresh basil leaves, cut into chiffonade
Method:
In a large saute pan, heat a small amount of olive oil. Add asparagus, snap peas and sliced purple onions, and stir fry until colors deepen and vegetables tenderize slightly. Remove from heat immediately and place in a bowl, and set aside.

Saute the vegetables very lightly for this dish. You want to retain the fresh colors, flavors and aroma of them as much as possible.

Add enough oil to pan in order to saute the mushrooms and chicken. Heat up and add mushrooms. Mix flour, turmeric and salt and pepper, then toss chicken strips in this mixture. Add to pan and stir fry until chicken begins to brown and some flour begins to stick to the bottom of the pan and brown. Add the garlic and cook until quite fragrant, stirring constantly: about two minutes.
Deglaze pan with sherry or wine. Scrape up all the browned bits. As the wine reduces and the pan becomes nearly dry again, add the broth or stock and reduce, continually stirring and scraping the browned bits at the bottom of the pan.
Add the lemon juice and lemon oil, then the cream. Reduce until it coats the back of a spoon.
Add reserved vegetables to sauce, toss with cooked pasta of your choice.
Remove from heat and garnish with lemon zest and basil.

The little bit of turmeric I use in the flour mixture used to coat the chicken pieces gives the sauce a slight yellowish tint, which conveys the visual appeal of the lemon juice and oil in the dish.

Notes:
This recipe serves a small army of people, or six to eight folks, especially if you have a nice salad to go with it and a great dessert.
This is great with penne rigante. I learned from cooking Chinese food to always match the shapes of meat and vegetables that I cut in a dish–when I cook Italian style pasta, I follow the Chinese aesthetic of putting similar sized and shaped pasta with the sauce ingredients. I think it looks prettier this way.
Lemon is not traditional in pasta primavera, as I recall. Actually, I am not sure of primavera is a traditional sauce in the first place, as Italian foods are not my speciality, but, I do know that spring vegetables are great in pasta, and I love lemon cream sauces created by reduction. So, somewhere in my mind the two fused and become a part of my standard springtime pasta feasts.
The lemon oil that I use is pure lemon oil made by Boyajian. It is not necessary, but it really pumps up the lemon flavor a great deal. It is made of the essential oil that is present in the lemon zest.

Baby artichokes might be nice in this. Rapini might also be good. Fresh, shelled garden peas are nice, but I like the sugar snaps even better. Fennel might taste nice.
Chive flowers would be an outstanding garnish. However, I don't have any chives to use for this purpose.
Nasturtium blossoms look nice in this dish, too.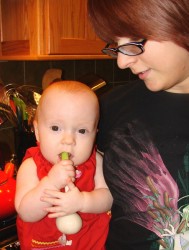 When I actually get to sit down and read the papers these days (I don't know why I call them "the papers–" "the electrons" is probably a more apt description of what I am reading on my laptop screen), I have been finding articles of interest which I mean to post here, and then I forget.
Such is the life of a mother, I suppose.
But today, today, I found goodies, and by gum, I am sharing. (Besides, I can type without having my eyes swim around in circles. Colds suck.)
More on Picky Eaters
I was amazed at the response I got to my Friday post on the topic of picky eating among kids and the finding that much of this propensity has to do with genetics. The number and thoughtfulness of reader responses led me to believe that this is a topic which is in the front of many people's minds, parents and non-parents alike.
So, I started reading up on recent news items relating to kids who are picky eaters.
First up, did you know that Jerry Seinfeld's wife, Jessica Seinfeld, has a new book out on how she deals with their three kids, picky eaters all? Well, she does, and she has been all over the television talk shows promoting Deceptively Delicious: Simple Secrets to Get Your Kids Eating Good Food, which is probably why I was blissfully ignorant of this bit of pop-culture preaching. (I don't watch broadcast TV. Or, cable TV for that matter.)(Yes, I am weird.) Anyway, the premise behind the book, which has been presented previously by Missy Chase Laprine in her book, The Sneaky Chef, which came out this April, is simple: you teach picky kids to eat healthily by sneaking steamed pureed vegetables into the baked and fried foods they love. You know, like you put spinach puree into brownies. Or squash puree into "macaroni and cheese." (Euww…ick..pthew!)
Okay, I probably shouldn't knock her recipes without trying them first. But, I still have questions about her methods. First of all, if you pre-steam a bunch of vegetables, then puree them and throw them in the fridge for a week before adding them to another dish which is going to be cooked a second time, exactly what nutrients are going to be left from those vegetables? Vitamins and phytochemicals are notoriously heat-sensitive, so I cannot imagine that cooking vegetables twice is going to be a particularly good way to get those vitamins and phytochemicals into your kids. Also, a lot of vitamins are easily oxidized when exposed to air–so what do you think will happen when you pre-cook them, grind them up finely, thus exposing more surface area to the air, and then store them for a week before cooking them again?
There also is no nutritional breakdown in the recipes, to tell parents how much good this deceptive sneaking of vegetables into "kid friendly" foods is doing.
If you look at the reviews on Amazon, most parents (most of them mothers, at that–I don't think I saw a single review, pro or con from a male) are lauding this book as being better than sliced white bread, but I found a review from The Philadelphia Enquirer by columnist Karen Heller, which is less sanguine about the concept and execution of the book. Her wittily acerbic review echoes much of my own thoughts on the issue of presenting "good food" in the guise of "junk food" to your kids as a means of "teaching" them to eat healthy food.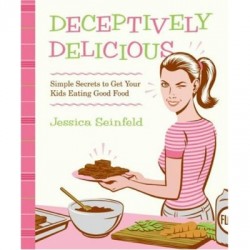 In my view, and in Karen Heller's it doesn't teach kids anything. It is a lie. It isn't teaching them to eat healthy food–it teaches them to eat unhealthy food that has healthy food sneaked into it. In Heller's words, "Hiding food perpetuates the idea that carrots and spinach don't taste good. They do."
She goes on to say, "This prolongs picky eating, common in early childhood, which can be easily remedied and should be, as swiftly as possible. Otherwise, you will be responsible for producing a high-maintenance adult who will have trouble sustaining relationships with attractive partners, thereby forcing you to serve bland food for decades."
I couldn't have said it better myself. (Of course, Heller goes on to snark about both of the Seinfelds and their personalities, which may annoy or amuse you, depending on your own personality, which is why I am warning you about it here. I have to admit to chuckling, even if what she said wasn't very nice.)
Interestingly, however, I found an older article, from last month, which shows that this picky kid problem may indeed be more related to American culture, especially our ways of shopping, and cooking, or more often, not, and the mass-media driven food marketing juggernaut directed at children.
This fascinating feature is an interesting twist to my assertion that people in other countries do not seem to have the same strange ideas about children's food that we do in the US; instead of pointing out what kids in other countries eat, this article talks about what expatriate American kids eat in other countries, and what they eat when they come home. The families featured in this piece make me feel even more strongly that the genetic component to neophobia may exist, but culture and environment seem to be an even larger component of how neophobia manifests in a set of picky eating behaviors.
In the International Herald Tribune, a newspaper devoted to the English-speaking expatriate community, reporter Jennifer Conlin and mother of three tells a story about how her European-born kids exhibit much more sophisticated tastes than their US-born counterparts, much to the confusion of wait staff in US restaurants.
"Last summer, while on home leave in the United States, my family and I had dinner at a child- friendly Italian restaurant in upstate New York. Things were going fine until my Europe-born children, ages 13, 9 and 8, ordered their meals – spaghetti carbonara, seafood linguini and pasta primavera – and then turned down the waitress's offers to leave out the spices or serve the sauce on the side.
The waitress was flummoxed. "This is the first time in five years of working here I have seen children order an adult dish completely unaltered," she said. "Where are you from?""
She goes on to relate similar tales from the experiences of other parents and kids in the expatriate community, including the experience of a cooking teacher who had an eye-opening experience with another American expatriate mother in a state of culinary culture shock. Cooking instructor Katy Kinsolving blames this culture shock on the lack of cooking skills of many American parents.
"I know of a young American woman in Italy who found the grocery stores there very strange," Kinsolving said. "'They have no food here,' she said. 'Only things to make food from.'"
It is a fascinating little article–I highly recommend you read it, because it made me think that there should be some way to research the differences in cultural environment in the development of picky eating habits among American (and British) kids. A researcher could compare the lifestyles and food cultures surrounding American families residing in the US, and those residing in Europe, Asia or elsewhere. I think that the results would not only make a fascinating scholarly paper, but probably also a really interesting, general interest non-fiction book. (Hrm….I -was- thinking of going to grad school starting next fall or spring….)
It also spoke of how important the family meal is, and how in cultures outside of the US, that importance is still culturally relevant and alive.
Which brings us to our next topic of conversation:
The Family Meal is Still a Good Thing, Even if the TV is On
In the New York Times health blog, I found a post on the newest round of research on how the family meal is good for kids. This round of inquiry found, much to the surprise of the researchers, that even if the family has the television on while they are sitting down to a meal together, the benefits of the meal to the children, which include better nutrition, are just as apparent. This stands on its head the conventional wisdom that television viewing while eating leads to poor eating habits including over-consumption, and eating fat, salt and sugar laden junk foods.
This study, conducted at the University of Minnesota, shows that on average, families who eat around the dinner table without the television on and those who gather around the glowing video box, are both eating meals of roughly equivalent value. In fact, the results of the research point to the idea that in order to change a child's diet for the better, a parent need only fix a meal and sit down and eat with them, whether at the table, in front of the television, on the ground in the backyard or on the roof of your apartment building. It doesn't matter. Just cook (together, preferably) and sit down and eat together, and your kid will consume more vitamins, minerals, vegetables and other nutrient rich foods than he or she would if they ate alone.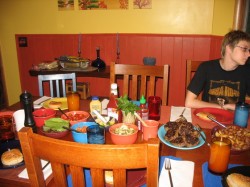 This result doesn't surprise me in the least. Humans are social animals, and food is not just fuel to us, it is culture. It isn't just a bunch of chemicals that keep our bodies alive and kicking, it is sustenance for our minds, hearts and souls as well which promotes connection to each other and the world around us.
So, if you want to make sure your kids eat healthily, do better in school, and have a deep connection to you and the rest of your family, cook a meal together and sit down and eat it together.
It really is that simple.
(This report also made me feel a little better about the number of meals we have eaten seated around the television watching an episode of the X-Files from our new DVD sets, or the newest episode of Torchwood or Dr. Who we downloaded from the 'net.)
How Hard Can It Be To Get Local Food Into Local Schools?
According to Kim Severson's article, "Local Carrots With a Side of Red Tape" from this morning's New York Times, the answer is, "Pretty tough."
Chronicling the arduous process of hoop-jumping a local New York carrot farmer has had to go through in order to get local carrots in New York City schools, the article shines a light on the murky complexity that comes when the issues of local food, federal school lunch program funding, local school boards, budgets and the federal farm bill become enmeshed into a nearly impenetrable web of "It can't be done."
This article is enough to dissuade most inexperienced parents and farmers who want to go all "food activist" on their local school system, but fear not–there is help out there for those who want to tackle the issue.
Enter chef Ann Cooper, a self-described "renegade lunch lady" (-THAT- is a title to aspire to!) who has tirelessly worked to improve the nutritional and culinary value of the school lunches of New York and the rest of the US for years. Her new book, Lunch Lessons: Changing the Way We Feed Our Children serves as a primer to neophyte food activists who want to wade into the swift moving waters of local politics and help change the way children in schools eat for the better, but who have no idea how to go about it.
Transforming the way our school lunch system works is going to be a long, difficult battle, but is one that is well worth fighting.
And finally, a food story from Japan, by way of the Washington Post:
Rice Is Nice, But Bread Is Best?

"Sticky Times for Rice As Japan Breaks Bread" by Lori Aratani outlines and elucidates the sad fact that per capita consumption of rice in Japan has halved since the 1960's, in large part due to the growth in popularity of European and American style wheat breads.
While I am sad that the traditional food culture of Japan is suffering as more and more young people reject rice as a staple food, I cannot help but find this culinary cross-pollination fascinating, because it is led by the Japanese free marketplace.
During the US occupation in the late 1940's and early 1950's, dietary change was attempted by forcing Japanese school children to eat several "bread meals" in school lunches per week. While this was nothing short of culinary cultural imperialism, this new fascination with bread among the youth of Japan is nothing of the kind. It is purely a case of cultural curiosity on the part of the Japanese themselves, which is probably a good thing.
Besides, it has led to a flowering of culinary innovation as rice growers, millers and marketers come up with various rice breads and interesting half-polished rice varieties which include some of the bran and germ, which not only result in better nutritive value, but tints the cooked rice fascinating colors like pink or violet, both of which have brpoven popular with the young adult market which has overwhelmingly begun to prefer wheat products.

This is Springheel Jack, happily meditating on my lap.
We have returned from our sojourn in Tennessee, and my uncle is feeling better and for the first time in three weeks, is going out of the critical care unit into a more regular hospital room. He is not fully recovered, but he is much, much better. I suspect that he will have a long row to hoe yet as he struggles towards health.
It is good to be home, with a cat on my lap, and in my kitchen, though I have to admit to not having had a chance to cook much of anything interesting yet.
I probably should have taken the camera with me; while visiting, I took over my aunt's kitchen and whipped up puttanesca with a salad of roasted beets, pears and mixed greens with balsamic vinaigrette one night. Another night, I threw together Chicken and Portabello Marsala (the mushrooms were for my vegetarian cousin), roasted asparagus, and wild mushroom risotto with asiago cheese, and the last night we were there, I made a nice pasta primavera with chicken, asparagus, mushrooms and a light lemon cream sauce.
So, I kept busy.
Also, while we were there, we ate some fandamnedtastic southern food, which, of course, is what I grew up eating. And if I ate it every day now, I would be as big as my house–it is all so laden with pork fat that just looking at it makes my arteries want to jump out of my body and run away screaming, but boy, does it taste fine and dandy. I think my favorite meal out was at Linda's Pic-a-Rib, where I had pulled braised pork sandwitched between two hoecakes (that is cornmeal pancakes for the uninitiated) that had been fried in bacon grease. That was delicious in a totally down-home, unpretentious way, but I am glad to be home.
I missed my kitties.
Oh, and that cat up above–that is Springheel Jack, also known as Jackanape, Jackster, Jackie, Jackal, Jackalope, 'Nape, and Napester. He is a bizarro creature who is quite neurotic and skittish most of the time, but who has great fits of affection where he will swoop upon us and fling himself bodily against us and turn into a lump of purring fur. So, we pet him, and he is happy, until he starts twitching and then without warning, dashes away, and returns to his habit of skulking in the shadows and creeping under furniture.
I cannot explain him, but I do love him.
Now, I am off to go sign the papers that will close the deal on the sale of our old home, and to eat good Chinese food at Shangrila.
I will return to my regularly scheduled food blog entries in the next few days, after I get my bearings.
Powered by WordPress. Graphics by Zak Kramer.
Design update by Daniel Trout.
Entries and comments feeds.