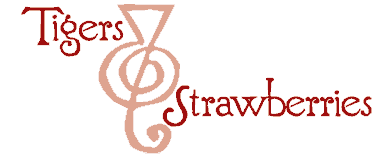 Cook Local, Eat Global
So, I had a few extra moments to myself today–a rare commodity these days–and decided to try and catch up on what's happening in foodblogland. I only got to look at a couple of my favorite blogs, but one entry at one blog jumped out at me and made me want to jump up and testify.
Amy, of Cooking With Amy ranted a wee bit about how she cannot abide picky eaters.
Her post brought forth an amen and a hallelujah from my "amen corner" here, because if there is a human behavior that works my very last nerve, it is food controlling behavior that impinges on the ability for other people to enjoy their own dinners, or otherwise interact socially with the food-controlling individual.
And the thing is–I try really hard to be tolerant of people. I really do. If I know that someone really hates a particular food, I will refrain from cooking it for them. I have already written about how, as a host, I do take into account people's real food allergies and religious proscriptions against certain foods. I am respectful of health restrictions, because they involve keeping the diners alive (food allergies are not to be trifled with), and my own personal honor is such that I must respect people's food restrictions that are based on their religious beliefs, because to not do so is for me to put myself between them and their view of God. And that is not my place, nor, really, anyone else's place. So, that is all good.
But what about people who just have a list of foods they don't like because they are "icky?" What about people who refuse to eat large categories of foods for no real reason except that they had some traumatic food incident in childhood that has left them permanently scarred? Or, they just don't like the taste of most foods? Or, they are food controlling because it makes them the center of attention?
I, like Amy, just don't have patience with these folks. Though, I must make a caveat here–when I say I don't have patience with picky eaters, please understand I am talking about ADULTS, not kids. I cut kids slack because they go through developmental phases where they are picky, and nearly every kid goes through a stage where they don't like this or that sort of food. (And that which they like and dislike often changes from day to day, much to the eternal frustration of their parents and caregivers.)
What I object to are adults who act like kids.
And my attitude toward such adults is this–grow up and get over yourself. Or, shut up when we are at the table. Or, get therapy, because you really need it. Or, I just don't interact with them, because the rise in my blood pressure as I watch them harry waitstaff or when they whimper about this or that food and how they won't eat it while I am trying to cook is just not worth it.
What is funny about this is that I am married to a man who used to hardly eat anything. Zak used to eat meat, potatoes, a handful of vegetables, pasta, rice, bread and the holy of holies–cold breakfast cereal. I am told by his parents that he used to live on sugar cereal virtually alone, and that there were years when he would eat it for two out of three meals a day.
Well, when I met him, he had just come back from Italy where he had his first culinary epiphany when he tasted pesto for the first time. (This was back before pesto had come to the US and taken over the culinary scene to the point where it became ubiquitous. At this point, in the early 90′s, he was astonished that I even knew what it was.) So, he had tasted truly great food in Italy and in the rest of Europe, and had started loosening up his own food neuroses.
But he credits moving in with me as being a turning point in his life as an eater. Apparently, my indomitable will in the kitchen broke him of being a picky eater, because I flatly refused to cater to his whims and limit my cooking to what I knew he liked. I just flat out refused, and cooked and ate whatever I had a mind to. If he didn't like it, he could always eat cereal, and there were times when he did. But, over the years, his tastes changed to the point where he is quite the epicure now, and actually can discuss things culinary with me without either his eyes glazing over or saying, "huh?" at my every sentence.
Not only has his palate developed, so has his culinary vocabulary.
I do that with a lot of people. I cook stuff that they supposedly don't like–often unknowingly, but sometimes on purpose, and damned if they don't love it when I make it! I have had many a friend tell me, "I hate tofu, but the way you cooked it was awesome." Or, "I always thought eggplant was nasty until you made that miso-glazed grilled stuff. That was so good."
But some people defeat my kitchen super-powers, and are simply too whiney or neurotic to even try whatever it is I make for them, and it is these folks who bug the crap out of me. I guess because they aren't even willing to meet me halfway and try something new. They just want to complain.
Strangely enough, quite a few culinary arts students are that way. I met more picky people in culinary school than anywhere else I have been. It seemed as if young food-controlling people flocked to culinary college, though, why, I have no idea, since most of the chefs delighted in torturing them by insisting that they try all of these scary new foods.Personally, I cannot get why someone would aspire to be a chef and yet refuse to eat vegetables. It seems rather–well, like an aspiring race car driver who won't drive to work or something. It is just weird.
Folks like that try my patience, and tend to make me cranky, leading to rants like this one.
I guess it bugs me because extremly picky eaters tend to be narcissistic–they are so self-absorbed in their food controlling behaviors, they are either unaware of how annoying they are to those around them, or they just flat out don't care. (Remember, I am talking about really picky eaters here, not just someone who doesn't like okra because it is slimy and canned peas because they are olive green and mushy. I am talking about people who will not eat whole categories of food for no logical or sensible reason, and who make a big deal about it.)
That kind of self-centered behavior is extremely immature and childish, and I think that is the crux of the issue for me–I am not good at dealing with adults who act like spoiled little kids.
So, Amy–know this–you are not the only one out there who dislikes picky people. I'm the same exact way.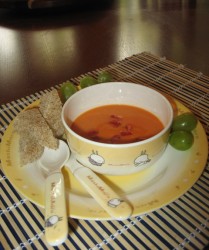 As my pregnancy wends its way into the home stretch, and I am continually reminded by the ever-more-frequent interior pummelling I am recieving of the incipient arrival of Kat, a small being whose food choices I will have a great deal of input into, I find myself thinking on the issues surrounding food and children more and more often.
Both food and children are subjects fraught with emotion to Americans; the intersection between them is a particularly perilous sea of contradiction, conflicting advice, well-meaning but misguided theories, media manipulation, health warnings, fears, paranoia and worries. Every parent must think on this issue, at least a little bit (I refuse to believe that parents just go on autopilot and feed kids whatever the television tells them to feed them–for this, I may be rightly or wrongly called an idealist), as they blunder through their experiences as the guiding light and civilizing influence upon the wee humans under their care.
We must remember that every parent brings his or her own food experiences, good and bad, prejudices, likes and dislikes and attitudes to the family table when it comes to feeding their kids, and we must also remember that no matter how poorly we think some parents make thier choices, often they believe that they are doing the best that they can for their kids and so we should be gentle in our criticism.
I cannot help but think deeply on this issue myself, because my experiences with food growing up were very different than my peers in most cases. Because my grandparents farmed, growing enough vegetables, fruits, fish, fowl, eggs, pastured beef and pork, to feed most of our family at least most of the time, I was not as firmly ensconsed in the advertising-led descent of the American diet into fast-food, packaged food mediocrity. At the time I was growing up–the late sixties and seventies, processed foods were still more expensive than plain, fresh foods, and fast food was still seen as an extravagance or treat. Sure, I still was given Kool-Aid or Hi-C to drink now and again, but water and milk were the beverages of choice, and soda or tooth-achingly sweet iced tea (which I never really liked) were given only in small amounts and as a summertime treat. People who drank soda habitually were looked down upon, and my mother and Grandmothers decried the practice of giving little kids soda habitually as being "bad for them." (Now, there was no real discussion as to what exactly was bad about it, except for the sugar content, but the practice was still widely condemned.)
So, I grew up with a mother and two grandmothers who cooked to different degrees from scratch, who used minimal processed foods, with aunts and a father who all could throw down and put a fine meal on the table, too. I learned to eat what adults ate, and little concession was made to my child's palate. Yet, still, my parents were not "food Nazis." We still enjoyed pizza and went out for McDonald's now and again, and more infrequently, to "nice" steakhouses and restaurants, where I got my first tastes of aged, rare-cooked filet mignon, a meat so far removed from my mother's thin, well-done steaks that I did not recognize them as the same food. I grew up with fishermen in the family, so, alothough I was a pre-teen before I tasted shellfish or seafood, I had a love of freshwater fish: lake perch, catfish, bass, and bluegill, with rainbow trout being my favorite food of all time.
And yeah, I ate my share of grilled cheese sandwiches made of Velveeta, with canned Campbell's cream of tomato soup, or peanut butter and jelly sandwiches on white bread. (Though, eventually, my mother relented when my father and I pressed the fact that we liked whole wheat bread (or as we called it, "brown bread") better and started buying it. I grew up with hot dogs from the neighborhood beer joint, piled high with chili sauce, raw onions, mustard and coleslaw, or fried baloney sandiwches doused in hot sauce.
But on the whole, I realized as I grew up and went over to friends' homes for supper, that my food history was very different from theirs. At their houses I encountered many more convenience foods such as frozen pizzas, Hamburger Helper, and tuna noodle casseroles (a hideous waste of canned tuna, packaged noodles and cream of mushroom soup in my opinion, both then and now), and was offered soda or Kool-Aid to drink, even though I would have preferred milk. It got to the point that I was more likely to have kids over to eat at our home, (with Mom's blessing) than I was to eat with my friends, because I couldn't stand the food they served, while with my Mom, I knew that my friends were getting good food. (And my Mom, bless her heart, would cook extra food for my friends who came from poorer households, and would carefully make sure to leave the table while we were still eating so that my friends could clear out the serving bowls without being made self-conscious. Neither she nor Dad ever said much about it, but it was their way of making sure my friends got healthy food as much as possible without hurting their sense of pride.)
Now, with all of this history behind me, I am looking forward to what it will be like to feed Kat as she grows up, continually in my care, her feeding my responsibility until she is old enough (and hopefully wise enough) to feed herself. I am both excited and humbled at the thought that it will be up to Zak and I to introduce her to the wide world of food, and it is an awesome responsibility. I -do- wonder if she will be a "picky" eater, though I am not too afraid of that possibility. If it is indeed true that food preferences are influenced in the womb, I don't think I will have to worry about Kat disliking anything, except perhaps large slabs of meat, as I have eaten a varied, whole grain, vegetable, fruit, dairy and egg-based diet from day one of this pregnancy with small amounts of fish and meat added in as I can tolerate them. If kids are affected by their parents' food choices, then I am not too concerned, as both Zak and I eat heartily and well, and Morganna, too, is very fond of good food, to the point where she cannot any longer tolerate fast food. (When she lived with her father, through most of her childhood, she ate mostly packaged and fast food, to the point that at times, I despaired of her ever liking real food.)
And, if television marketing of "kids' food" is influential, I am not too worried. None of the three of us who live in this house watch television habitually. In fact, we only have the television in order to watch DVD's of selected films and television shows, so we seem to miss out on advertising alltogether. Even our magazine consumption is such that we tend to miss most mainstream ads, to the point that when we visit friends and they have television on, we watch the commercials, stuptified at their number, inanity and crude techniques used to sell products that none of the three of us consider to be either useful or desireable. All I can think of when I watch them is "This stuff works?"
Apparently, it does with those who watch television, though, if the thing isn't even turned on, I guess marketing is pretty ineffectual.
I find myself cruising through the "inner aisles" of the grocery store, looking at all of the "kids' food" options, and pondering them. The cereal aisle is a wasteland of high fructose corn syrup and processed grains–simple carbohydrates all made "appealing" by the use of artificial food colorings in hues never seen in nature and smiling cartoon characters on the boxes. The frozen food section is rife with entrees and snacks aimed directly at kids: pizza rolls, "cheese" filled pretzel bites, corndogs, and chicken patties shaped like dinosaurs or Nickelodeon characters. A glance at the ingredients list of these items shows me that fat is apparently the primary food group for kids, with sugar and salt coming in close behind. Even the baby-food aisle is not safe from ickiness–sugar and starch seem to be the order of the day in those cute little jars of pureed foods aimed at every baby in every highchair in America.
You notice I am not even mentioning the phenomina of green or blue ketchup, as I find them to be to horrid to contemplate, because they further the idea that food for kids must be as fake as possible, and further the idea that food is not just food, but entertainment. While this is the case with adult food as well (El Bulli's novel approach to foodstuffs that surprise and delight adults comes to mind), I don't think that food she be marketed as entertainment to small children on the basis of making it look as little like food as possible.)
(Okay, there–I did mention the green and blue ketchup, even though I told myself I wouldn't.)
What is the point of this long and rambling post?
Well, that it really isn't -that- hard to cook for kids, and that cooking isn't even necessary in order to feed kids a decent meal, without resorting to crap from the freezer or from the fast-food joint down the street.
Kids don't need to eat french fries, tater or instant mashed potatoes just to save Mom the effort of cooking from scratch.
It just takes a bit of planning and effort is all.
Look at the wee lunch pictured above. Whole grain bread from the local bakery, trimmed of crusts and cut into triangles. (Kids like novel shapes cut into sizes to fit their little hands. I remember this from helping prepare lunch for my younger cousins.) Cream of tomato soup from Pacific Organics that actually tastes like tomato, and is low in fat, but still flavorful. (I like it with a dollup of sour cream, myself, but a sprinkling of freshly chopped cherry tomato is great, too.) And, locally grown white grapes, just in from the farmer's market on Saturday.
I didn't have to cook a thing, but it is a nutritious, tasty meal, balanced and flavored appropriately for a kid's palate. It is attractive, with contrasting colors and textures, and it comes on a plate with cute little Japanese cartoon character bunnies on it, with utensils sized to fit small hands.
What more can a kid ask for? And how long did it take me to put it together?
Five minutes.
I could have added cheese, in the form of a grilled cheese sandwich, made on that whole wheat bread, with some good aged cheddar cheese that is in the fridge. The only reason I didn't was because I didn't want to eat a grilled cheese sandwich after the photos were taken–so I ate bread instead. If I had done the sandwich, the time taken would have been upped to about ten minutes.
Ten minutes out of a day to make lunch is nothing. It isn't hard.
It also isn't hard to puree or mash a bit of what the rest of the family is eating for dinner to feed a baby. If you do more of it than is needed at a sitting, you can freeze it in ice-cube trays and pop the little portions into ziplock bags to be thawed up and reheated later. Heck, some adult foods care soft enough on their own without being mashed up much, and you get the added bonus that baby -wants- to eat whatever it is that is on your plate, and so will lunge for it heartily, while ignoring the very same thing that is right in front of her on her own plate. (Morganna was that way, as were all of my cousins. They saw what the adults were eating and wanted that and to hell with the crap out of jars that was being pushed at them.)
My point is this: I wish parents listened less to advertising, slowed down and spent more time in the kitchen and dining room with their kids, than worry so much about enriching their kids lives through playdates, early nursery schools, "educational" TV and infant swimming lessons.
Food is fundamental to human life. We -need- it to live, whereas a missed playdate is not going to kill us. The lack of Mozart in a baby's life will cause no great harm (what did babies do before Mozart was born, I wonder?) but, a lack of nutrients is deadly.
Food is also fundamental to culture–it is intrinsically tied to our own sense of self and history, and to our families, and to our communities. How we eat, and how we teach our children to eat reveals much about us as a people.
Currently, the dominant American media-driven culture is filled with artificial foods of dubious nutritive value, and as a partial result, we have what is continually touted as an obesity epidemic.
Is this what we want to pass on to our children?
I don't think so.
At least, I know that I don't want to, and I notice that here in Athens, where local, sustainable food is a goal worked on by a large group of committed community members, there are plenty of other parents who don't want to pass on to our kids the plastic, not so fantastic American fast food culture.
Instead, we opt to cook for our kids, and spend time teaching them what real food tastes like, where it comes from and what to do with it. We recognize the value of spending time with our kids in the kitchen and the dining room, teaching them healthy eating habits that not only help them grow strong bodies, but also happy hearts and minds. We opt to pass on older American traditions that value food as an intimate part of life, as a partner in creating bonds between family members and the community.
As we look back at these older traditions, I hope that we are also looking forward to a happier, healthier future for our kids, and others like them.
I really should have posted this last night, but I thought I would show my sweet side on Valentine's Day.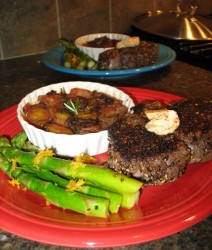 Now that we have gotten that out of the way, I can give you a taste of the real me: the cynic.
I don't really like Valentine's Day, and I never did.
Not only is it one of those holidays that smacks of having been invented by Hallmark Cards as an excuse to sell overpriced bits of pink pasteboard decorated with fluff and glitter, but even when you know the story of St. Valentine, it comes across as bogus.
It is a day fraught with anxiety, sloppy sentiment, and meaningless ritual.
And it has the capacity to transform normally sensible, mature, interesting people into giddy romantics, or worse, disappointed harpies, or anxiety-laden freaks who are sure their romantic overtures are going to be judged as lacking by the object of their affections.
It is hellish if you are alone on Valentine's Day, when all of the world seems to be awash in red and pink hearts and doe-eyed lovers crowding restaurants eating rich food and swilling Champagne. The sickly-sweet fragrance of countless bouquets delivered wafts around every corner, reminding the less than happy single person that they are still alone.
Bad as that is, sometimes, I think it can be worse if one is part of an established couple during this commercialized feast celebrating "romantic love."
Because then, if you are together, you are expected to do something to mark the occasion.
Like what?
I mean, when it is a new relationship, and courting behaviors such as surprising each other with flowers or chocolate or bubble baths or little love notes tucked into jacket pockets are all still ongoing, Valentine's Day is not so bad. It is just an extension of what young, hormone-filled folks are supposed to be up to anyway.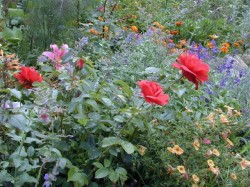 But what happens when you are old and jaded, like me?
(Though, really, I suspect I was born old and jaded, because this attituted about Valentine's Day goes all the way back to grade school and the passing of valentines to schoolmates was the norm. I always felt bad for the kids who got no valentines because they were unnatractive, poor, bucktoothed, or socially inept for whatever reasons. Watching those kids suffer fuelled my early irritability when it comes to the Pink Holiday.)
I mean, what am I going to do for Valentine's Day? Go out to a packed, overpriced restaurant where the servers are harried and the wine cannot possibly flow fast enough to numb me enough to keep from getting nauseous from all of the saccharine sentiment floating about? Buy flowers so my cats can turn them into salad and then vomit them up on the couch? (Besides, I prefer my flowers to be living and in gardens–the illustration above is from our old garden back in Pataskala.) Be gifted with a pound of chocolate that I will eat, and then lament eating because I will gain weight?
Where is the romance in any of that?
Half the time, Zak and I forget that Valentine's Day is coming up, mostly because neither of us cares. We just cruise along in our own little world, unaware that the season approaches. He bought me flowers a few times for Valentine's Day, and surprised me, because I had forgotten that the Day of Hearts had arrived. Surprises are sweet, but it is hard to surprise either of us with trifles, as neither of us much cares for trifles. (In truth, we both like surprises, but it is hard to surprise anyone on a holiday. Zak is a master of bringing flowers home at odd times, just to pick up my spirits. I am good for finding a cool book or t-shirt and bringing it home to Zak, not for any holiday, but just because he needs a lift. Both of us value these moments more than any pre-planned holiday thing.)
So, I will tell you what I do for Valentine's Day: I use it as an excuse to cook something I don't normally cook, and I actually exert myself to cook up to the standards of a fine dining restaurant. While I have culinary training, and I am an excellent cook, I will admit to being a tad too lazy to really haul off, throw down and cook magnificent food that would make a picky gourmand weep all the time.
Besides, if I was motivated to cook like that all the time, it wouldn't be special anymore. People would expect it, and on top of everything else, we'd all be big as houses.
But the way I see it, once or twice a year, a real culinary throw down isn't going to kill us all. So, for Valentine's Day, I put the toque back on, roll up my sleeves and make something fancy.
And this year, I decided to do a pepper-crusted filet mignon, with potatoes a la boulangere and asparagus dressed with browned butter and Meyer lemon juice and zest.
Of course, you all know what we had for dessert.
When Zak asked what he could do for me for Valentine's Day, my answer was clear:
The laundry.
(And he did it, too. And cleaned the closet. A fine Valentine's Day present to be sure!)
Anyway, here are the recipes for our supper; the inspiration for the filet came from a method outlined in the March/April Cook's Illustrated that was meant to create a crispy peppercorn crust that neither fell off nor got overly soggy. I followed their recipe more than I should have–there was too much oil in the crust, and too much salt. I am giving the amounts that I will use the next time I make the dish. Also, they only used plain black peppercorns, while I added coriander seeds and white peppercorns to the mixture.
My potatoes a la boulangere are not traditional in any sense of the word. Based on a French recipe where women would bring simple casseroles of potato, onion, white wine and chicken broth to be baked in the ashes of the baker's (boulangere's) hearth oven overnight, I added herbs, spices and Shao Hsing wine to the mixture.
As for the asparagus–it is straightforward. Simmer asparagus in a small amount of water in a saute pan until the desired tenderness is reached. Drain. Melt butter in the pan, with the asparagus, turn the heat to high and allow butter to brown, tossing asparagus in the pan. Squeeze the juice of two Meyer lemons into the pan and add the zest from one, and toss in the browned butter. Add salt and pepper to taste. Serve, sprinkled with some fresh lemon zest.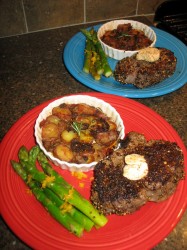 Barbara's Version of Pepper-Crusted Filet Mignon
Ingredients:
3 tablespoons black peppercorns, cracked
1 tablespoon white peppercorns, cracked
1 tablespoon coriander seed, cracked
4 tablespoons plus two teaspoons olive oil
1/2 tablespoon salt (to your taste)
4 center-cut filets mignons, 2″ thick, around 8 ounces each, trimmed of silverskin (I left the tiny bits of fat on my steaks because they came from Belgian Blue cattle, which are very, very lean animals. The tiny amount of fat present helped keep the meat moist as it cooked.)
Method:
Heat the 4-5 tablespoons olive oil over medium heat. Add the spices, and stirring occaisionally, simmer until the spices and oil are quite fragrant–between five and eight minutes. Remove from heat, and set aside to cool. When it is at room temperature, add salt and stir well to combine.
Rub steaks with the spice and oil mixture, coating all sides, but paying particular attention to the top and bottom surfaces. Press the peppercorns in with your hands, then set steaks on a plate, cover with plastic wrap and press firmly again in order to set the spices into the meat. Allow to sit at room temperature for about an hour.
Heat 2 teaspoons of oil in a 12 inch cast iron skillet until it is barely smoking. Sear the steaks on one side without touching or moving them for 3-4 minutes in order to let a heavy crust form. Turn the steaks with tongs, and do the sear the other side in the same way. (Here is a tip–if you go to turn your steaks and they stick–they are not done searing. Leave them in place, wait 30-60 seconds and try to turn them again–repeat until they turn easily.)
When the crust is formed on the bottom–check to see if the steaks are sticking–if they are not, the crust is formed–cover loosely with a lid–I used the domed lid to a pan that was larger than the skillet so I could set it askew to let the steam out. Cook for another 3 minutes for rare, 5-6 minutes for medium rare. (If you want them more done than medium rare–cook something other than a filet, please–something with lots of fat, like a ribeye, that will stay moist under extended cooking conditions.)
Remove from pan, set on warmed plates and allow to rest for five minutes before serving with a pat of compound butter, if you wish.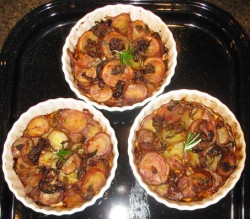 Potatoes a la Boulangere in Individual Gratins
Ingredients:
3/4 pound fingerling potatoes, well scrubbed
1 tablespoon olive oil
4 small or 2 large shallots, peeled and sliced thinly
1 tablespoon fresh rosemary, minced
salt and pepper to taste
1/4 teaspoon spicy curry powder
4 pinches smoked paprika
1/2 cup chicken or vegetable broth
1/4 cup Shao Hsing wine or dry sherry
1 teaspoon butter
Method:
Preheat oven to 325 degrees.
Using some olive oil or butter, grease four small shallow gratin dishes well.
Boil potatoes in their skins until mostly done, but still pretty firm in the center. Drain and cool.
Heat olive oil up in a small saute pan, and cook shallots until they are medium golden in color. Add rosemary and cook for a minute or two more until the herbal fragrance is released.
Slice potatoes into 1/4″-1/8″ slices. Layer a set of slices on the bottom of the gratins, then sprinkle with salt and pepper, some of the curry and paprika, and scatter a bit of the shallots over the potatoes. Salt and pepper the potatoes to taste. Do a second layer, the same as the first, finishing with shallots, then pour 1/8 cup of broth and 1/16th cup of wine into each gratin. Dot them with butter.
Put the gratin on baking sheets, and pop into the oven. Allow to bake, uncovered, until most of the broth is absorbed, and the bottom layer of potatoes is tender and velvety, while the top layer is browned and crisp. Add some extra broth if needed. Garnish with a sprig of fresh rosemary.
When Kirk of mmm-yoso tagged me for this meme, I didn't recognize that I had already done it once, back when Michael of Haverchuk twanged me.
But, I am going to do it again anyway, because I told Kirk I would. Besides, this time, instead of my favorite foods, I am going to tell you about my ten favorite dishes, which is infinitely more difficult.
It is more difficult, because I love all food, and nearly any dish in the world can be my favorite, depending on what season it is, what the weather is like, how I am physically feeling at that time, what I have eaten recently and what kind of mood I am in. Frankly, I am certain that as soon as I commit these ten dishes to paper, or as it were, to electrons, the list will change. However, I refuse to edit it after it is done, so what you readers will get is a snapshot of which ten dishes I most love at a singular point in time on this day in January 2006.
It is the best I can do.
Oh, and one more thing–these are not ranked in any particular order. I can't do that. I draw the line there. These dishes are in the order that they came to my head, and that is where they are going to stay.
Hot and Sour Soup is an enduring favorite, even if I have only been eating it for about twenty-three years. My father mistrusted Chinese food when I was growing up, so I didn't have any until I was in high school and was introduced to it by a pair of friends. But, it wasn't until I went to college and discovered The China Garden restaurant in Huntington, West Virginia, that I tasted hot and sour soup.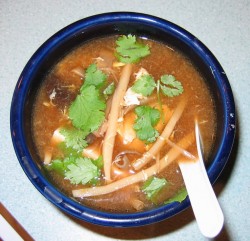 It was love at first sip.
It didn't matter to me that I had no bloody idea what most of the ingredients floating about in the soup were. What mattered was that it was peppery, chile laden and sour, and unbelievably good. Huy made fantastic soup. By the time I was working there, after I left my first husband, I mostly lived off of that soup. Mei would sell me a quart at the end of the night for a quarter, and I would buy two quarts of it, carry it home, and then sit on the roof of my porch to look at the stars and drink soup, and ponder the meaning of freedom.
Of course, then, we moved away, and I couldn't get Huy's soup very often anymore, so I was forced to learn to make it.
And I did. After I learned to make soup like Huy's, I played with the recipe, adding galangal and lemongrass, which changed it considerably, though I think, for the better. Now, people tell me I make the best hot and sour soup they have ever tasted.
Mine is good, and it might raise the dead, but Huy's–his is the soup that tastes like freedom.
And freedom is better than resurrection any day.
I have already written about lasagne at length, but I can still add a few words here, anyway.
One thing that you will learn by reading this post is that I am not wedded to one single version of a dish being "right." I mean, sometimes, only one certain flavor will do–like when it comes to King Crab Rolls, only the ones from Sushi King in Columbia, Maryland, count. Only those, and no other, can satisfy my craving for king crab, tobiko, rice and crispy bits of tempura batter. Nothing else will do. Sorry.
But with most of the dishes listed here–there is no one variant that pleases me. They are all good. (Unless they are just badly cooked or from a cardboard box or something.)
Lasagne is like that. I never really make it the same way twice. Never, ever. There are just too many ways to enjoy it. Too many pastas to use, too many cheeses, too many fillings–why should I limit my palate to one version of lasagne? It makes no sense.
I like the way my Mom makes it, with pepperoni, mushrooms, sausage and ground beef in the sauce, and a fairly plain ricotta filling. I like the way that most Italian-American restaurants in Providence, Rhode Island make it–very basic, very plain, very, very good. I like the way a Greek friend in high school's Mom used to make it–as a bastard love-child between moussaka and lasagne–noodles layered with cinnamon-scented ground lamb and tomato sauce with slices of roasted eggplant and peppers, melty feta cheese, and a custardy bechamel on top.
In fact, I like that one so well, that now I have recalled it, I might have to haul off and try to recreate it, because it is sounding pretty damned good to me right now.
Okay, now that I have said that I am pretty easy-going about my favorite dishes, and that I don't believe that there is any one "right" way to make them, I am going to turn back around and make a liar of myself.
There is one exception to that rule, and that is Mom's potato salad.
Yeah, I mean, I will eat other potato salads, even my own, and they will be okay, I guess. But most potato salads are too sweet (Who puts all the sugar in the dressing, and why? What the hell is up with that?) or too mustardy (Whe dressing should be pale yellow, not blazing dandelion-colored!) or filled with sweet pickle relish (Which is nasty snot-colored stuff straight from Satan and belongs in no self-respecting potato salad.)
See, just when you thought I was easy-going and loved everything, you find out that I have one dish that I am a complete and utter food nazi over–and that is potato salad. (Yes, I am a southerner, you can now tell.)
My mother, like all southern mothers, if you hear their kids talk, makes the best potato salad. The difference between my mother and all the other mothers in the south is that mine really does make the best. All those other kids are either deluded, lying, or are too scared of the Wrath of Mama to tell the truth, because the truth is, my Mom's is the best. No other potato salad will do.
And the hell of it is–she doesn't make it very often. She never did make it too often, but she really doesn't make it too much now.
Because it is a pain in the butt. Because she boils her potatoes whole, in their skins, to keep them from getting soggy. (That is rule number one for a good potato salad, which most people bugger up–avoid soggy potatoes.) Then, she has to let them cool enough so she can peel and dice them, into chunks not too big and not too small. She boils eggs, too (eggs must go into the salad eggs and potatoes are friends you know–without eggs, it is a salad made of lonely potatoes, and who wants that?), and chops them up. along with raw onion and celery, and sometimes green onion tops. (And when it is ramp season, yes, oh, yes, she will put ramps in it. I am drooling now, just thinking about it.)
Then, she makes the dressing–and this is what makes it great. She uses Helman's mayonnaise (no other will do, and no Miracle Whip, you infidel freak!), French's mustard (but only enough to give it a zing and to color the dressing a pale, buttery yellow), salt, pepper–and get this–pickle juice. Yep, pickle juice from hamburger dill slices. That is what makes the dressing tangy, pourable, tasty and good. No sugar. No pickles chopped up and none of that damned pickle relish. Just five things in the dressing–Helman's, French's, salt, pepper and Kroger's brand hamburger dill slices pickle juice.
I can eat inordinate amounts of that stuff. And so can most of my cousins, aunts and uncles. Mom used to make it in the big roasting pan that we used for twenty-two pound turkeys at Thanksgiving, because if she didn't, there wouldn't be enough.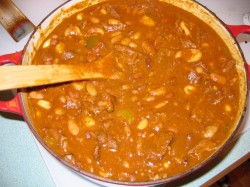 At our house, chili is a constant bone of contention between Zak and I.
I love chili.
He doesn't.
Not only does he not love it, he generally doesn't even like it. Most of the time, he tolerates it.
He makes exceptions for some of my derivations of chili–the pictured "Chupacabra" chili, he likes pretty well. It has goat, lamb, two kinds of beans and posole in it, in addition to tomatillos, onions, garlic and chiles. Lots of chiles.
But chili is another of those dishes that I am very democratic about. I like it every way except the way that they make in Cincinnati, which is gross beyond belief. Sweet chili with overcooked spaghetti, onions and cheese is disgusting. Sorry. No can do.
Chili should be thick.
It should be spicy-hot.
It should be redolent with cumin, garlic, onions and maybe Mexican oregano.
It should have cilantro in it. And maybe sour cream, and cheese.
It can have beans or not, and it can have meat or not. So long as it tastes good and isn't sweet, I am not too picky on that point.
In culinary school, when I did my internship, some of my TA's called me "The Chili Queen," which to them, who were also chilihounds, was a title of great respect and honor. They called me this, because they could give me a pile of disparate ingredients, a bucket, steam kettle, or pot to cook in, and as little as forty-five minutes, and I could turn out a very respectable to downright tasty chili. I was the emergency back-up plan for whatever went awry, because they knew, that no matter what, they could come to me and I could make chili. (Or for that matter, gumbo, or any number of filling stews, but they liked chili best.)
By the time I was finished interning, I probably had made about fifteen different types of chili myself, and I liked them all.
Every now and then, I get a hankering for one of them for dinner, and Zak sighs and puts up with it, knowing that the next day, I will go out of my way to make one of his favorites, like Red Curry Chicken with Pineapple.
Fried chicken is another of those perennial favorites that I seldom will turn down if it is offered to me, and luckily, Zak agrees with me on it.
Popeye's spicy fried chicken (and red beans and rice) is about the only fast food that I still will actually eat, and though it is greasy and godawful for me, it still tastes delightful. Fried chicken is one of those things I seldom cook, but probably should. A friend of mine and I once innovated a recipe that we called "Garlic Booger Chicken," because we had marinated the chicken pieces overnight in buttermilk and garlic slices. The next day, when we fried it, we were too lazy to pick the garlic slices off the chicken before dredging it in flour, dipping it in egg and then rolling it in cornmeal. When we dropped it in the hot fat, the slices that had clung to the chicken pulled away and deep fried themselves. We fished them out, tasted them, and by damned, if those little garlic boogers were not the most delicioius things! They were like roasted garlic in that they were sweet, nutty and soft, but they had the beautiful crisp, deep fried outer coating that was from the gods. And they went beautifully with the fried chicken, so, that is how we both fried chicken ever after. (The only fried chicken better than it was my Gram's–her secret was to add a bit of butter to the frying oil, and my Grandma's–her secret was frying it lard. You cannot beat butter and lard in cooking, not even with garlic boogers.)
I haven't made Garlic Booger Chicken in years.
I probably should rectify that situation, but I digress.
Fried chicken is one of those dishes that is cross-culturally satisfying. I have had it made by Chinese chefs and loved it, and I have had it made by West Virginia Mountain Mammas, and loved it equally. The Cubans of Miami make a pretty amazing fried chicken and the local grease pit fried chicken joint across town here in Athens, Miller's Fried Chicken, makes not only fried chicken to die for, but real creamy chicken gravy that doesn't come out of a jar.
The only fried chicken I categorically will not eat is KFC, because for whatever reason, it doesn't taste good anymore. It just tastes brown. Like their gluey gravy tastes brown. Not chickeny, not meaty, just brown.
I don't mind food to be brown, as these illustrations no doubt show, but they should taste like something other than just generically brown.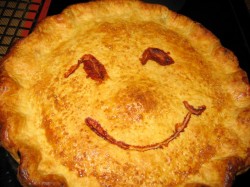 You knew that there had to be something sweet in here, right?
And if you read my first post regarding this meme, you already know that I am fanatical about sour cherries, to the point that I will eat them raw and unsweetened, right?
Well, no doubt you can guess that my favorite sweet in the world is Sour Cherry Pie. But only if it is a good pie, with a good all-butter or butter-lard or all-lard crust. And it is made with something other than that godawful, hideous red-food-coloring, corn syrup and tapioca-starch laden canned cherry pie filling.
That is one thing I won't compromise on. No canned pie filling, ever. Ick. It is too sweet, which is the greatest mistake most pie bakers will make with sour cherry pies. They are SOUR cherries, which means they are meant to be sour, not sweet. If I wanted a sweet cherry pie, I would make it from SWEET cherries, not sour. Cherries come conviently pre-sweetened and not, take advantage of it and don't you dare drown my precious sour cherries in cup after cup of sugar.
If you are going to do that, you might as well use that damned canned crap and be done with. Those poor sour cherries have already been lost–there is no use in visiting such horror on perfectly innocent, unsweetened fresh or frozen sour cherries.
As much as I like sweets, in truth, I like non-sweet food even better. Hence, the dearth of desserts on this list. Every year, when I was a girl, I got a cherry pie from my Grandma instead of a birthday cake, and every year my Gram or my Mom would make Chicken with Homemade Noodles for my birthday dinner. I wrote extensively about this dish back in December, and I don't know that there is much else to say about it, except that I have yet to have a rendition of it I haven't liked. I mean, it is a stewed chicken with tender, but still thick, hand-rolled egg noodles. How can that be bad? And when you serve it over a heap of fluffy, steaming hot, buttery mashed potatoes–how can your tongue not go to heaven?
Actually, I can see how it is bad–for the waistline. Double starch, butter, eggs, chicken fat, chicken–it all adds up to a dieter's nightmare, but it sure does taste good. And if you only eat it once, maybe twice a year, or in my case now, every other year, you won't die from it, and neither will your waistline.
Pot Roast is another of those childhood favorites that has come along into adulthood still loved, but not often eaten. If I ate pot roasts as often as I would like, I'd be as big as a house. But, I don't, so I'm not, and all is well. But now and again, I just have to have a magnificent binge of a tough cut of meat cooked low and slow (or, in a pressure cooker, high and fast) until it falls apart. I gussie mine up a fair amount, especially compared to my Mom's recipe which only included onion, bay leaves, salt, pepper and water–I am known to add wine, beer, garlic (very few dishes are cooked in this house without garlic–desserts are where I draw the line), chiles, herbs of all sorts, carrots, celery seed, mushrooms, parsnips, turnips–you name it, if I think it will taste good, into the pot it goes.
There is nothing better than sitting down to a plate of fork tender meat, meaning meat that you don't need a knife to eat, that is filled with juice and flavor, with a plate full of vegetables braised in the meat broth, a pile of mashed potatoes, and a good swill of dark brown gravy thickened with a good roux brun. Well, there are things better than that, but as kids might be reading this, I will not go into them here, but there are few things better than good pot roast, vegetables and gravy.
And you know, I will tell the truth right here and now–the pot roast is all about the gravy. And while I adore beef chuck pot roast and lamb shoulder pot roast, and venison haunch pot roast, nothing beats a fatty bone-in pork shoulder for making gravy that will make your toes curl up with joy. Nothing, nope, nada, zip. Pork shoulder roast browned in a bit of bacon drippings, with plenty of caramelized onions, simmered with sherry and garlic makes the best gravy known to humanity. Gravy so good, you want to swim in it. Gravy so good, hell, you want to drown in it. Death by gravy is nothing to sneeze at.
I know I would go with a smile on my face.
My own personal decadence is a leftover meal from my childhood. Bits of leftover pot roast and gravy poured over fluffy white rice.
Oh, my. Just thinking of it is making me long for a plate of it right now.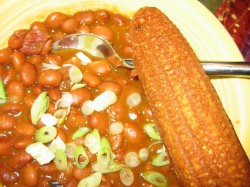 I couldn't admit to being a hillbilly without telling y'all how much I long for a bowl of pinto beans that have been cooked with a ham hock, with some cornbread to dip in it. I mean, by this point in this gargantuan essay of a post, y'all probably have figured out that I have not strayed far from my southern hillbilly roots–with the exception of hot and sour soup, most of these dishes are the classics of my childhood. I guess that I am in a nostalgic mood today.
But, even when I am not feeling southern or am wanting to admit to being a hillbilly at heart, I still love me a bowl of beans. Steaming hot and brown, surrounded with thick broth, topped with raw onions or scallion tops, they are pure comfort in a spoon. As is usual for me, I cook them fancier than the rest of my family, but I will not turn down their plainer cousins, either. If I smell them, I have to have them, and eating them will bring to my heart and stomach a peace that is eloquent of home, comfort and love.
And you can't have beans without cornbread. Not only is it a case of instinctually pairing of complementary proteins, but they just taste right together. Beans are naked without cornbread, though in truth, I can eat cornbread without beans. I can eat cornbread just about any day, in any way. I can eat cornsticks, hot and crispy from the pan, I can eat cornbread cold the next day with butter. I can eat sweet cornbread and spicy cornbread and just plain old corny cornbread. I like it in all colors–yellow, white, red and blue, and I like it in all shapes and sizes.
I am very democratic when it comes to cornbread.
I am not just putting Chicken with Bitter Melon here for the sake of symmetry, though I admit that the poetry of it is aesthetically pleasing to me.
I have only been eating this dish for about a year, but it has rapidly taken its place in my palate as a favorite. It is a comfort food that I was not born to, and it is something that I find myself craving when I am troubled, or when I awaken deep in the dark watches of the night and cannot sleep.
There is something addictive about the flavor of bitter melon, that stays with me. I don't know what it is–it is at once cooling and refreshing and invigorating at the same time. Combined with chicken and black beans, with browned onions, and it becomes a paragon of a dish, something so good that you cannot help but want to keep eating it long after your appetite is satiated.
Luckily, unlike pot roast swimming in gravy, it isn't very fattening, so if I do overeat, I will not awaken the next morning and look in the mirror to be shocked by a sudden overnight growth into elephantine proportions.
Bitter melon is lyrical. It is bitter, yes, sometimes bitingly so, but it is also crisp, and tender, and sometimes just a bit sweet. Its texture is a poem, its color is a song, and I cannot imagine not loving it for the rest of my life.
I only wish I had not come to know it so late.
But, I guess that just means that I have to make up for lost time.
Powered by WordPress. Graphics by Zak Kramer.
Design update by Daniel Trout.
Entries and comments feeds.