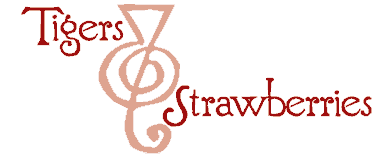 Cook Local, Eat Global
Yet another inspiration from 660 Curries. I swear, every time I pick the book up and leaf through it, I find another dish I want to run into my kitchen and cook. It never fails–and what is even more amazing, is that there are very few photographs in the book. I just read the titles of the recipes, look at the description and run down the ingredient list and I am hooked. Nearly everything in the book sounds distinctly appetizing.
The chicken in this curry is amazingly tender for two reasons–one, is the yogurt-based marinade. You don't leave the chicken in it for long–if you do, the acidic yogurt will start breaking down too much of the protein in the chicken and will give the flesh a cottony, spongy texture which is less than appealing. But even as little as a half hour's soak in the thick, fragrant yogurt blend will tenderize the chicken admirably. An hour is even better.
The other reason is that if you cook the curry on medium low heat and keep an eye on the chicken and stop cooking it just after it firms up–it will be almost meltingly tender. High heat will firm the chicken too much, but the combination of yogurt and medium low heat is magical–the chicken is velvety and delicious.
Of course, I changed the recipe up a bit. Don't I always?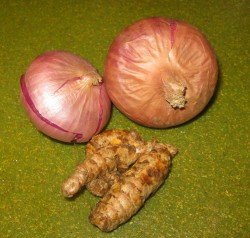 The first change came when I ground up fresh turmeric root into the marinade instead of using the dried turmeric called for in the book. I love the medicinal fragrance and slightly sharp, tingly flavor of fresh turmeric, and the color it imparts to curries, as you can see in the photograph above, is remarkably pretty.
I also chose to use a different spice mixture than the author required. His had coconut and peanuts in it; I was not in a peanut and coconut mood, so I used one of my own masala mixtures which is heavy on coriander seed and cardamom. I added a couple of bay leaves; I figured that their sharp, herbal tang would combine beautifully with the fresh turmeric.
Speaking of bay leaves–they have a completely different character when you grind them up rather than using them whole. I have never used them ground except in Indian foods, but I may change that when it becomes grilling season again. I think that a bit of bay leaf in a rub for steak or chicken would be fantastic.
This recipe comes together quickly–after you grind up the dry spices into a masala, set them aside and grind up the garlic, ginger, turmeric, and chilies, then whisk these together into the cream and yogurt mixture. Marinate the chicken in it while you slice the shallots and cook your rice. Then you just brown the shallots, scrape the chicken into the pan, and sprinkle it with the masala. Cook, stirring, until the chicken just firms up–it takes about twelve minutes or so–add the peas, and cook until they thaw and warm up, and there you are–dinner!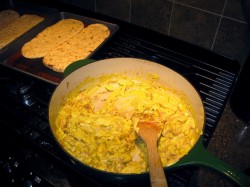 Muttar Murghi
Ingredients:
3 1/2 teaspoons coriander seeds
1 teaspoon cumin seeds
10 green cardamom pods
1/2 teaspoon fennel seeds
2 bay leaves
1/2″ piece cinnamon stick
1/2 teaspoon black peppercorns
3 whole cloves
1 teaspoon Aleppo pepper flakes
3/4 cup whole fat or low fat (not fat free) Greek style yogurt
1/4 cup heavy cream
1 1/2″ cube fresh ginger, peeled and roughly chopped
1 teaspoon salt
2″ long piece fresh turmeric root, peeled and roughly chopped
4-6 large garlic cloves, peeled and sliced
2-3 fresh green Thai chilies
2 whole boneless skinless chicken breasts (four halves), cut into 3/4″ cubes
2 tablespoons ghee or canola oil
1 1/2 cups thinly sliced shallots or red onion
8 ounce package frozen peas
salt to taste
1/2 cup roughly chopped cilantro leaves
Method:
Grind together all of the dry spices. Measure out a tablespoon of the mixture and seal the rest up in a container for use another day.
Whisk together the yogurt and cream, and then grind together the ginger, salt, turmeric root (if you do not have access to the fresh root, use 1/4 teaspoon dried, ground turmeric root), garlic and chilies. Whisk these together with the yogurt and cream mixture until well combined and smooth. Toss the chicken pieces into the marinade and cover and allow to sit for at least thirty minutes.
Heat the canola oil or ghee in a heavy-bottomed skillet on medium flame. Add the shallots or onions, and cook, stirring, until they turn a nice, rich golden color. Add the chicken, scraping as much marinade as possible into the pan and turn the heat down to medium low. Rinse the marinade bowl, getting all the good stuff off the sides of the bowl, with 1/2 cup water, and set the bowl with the water aside.
Cook, stirring, as needed until the chicken loses most of its pink color and some of the marinade starts to stick to the bottom of the pan and brown. Deglaze the pan with the water in the marinade bowl, and scrape up all the browned bits. Stir in the peas, turn up the heat slightly to medium, and cook until the chicken is just firm and no pink shows and the peas are heated through.
Add salt to taste and garnish with the cilantro leaves.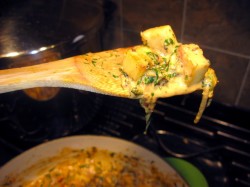 Or, in plain English, Paneer Cheese with Fenugreek Greens and Cream.
I ask you all–how in the world can this be bad? It contains fried cheese, the tastiest greens this side of collards and cream.
The answer of course is: it can't possibly be bad!
And it isn't. It is, in a word, amazing. The paneer is springy and sweet with a crisp exterior, there are almonds for crunch and a discreet nutty flavor, and the sauce is tangy, creamy and thick, and scented with the rich grassy fragrance of methi greens.
I like it even better than mattar paneer, and that says a lot, because that dish pretty much got me to eat peas and actually like them. (Zak still prefers mattar paneer, but he still really liked methi malai paneer, too.) And here's the great part–it is easier to make than mattar paneer, and it has less fat in it, because there is only 1/2 cup of cream in the whole dish, which will feed four people as part of a multi-dish Indian meal, or three if you are only eating it and some rice or bread.
I got the idea to make this from Raghavan Iyer's wonderful book, 660 Curries, which has become my go-to tome when I want to make Indian food, but I want to make something different, and I don't just want to "wing it" and make up a Barbara curry. (There is nothing at all wrong with winging it and making my own curries–my curries are quite tasty, but sometimes you need new ideas to spark your appetite.) I was digging through the book, while I still had a gallbladder and was desperately trying to find something I could eat that had flavor, and had found this recipe in the long and drool-inducing paneer chapter. Sadly, though it caused instant salivation, it also made me queasy, because of the butter, paneer and cream it contained. I knew how sick it would make me if I had the audacity to eat it right then. So, I bookmarked it and promised myself to return to it as soon as my gallbladder was out and I could buy fresh methi greens.
And that is exactly what I did.
Now, of course, all of you know that I had to change it a bit. And I did, but I still credit the basic idea of this recipe to the very talented Mr. Iyer.
I added browned onions, garlic, some mustard seeds to be browned with the cumin seeds, and I ground up dried soaked methi leaves up with the garlic and spices. I also added some Aleppo pepper flakes, though next time, I may use a stronger chili. And I used more of the fresh methi greens than he called for-he only used one cup and I used three. Why? Because too much is better than not enough, I had lots of methi and needed to use it and I really like the stuff. And, it is good for you.
It cooks up really quickly–I can totally see making this for dinner at the end of a busy day after putting some basmati rice in the rice cooker. It takes about a half hour, prep time included, to make. (Mind you, I cut, chop and mince quickly, but still–it is a fast dish.)
You could make it go even faster by pre-frying the paneer cheese over the weekend and keeping it sealed up in your fridge ready to turn into a delicious curry later in the week. Iyer says you can freeze fried paneer, but I don't really like the texture of it after it thaws all that much. I think it gets a bit mealy.
The best part of this curry though, other than the fact that it is creamy, delicious and soul-satisfying, perfect for a cold winter night–is that it leaves your home perfumed with the glorious mown-hay scent of fenugreek.
It is heavenly.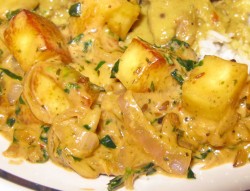 Methi Malai Paneer
Ingredients:
8 ounces paneer, cut into 1/2″ cubes
1/4 cup canola or peanut oil
2 tablespoons ghee, canola oil or butter
3/4 cup thinly sliced red onion or shallot
1 teaspoon cumin seeds
1/2 teaspoon black mustard seeds
1/4 cup slivered blanched almonds
1/4 cup dried methi greens soaked in hot water and squeezed out
2 large cloves garlic
1/4 teaspoon fenugreek seeds
1 teaspoon cumin seeds
2 teaspoons Aleppo pepper flakes
1/2 teaspoon fennel seed
1/4 teaspoon peppercorns
2 1/2 -3 cups roughly chopped fresh fenugreek greens (remove big stems before chopping)
1/2 cup heavy cream
2 tablespoons tomato paste (I use the stuff that comes in a big tube like toothpaste–it is concentrated and easy to keep in the fridge on hand)
1 teaspoon salt (or to taste)
Method:
Heat the 1/4 cup of canola oil in a heavy-bottomed nonstick (or well-seasoned cast iron) skillet over medium heat until it shimmers. Add half of the paneer and cook, turning over with a spatula now and again, until it is golden brown and crispy on all sides. Remove with a spatula to drain on paper towels, and fry the next batch.
In a heavy-bottomed deep skillet, heat the ghee, oil or butter on medium heat until it either foams or shimmers. Add the onion or shallot and cook, stirring, until the slices turn golden brown. Sprinkle in the cumin seeds, mustard seeds and almonds, and continue stirring.
While the onions, spices and almonds cook, grind up the soaked dried methi, garlic, fenugreek seeds, cumin seeds, pepper flakes, fennel seeds, amd peppercorns into a fine, fragrant paste.
When the almonds are lightly browned and the onions are a reddish brown, add the spice paste, and cook, stirring for another couple of minutes.
Add the fresh methi leaves and cook, stirring, until they wilt slightly–about a minute and a half. Turn heat down to low. Add the cream and tomato paste, then stir in with the salt. Add the fried paneer cubes to the sauce and cook, stirring as needed until the paneer turns soft and spongy–about 5 to 8 minutes. The sauce will also reduce until it thickens and basically clings to all of the other ingredients, leaving very little in the pan.
Serve with bread or rice.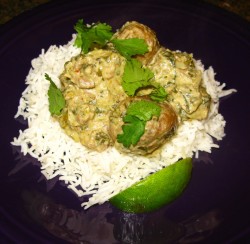 When the first really bad storm of this winter hit Athens, I decided we needed something to really warm us up.
So, for the two days we sat in the house while snow, freezing rain, ice, then snow again fell over our quiet little corner of Southeastern Ohio, I stirred up pot after pot of curry.
This is one of the tastiest of the bunch, and once again, the original recipe came from Raghavan Iyer's 660 Curries.
I am beginning to worry that people will think I have turned into a Raghavan groupie, what with me presenting all of these recipes inspired by his book, but the thing is, if I get stumped on what to have for dinner, I just have to flip through, and within a few pages I always come across something that sounds appealing, and I usually even have the ingredients for it on hand.
So, that is why I just keep delving into his book. I've come up with winners every time, so there is no reason to stop. (Except that I have some more Indian cookbooks here to review, so I should start cooking from them, too…and I will, have no fear.)
This curry is perfect for a blustery cold winter evening. It is especially good for dinner after a day of scraping ice from cars and shoveling snow from the driveway, because after all of that work, you need something hearty to warm you from the inside out.
This is not a low fat dish, but it is a good one–and it is quite nourishing. The fenugreek greens are full of vitamins A and C, with a good bit of iron, the baby potatoes I added to the dish have lots of vitamins and fiber in them, and the yogurt is just plain old good for you. The onions, ginger and garlic have antibiotic properties, and the chilies have a lot of vitamin C in them.
The cream–well–it is just there to tie everything together, I guess, in a rich, velvety sauce. I guess you could leave it out if you want to.
You could add spinach to this dish if you wanted, or kale, but I liked it just fine with the methi greens alone. I added more of them to the dish than Iyer used, and instead of using just dried methi or frozen, as he called for, I used both. I like the concentrated flavor that comes from the dried greens, and the texture and color that comes from the frozen ones.
I also added some dried, freshly ground spices to the dish–cumin, coriander, a bit of black cardamom and fenugreek seeds, and at the end, I added another dollop of yogurt, which I think improved the texture and color of the sauce.
And I garnished it with fresh cilantro leaves and lime wedges, adding both flavor and color.
This is perfect with steamed basmati rice and with sauteed broccoli with panch phoron.
Creamy Lamb Curry with Yogurt and Fenugreek Greens
Ingredients:
1 1/2 teaspoons salt (kosher salt is best)
1/4 teaspoon turmeric
1 teaspoon cumin seeds
2 teaspoons coriander seeds
1/2 teaspoon fenugreek seeds
1 black cardamom pod
8 large cloves garlic
1 small red onion, chopped roughly
3-6 fresh green thai chilies, stemmed
1″ cube fresh ginger, sliced
1/2 cup strained Greek style yogurt (I use Fage brand whole milk yogurt)
1 pound boneless leg of lamb, trimmed of excess fat and silverskin and cut into 1″ cubes
1 pound whole baby new potatoes, scrubbed, and boiled until nearly done, then drained and cut into halves
2 tablespoons ghee
1 medium red onion, peeled and thinly sliced
2 cups frozen (or fresh) fenugreek leaves
1/4 cup dry fenugreek greens, soaked in warm water for 15 minutes, then drained, with excess water squeezed out
1/4 cup heavy cream
1/2 cup strained Greek style yogurt
1 cup cilantro leaves for garnish
lime wedges for garnish
Method:
Put the first 10 ingredients into a spice grinder, food chopper or blender, and grind into a paste. Stir into the first measure of yogurt to make a thick, deliciously scented marinade. Toss the lamb with the yogurt mixture in a bowl and allow it to sit for at least twenty minutes. You can also cover it and put it in the fridge to marinate overnight if you want.
Heat the ghee in a heavy-bottomed pot or pressure cooker. Add the sliced onion and cook, stirring, until the onion is deep reddish brown. Add the lamb, and cook, stirring, until it browns lightly. Add the frozen or fresh fenugreek greens and the dried, along with one cup of water. If using a pressure cooker, bring to a boil, clap the lid on it and bring to full pressure. Turn the heat down to low and cook for twelve minutes. If using a regular pot, bring to a boil, turn the heat down and simmer for twenty-five to thirty-five minutes or until the lamb is tender.
If using a pressure cooker, release pressure and open cooker. Add potatoes. Turn heat up to high and bring back to a boil. Boil away excess water, until the sauce is quite thick and clinging to the meat.
If using a regular pot, add potatoes and check and see how thick or thin the sauce is. If it is too thin, turn heat up to high, bring to a boil and cook off the excess water. If it is thick, add a bit of water and simmer to finish cooking potatoes.
When potatoes are finished cooking, and the excessive water is boiled off, add the cream and the second measure of yogurt and stir to combine. Simmer for a couple of minutes to heat through, and then serve over plain steamed basmati rice, and garnish with generous handsful of cilantro leaves and some lime wedges.
Note: If you wanted to make a vegetarian version of this, substitute pan-fried paneer cheese for the lamb. That is it. Paneer would taste FANTASTIC with this greens-laden sauce and the potatoes.
In fact, I may have to make it that way next week so I can use up the rest of my paneer.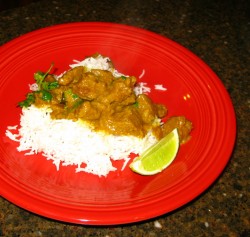 This curry was inspired by a recipe I found in Raghavan Iyer's book, 660 Curries. His version is simpler than mine–the seasonings were only mango pickles and garlic paste, and he used a little less yogurt than I did, but it sounded so tasty, I just had to take the basic idea and run rampant with it.
(I am always running rampant with some idea or another, whether it is in the kitchen or the sewing room. I can never just leave well enough alone.)
The first changes I made are obvious–I added curry leaves and switched out the mango pickle for lime pickle and relish. The pickle switch actually came first–while I like Indian mango pickle quite fine, I LOVE me some lime pickle. Mango pickle I can nibble. Lime pickle I can devour. So, out with the mango, in with the lime. And after the lime came into the picture I decided that curry leaves would go nicely with it–I like the slightly musky, earthy curry leaves with the lightly bitter, tangy flavor of lime. So, those were the first changes.
I also added a few spices to the garlic, which like Iyer, I ground into a paste. Cumin seeds and coriander seeds joined Aleppo pepper flakes (standing in for Kashmiri chili flakes, which I am fresh out of) in the Sumeet grinder with the garlic. My thoughts behind these additions are that the main spice in lime pickle is fenugreek, which, while I adore it, has a slightly bitter edge to it. So, the earthy richness of the cumin seed and the citrus tang of the coriander seed would counterbalance the fenugreek while highlighting the lime, and the mild chili would add sweetness and just a touch of heat.
Finally, I added turmeric for the color and its lightly astringent flavor, not to mention its health benefits.
And I used a bit more yogurt than Iyer did because, well–I really like yogurt.
I also cooked my curry in my ever-present pressure cooker, though really, it cooks up almost as quickly in a regular pot. Iyer gives about twenty five minutes as the length of time it takes for the lamb to cook through, while mine cooked in about twelve in the pressure cooker.
How did it taste?
Well, Britanny and I LOVED it and she said I should make it again. And again. And some more after that.
I felt much the same way–I really, really liked it–which is not surprising since I adore lime pickle so much.
Zak was not too sure about it. He said it had too much bitterness to it–and it is true that I like bitter flavors much more than he does. And he is right–since lime pickle is made from limes, skin and all–there is a bitter edge to it. And the main spice in the pickles is fenugreek–which is also somewhat bitter. Once I added the curry leaves, which Zak doesn't like in the first place, I may have tipped the flavor balance too far towards bitter for his tastebuds.
I will have to try making it again and see if I can tweak it around so he will like it. Maybe add an acidic component at the end like lime juice to help counteract the bitterness.
But no, I am not going to add sugar–that just sounds completely unappealing to me.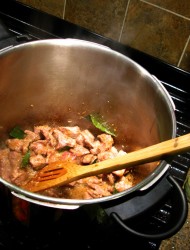 Lamb With Curry Leaves, Lime Pickle and Yogurt
Ingredients:
2 tablespoons ghee, butter or canola oil
10 fresh or frozen curry leaves
1 pound lamb leg meat, fat well-trimmed and cut into 1″ cubes
3 tablespoons garlic paste (about six large cloves, peeled and ground into a paste)
1 1/2 teaspoons cumin seed, ground finely
2 1/2 teaspoons coriander seed, ground finely
2 teaspoons Aleppo or Kashmiri chili flakes
1 teaspoon ground turmeric
1/3 cup Indian lime pickle or relish, finely chopped (I used Patak's brand)
1/2 cup water
1 1/2 cups Greek style or regular whole milk yogurt, strained
1 cup chopped fresh cilantro leaves
finely diced red onion for garnish
fresh lime wedges for garnish
Method:
Heat ghee, butter or canola oil in a pressure cooker or heavy bottomed pot on medium heat. Add the curry leaves, and stir for thirty seconds. Add the lamb, and cook, stirring, until the meat juices start pouring out and the meat begins to brown. Add the garlic paste, and the spices and continue cooking until there is barely any pink left on the meat.
Add the lime pickle bits and the yogurt and stir to combine. Stir in water.
Bring to a boil, put lid on pressure cooker, lock it down and bring to high pressure. Turn down heat to low and cook for twelve minutes. Release pressure and open lid. (If you have no pressure cooker, bring curry to a boil in your pot, then turn down heat nad simmer for about twenty five minutes, stirring as needed.)
Turn heat back on under the pressure cooker, and with the lid off, simmer off most of the liquid in the sauce. There should be a little bit of very thick sauce clinging to the meat and barely covering the bottom of the pot.
Stir in the the cilantro leaves, and serve over steamed basmati rice with a sprinkling of red onion on top, with lime wedges on the side for garnish.
Powered by WordPress. Graphics by Zak Kramer.
Design update by Daniel Trout.
Entries and comments feeds.