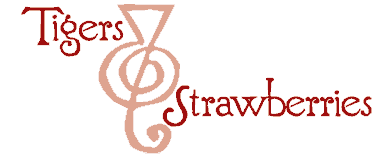 Cook Local, Eat Global
Heirloom tomatoes offer an amazing array of colors, shapes and flavors to tempt the palate and the imagination of the cook. It is great fun to use them in classic recipes to bring a new twist to old favorites. My best beloved heirloom tomatoes are the lovely little Green Zebras. They are about the size […]
These noodles did not originate in Singapore. Or, at least, that is what I am told. They are Cantonese in origin, possibly from Hong Kong, and they were first very popular in European Chinese restaurants. They made it to the US sometime in the 1980's and spread through the Chinese-American restaurants to the point where […]
I found this recipe originally in Fuchsia Dunlop's amazing Revolutionary Chinese Cookbook, which is the simply best book on the subject of Hunan cookery published in English. It uses salted chilies, a condiment which is ubiquitous to Hunan, but which is not available in stores here int he US; instead, Dunlop gives a simple recipe […]
Dried rice noodles, also known as rice sticks in English and pai mi fen in Mandarin, are available in nearly any Asian market, and in many American grocery stores in either the international foods sections or the health food aisle. Widely used in China, Thailand, Vietnam, Singapore and Indonesia, dried rice noodles come in a […]
Hello, friendly readers. The reason there have been no updates is that we are having technical difficulties with our computers and network. Other than that, all is well here. Hopefully, soon, there will be regular updates again.
Powered by WordPress. Graphics by Zak Kramer.
Design update by Daniel Trout.
Entries and comments feeds.