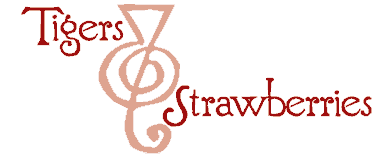 Cook Local, Eat Global
Kate at The Accidental Hedonist had a great post the other day on the subject of her favorite food aromas, and it got me to thinking. Quite a few of the foods she listed as having her favorite aromas seemed pretty universal to me–freshly baked bread being one and coffee being another. I think that […]
You know, it really isn't easy eating locally while on a cross-country trip. Especially if you are traveling with a two-year-old. So, I have to admit to the fact that we stopped at a McDonald's somewhere in Pennsylvania to get Kat some fries as well as to give us all a chance to stretch our […]
Something is wrong with the image browser on my blog. We are going out of town tomorrow, so here is the deal–I will post stuff until we get back, and I will take photographs, but I am not going to bother trying to fix the image browser. So, there will be no pictures here for […]
This year, I planted a whiskey barrel with Thai chilies and basil; eight starts of Thai Dragon chilies, a dozen of Siam Queen basil. These relatively few plants kept us in fresh Thai ingredients for the entire summer and early fall. The rainy early summer resulted in lush growth but the first chilies were fairly […]
Hey folks! This is a test post–something is awry with my blog–it keeps inserting junk code and the images I uploaded are somewhere, but not on the image browser. I'm working on it, but in the meantime, I am going to see if this post, sans images works.
Powered by WordPress. Graphics by Zak Kramer.
Design update by Daniel Trout.
Entries and comments feeds.