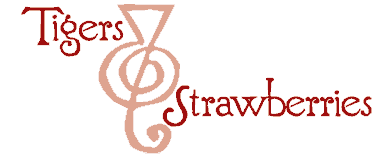 Cook Local, Eat Global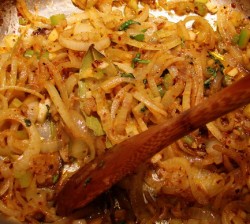 Kate at The Accidental Hedonist had a great post the other day on the subject of her favorite food aromas, and it got me to thinking.
Quite a few of the foods she listed as having her favorite aromas seemed pretty universal to me–freshly baked bread being one and coffee being another. I think that everyone loves those two scents–in fact, I think that if someone wanted to market a scent that would make Americans think of Mama and the comforts of home, it would combine freshly baked bread with coffee and perhaps vanilla.
I suspect that for Americans, sage has got to be a nearly universal favorite food smell because it is the scent that embodies one of our favorite food holidays: Thanksgiving.
Other aromas that she lists as favorites are less typically American and more personal to Kate. One is freshly popped kettle corn, which though I am sure many people love, is not necessarily a scent that everyone I know would recognize, and the other is fresh whiskey straight from the still–not nearly as many people I know have had the opportunities to smell that as Kate has. (Being as she is the author of a book on the subject of whiskey, and I know she traveled to many distilleries doing research, I suspect she is probably an expert on the olfactory experience of the water of life.)
Garlic and onions, which she lists together, have scents that I know for a fact polarizes people's opinions, sometimes even within the same household. While I side with Kate and simply love walking into a home that is fragrant with the essence of what I consider to be good cooking, which is to say browned onions and golden garlic, many other people I know are quite simply offended at having such odors permeating a living space.
I remember the Pakistani-Bangladeshi Muslim couple I used to cook for were divided on the issue of cooking smells. The husband hated having his home smelling of the kitchen, while the wife felt that the scent of cooking made a house a home. So, she would ask me to use the vent hood when I browned onions and cooked garlic, but was less stringent in her request when I cooked fresh ginger and spices, since these odors did not bother her husband.
Many other people I know also operate their vent hoods or open windows before, during and after cooking onions and garlic, and while I realized that this desire for a home unscented with cooking alliums is a personal choice and thus I respect it, I cannot help but note that it makes me sad, because to me, the scent of onions and garlic IS home to me.
Any reader of this blog has to know that nearly everything I cook other than desserts, is liberally laced with large amounts of garlic, onions and ginger, so it is inevitable that my kitchen, and in fact, the entire lower floor of my house, smells of them. In fact, when I am stir-frying and thus using the vent hood to get the smoke and the heat out of the kitchen, not only do I spread allium smell all over my house, the odor is swept outside into our driveway and sometimes goes as far as the street. Many of my friends have joked that they need only stand downwind of my house and sniff the air to know what I am cooking for dinner.
Imagine a tall, slender red-haired man stepping out onto the deck of his log cabin three doors down the hill from my house. He raises his head and sniffs the air, his nostrils twitching as they catch the scent of browned onions, garlic and ginger mixed with….chilies, there they are, cumin, cardamom, coriander, cinnamon and–ah–there it is–lamb. He smiles and starts walking up the hill because he knows that his sister is cooking lamb curry for dinner and the door is always open to him. That would be Dan, who has literally said that he has smelled my cooking at least one house down the road from mine, so it is a slight exaggeration to have him smelling it from his porch, but not by much.
When I come downstairs in the morning after I have cooked a traditional Chinese or Indian meal, I love being able to smell the lingering odors from dinner. I have found that in addition to the holy trinity of my kitchen of garlic, onions and ginger, some odors linger lovingly longer than others. One is the comforting, woodsy scent of toasted sesame oil, and another is the nutty, creamy aroma of Shao Hsing rice wine. Cumin, cardamom and cloves linger lovingly in the air after I make curry, and the tang of fish sauce and lime juice blended with chilies tells me that the spirit of the Thai food I cooked the night before is still wafting through my home.
And the truth is I know that I would rather my kitchen and home smell like good, well-seasoned food than any cleaning potion ever invented by man–even Pine Sol. (That is a big admission because I adore the smell of Pine Sol–it reminds me of my childhood in a good way.) Whether the scent of my kitchen involves alliums, rising dough, freshly baked bread, pie straight from the oven, fish sauce in a hot wok or kimchi bubbling on my counter in its initial fermentation, (yes, Kate, I disagree with you on the kimchi–to me, fermenting cabbage smells good) it always smells deliciously of home to me, and brings myself and many other great joy.
31 Comments
RSS feed for comments on this post.
Sorry, the comment form is closed at this time.
Powered by WordPress. Graphics by Zak Kramer.
Design update by Daniel Trout.
Entries and comments feeds.