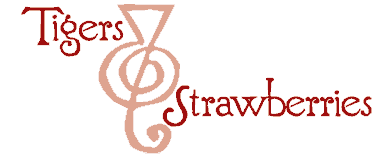 Cook Local, Eat Global
So, yesterday, I wrote a post about how for the past three dark and drear Ohio winters, Meyer lemons have saved me from descending into the lifestyle of a dustbunny.
Then, I get up and look at the New York Times and lo and behold, I am not the only person in the world who is interested in the oddities in the lemon world. Apparently, growers in the US are taking up the cultivation of all sorts of different lemon varieties, including ones that are so sweet that even folks without a taste for the tang can eat them out of hand. There is even a great photograph of a really interesting variety with a green striped skin when it is immature, with fragrant pink flesh.
How neat is that.
Anyway, I understand that you have to register to read the article. If that gives you the heebie jeebies and you fear that spam will descend on your email box or Da Man will come and drag you away in the middle of the night because you are a food-obessessed weirdo who wants to take the world over one plate at a time just because you gave some information to the Times, frolic off to bugmenot and deal with your issues. Become unbugged and read that story.
And look at the pretty picture. Doesn't that just make you want to know what they taste like? Can you imagine a pale pink lemon sorbet that doesn't rely on food coloring to get that way? What about using some unripe ones to make little cups out of the skins in order to serve said sorbet.? Very pretty.
More later, probably on a completely different topic, because that is just how I am.
5 Comments
RSS feed for comments on this post.
Sorry, the comment form is closed at this time.
Powered by WordPress. Graphics by Zak Kramer.
Design update by Daniel Trout.
Entries and comments feeds.