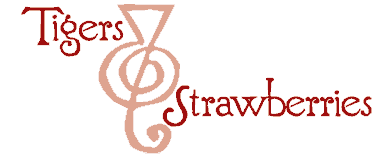 Cook Local, Eat Global
If this wasn't a legitimate news outlet, I would be suspicious of this story.
Two young girls baked cookies and tried to give them to a neighbor, but she was afraid because they knocked on the door after dark?
And then, not only does she not open the door to see who it is and accept the cookies, she flees her home and then has an anxiety attack that is so bad she thinks she is having a heart attack and goes to the ER?
And -then- when the girls 'fess up to the heinous crime of trying to give the woman home-baked cookies, and apologize for frightening her and her parents offer to pay the medical bill if she will sign a paper releasing them from any more liability, she -refuses- and takes them to court anyway?
And WINS?
Excuse me, but there is simply something wrong in the United States if a judge would award anything to this woman but a boot in the seat of her pants. I do not understand why the case wasn't tossed summarily out of court. It is ridiculous.
And it all happened because two girls decided to be charitable and make cookies for the neighbors. How dare they?
I'm glad that my neighbors are nowhere nearly so weird. They accept my gifts of baked goods not only with good grace, but with great glee.
They especially like these:
Raspberry Almond Crumb Bars
2 ½ cups all purpose flour (or 2 cups white and ½ cup whole wheat flours)
1 cup raw sugar
1 cup chopped almonds
1 cup softened butter
1 egg
1 tsp. almond extract
¼ tsp. ground ginger
½ tsp. ground cardamom
½ tsp. ground cinnamon
¾ cup seedless raspberry preserves
Preheat oven to 350 degrees F.
Combine all ingredients except preserves in mixing bowl and beat on low speed until mixture resembles coarse crumbs. Reserve 2 cups of crumb mixture.
Grease an 8 or 9 inch square baking pan (you can line with foil first to ease lifting bars from pan after baking–if so, grease foil–I use Baker's Joy).
Press remaining crumb mixture evenly on top bottom of pan.
Spread preserves in an even layer within ½ inch of edge.
Top with remaining crumbs.
Bake for 40-50 minutes, until the top is lightly browned.
Cool completely, cut into bars.
Makes 25 small bars.

Variations: You can use sour cherry preserves for filling; you can also use different nuts. Pecans or walnuts are very good; cashews are rich, but go well with apricot filling. Almonds are best with raspberry or cherry filling. You can also melt semi-sweet chocolate chips with a bit of butter and drizzle over the bars before cutting.
Seriously, I hope that Lindsey Jo and Taylor do not lose their instincts for kindness and generosity because of this obviously greedy and disturbed self-centered woman. I really hope that they don't become cynical and lose their ability to engage in random acts of kindness. Such caring is rare in the world and I would hate to see it crushed by the small-hearted miserliness of a person who has been coddled by a dull-witted judge.
Meanwhile, I am fighting my urge to start a campaign to send the woman in question piles of chocolate chip cookies made with Exlaxx.
I'd never do it.
But boy is it a tempting thought.
2 Comments
RSS feed for comments on this post.
Heavens… I don't know what to say. It's just so unbelievable. Such a thing would never happen in Sweden, people would laugh if anyone went to court for anxiety due to kind neighbours. I don't think that the court ever would accept a case like this. Poor girls…

/Dagmar

Comment by kissekatten — February 8, 2005 #

That is because, my dear Dagmar, Sweden is populated with eminently sensible folk. Sadly, I cannot say the same for the US. I love my country, and most of the time, I like the folks here, but then, something like the cookie incident happens and I just shake my head and wonder where everyone's brains have gone.

Noddy over at Cracked Cauldron Spillings has a great idea–every time we hear of something like this which might kill random acts of kindness in its tracks, send the perpetrator a cookie with a nice note reminding them that kindness is that which makes humans noble.

She words it better than I do, but well, I need more coffee!

Comment by Barbara Fisher — February 8, 2005 #
Sorry, the comment form is closed at this time.
Powered by WordPress. Graphics by Zak Kramer.
Design update by Daniel Trout.
Entries and comments feeds.