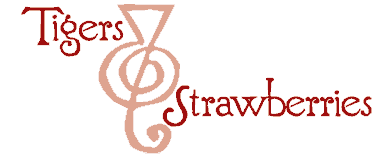 Cook Local, Eat Global

Here is the design on the t-shirt we are giving away. The T is a baseball shirt with black three-quarter length sleeves, sized extra large.
Okay, first, let's talk about this t-shirt contest. Saturday, at the North Market's Second Annual Fiery Foods Festival, I gave out fifty business cards with the Chupacabra design pictured above on them, along with the address to this blog, with a blurb about how folks could get the recipe for the chili and more at Tigers and Strawberries. On the back of each card I wrote a number between 1 and 50.
This is how it works: we will give away a t-shirt featuring the frolicking, fire-breathing cutsie Chupacabra to whosoever has the card with the number on it that I post on this blog. However, if you are the number holder, you have to notify me within three days of my posting this, so by Thursday night at midnight, you need to comment to this post, right here, and give me your email address so I can write and get your snail-mail addy so I can send you the shirt.
So, drumroll, please–the number that my random-number generating beastie is showing is:
36.
That is right, folks, 36. So, whosoever holds the card with the number 36 on the back of it, give me a holler on this blog by posting a comment (you do that by clicking on the comments link at the bottom of this post and following the directions) and leave me your email address in your comment. I will email, we will be in touch, the t-shirt will be yours.
If you do not get in touch with me in three days, I will employ the random number generator again and come up with a new number. If that doesn't work, I will try a third time. If that doesn't work, I will come up with a new plan.
Now, on to even more fun and exciting things: the recipe.
Note–it looks complex, but that is just because I put a lot of stuff in it. Once it is cooking, all you have to do is turn it down to low and keep an eye on it.
Another note–you can use already ground cumin and coriander, but you may have to use a bit more or less depending on how fresh your spices are and your own personal taste.
As always, these ingredients are "to taste." Meaning, to your own taste. You don't like cilantro? Fine, don't put it in. You don't like so much cumin, fine, use less. You can't find posole, add a can of drained hominy in the last hour of cooking (but rinse it first, please). You'd rather use freshly roasted corn and it is in season, go right on with your bad self, I am right behind you. You hate beans, leave them out. You don't have red beans, but pintos, fine, that is great, I don't care. You want more chiles or less, or you don't want to use powdered chiles and use only fresh, you want to roast them first, whatever floats your boat.
Do it, and when you do, write and tell me all about it. I'll be happy that you took my recipe and ran a marathon with it and made it your own.
The only thing I will insist upon is that you use lamb and you at least try using goat. I understand if you cannot find goat meat anywhere, but don't not use it because you are scared of what goat tastes like. If you don't believe me that it tastes good, then take it from Chupacabra. Goat is so good, that El Chupacabra took it as part of his own name, man.
That is devotion to a foodstuff, right there. You have to respect that.
Chupacabra Chili
Ingredients:
2 1/2 tablespoons cumin seeds
1 tablespoon coriander seeds
1 teaspoon whole black peppercorn
½ cup flour
2 tablespoons Northwoods Seasoning from Penzey's (or use seasoned salt)
olive oil to cover the bottom of your pot
1 lamb shank
1 pound lamb stew meat or lamb shoulder cut into small cubes
1½ pounds of goat stew meat (I removed the bones for the contest, but you can leave them in to flavor the stock, then remove them after it is cooked)
2 medium onions, chopped finely
2 fresh poblano chiles, chopped finely
1-3 chipotle en adobo, minced (to taste–1 makes a mild chili, 2, mild-medium and 3 medium hot)
4 large cloves of garlic, chopped
2 teaspoons ancho chile powder
1 teaspoon chipotle chile powder
2 bay leaves
1 teaspoon dried Mexican oregano or regular oregano
1 bottle dark beer
½ pound posole, rinsed and soaked overnight in water to cover, then rinsed and drained
¾ pound cannellini beans soaked overnight, then drained and rinsed
½ pound small red beans or pink beans, soaked overnight then drained and rinsed
1 quart chicken broth (homemade stock is great, but the organic Pacific brand in the aseptic packaging is good, too.)
1 quart vegetable broth (Pacific organic in the aseptic package is good)
¼ cup Penzey's Hungarian sweet paprika (for color and a slightly sweet flavor)
1 pound fresh tomatillos–husked, cored and cut into a medium dice
1 bunch cilantro, stems removed and roughly chopped
salt to taste
Method:
I know that the ingredient list looks long. Do not panic–it cooks down into a delicious stew. The prep takes a while, but once it is simmering, you just have to leave it alone and stir it now and again and that is all.
Take your cumin seeds and in a heavy-bottomed skillet, toast them over medium heat until they are brown and release a nutty aroma. Set aside to cool. Put into pan the coriander seeds and peppercorns and toast until they throw off a good aroma, then set aside to cool. Grind spices in an electric grinder (coffee grinders work well) or a mortar and pestle. Set aside.
Mix the flour with the Northwoods Seasoning (which btw, is great on pork chops when you grill them), and coat the bottom of your stew pot with olive oil and heat on high. While the oil heats, dredge the lamb shank into the flour mixture, and as soon as the oil is hot, brown the shank well on all sides. When it is nearly done, dredge the lamb chunks and coat well with flour. Remove the shank and set aside and brown your lamb meat on all sides. When it is nearly done, dredge the goat. Remove the lamb cubes when they are brown, and set aside, then add the goat and brown well.
When the goat meat is well browned, add the onions, poblano chiles, and chipotle en adobo, and let the onion barely begin to brown. Add the lamb shank and lamb back into the pot along with the garlic, and stir everything together well. As the onions reach a medium golden brown, add the cumin, coriander and peppercorns, then the ancho chile powder, the chipotle chile powder, the bay leaves and the oregano. Cook, stirring constantly, until the spices release a strong fragrance, then immediately pour beer into pot, and stir to deglaze the pan, digging up the bits of flour and spices that have stuck to the bottom of the pot. Allow most of the alcohol to simmer off.
Add posole and beans, then the two broths, and turn heat down to low and cover pot. Simmer, covered, until meat is tender and beans are cooked. Posole will still be a bit chewy, but will definitely be cooked. This takes anywhere from 3-6 hours. Add water or beer as needed to keep the chili reasonably hydrated. Most of this time, you can ignore the pot, and leave it alone and it will be fine.
Remove lid to pot, and add paprika to give the chili a nice reddish color. Allow the liquid to reduce, simmering off excess water, stirring frequently. Add tomatillos and cook until softened. Be careful to keep stirring so that the thickened chili doesn't stick to the bottom of the pot and burn. Add salt to taste.
Just before serving, stir in cilantro. You can serve with a dollop of sour cream and a sprinkling of sliced green onions if you like. Fresh flour tortillas, warm and buttered would be nice, too.
2 Comments
RSS feed for comments on this post.
Oh gods, as much as I LOVED that chili, I saw the list of ingredients and my eyes glazed over. The most I can do it mix buttermilk, flour, and baking soda together for Irish soda bread- and that is a stretch for me. Maybe Hayes will try it, he is quite adventurous in the kitchen. BTW, I WANT A DAMN T-SHIRT!!!

Comment by artcargirl — February 21, 2005 #

You can always pass the recipe on to Jeanne–I bet she could replicate it. She's a whirlwind in the kitchen.

And if you want a t-shirt–there is a link to the CafePress site where Zak's t-shirt designs, including the ChupaChili shirt lives. They are available for a very modest fee.

You could always wear it to school!

Comment by Barbara Fisher — February 22, 2005 #
Sorry, the comment form is closed at this time.
Powered by WordPress. Graphics by Zak Kramer.
Design update by Daniel Trout.
Entries and comments feeds.