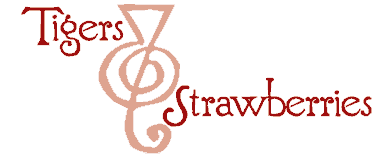 Cook Local, Eat Global
And so, it is like this, you see.
In two weeks, we are moving. And before we move, we have to do stuff like pack, distasteful though it is. And we have to do about eighty-eleven other things, like order our new sofa and chairs for the living room (the current couch is too large to fit in any of the rooms of the new house) and see if we can find enough boxes to pack our bazillions of books in, and clean up our continual messes, and go out and get enough cat carriers for all of our critters.
While, of course, keeping food on the table and not going insane.
We're doing great with the food on the table–Zak has been baking bread (and has finally taken up keeping notes on what he does with each loaf so he can remember and replicate the process–I am quite proud of him) and I have, as you know, making pot after pot of nurturing soups.
As for not going insane, this blog helps with that. I get naturally twitchy if I have to cook in a jumbled, chaotic kitchen day after day. I always was naturally a reasonably orderly cook, but having the mantra of mise en place beaten into my head in culinary school has made me even more neurotically inclined toward a clealiness in the kitchen than before. And our kitchen, right now, is not anything resembling orderly.
Most of my pots and pans are packed away. My baking things, too. It is coming onto time to start thinking of packing my huge cabinet of spices away, leaving only a skeleton crew behind–chiles, Sichuan peppercorns, black pepper, salt, thyme, rosemary and sage. I think, I hope, I can pack the rest. Well, maybe not. What about the holy trinity of Indian food: cumin, coriander and cardamom?
And the rice. I should pack it all away except for the jasmine. And maybe the basmati.
All of my cookbooks are in boxes, now, though my last box of Chinese cookbooks is left open. I have a couple of them which I am not finished reading yet. For Zak, I have out two bread baking books, and I found a dessert recipe book hiding downstairs last night, and I have some tomes of food and women's history that are lying about because I am still reading them, snatching free time from the jaws of the box monster.
My cookbooks are my friends. They are comforting, lined up neatly in their shelves, and sometimes, I am apt to just pull one out to read a few pages. I do that especially with Julia Child; her voice comes through her writing and is extremely comforting. Madeline Kamman's books do that to me, too. "And now, we will have a reading from the gospel of Saint Julia, 1:21–"Never apologize."
However, Saint Julia is stuck in a box somewhere in the vicinity of my living room, taped up in the dark with her compatriots, and her voice is silenced, except in memory.
At any rate, if my updates cease to be as regular at some point in the next few weeks, which is likely, you will know why.
I am living in land of boxes. Boxes, boxes, everywhere, and no vodka to drink.
Until I have to stop writing, though, I do have a few good entries lined up.
Stay tuned.
10 Comments
RSS feed for comments on this post.
Sorry, the comment form is closed at this time.
Powered by WordPress. Graphics by Zak Kramer.
Design update by Daniel Trout.
Entries and comments feeds.