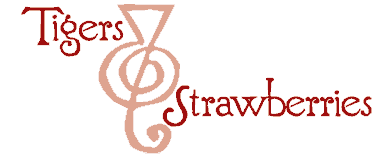 Cook Local, Eat Global
So, I am packing. Packing, packing, packing. Boxes, boxes, tape, newspapers, styrofoam peanuts (which were leftover from the last move, three years ago), and markers make up my days and nights. I dream of boxes, tape, and more boxes, then wake up flailing and screaming, "Where did the goddamned marker go?"
And then I get up and so some more packing.
Packing, packing, packing.
Packing.
It is not fun.
We had to travel to the new house today to talk with our contractor about something or another having to do with the bathroom he is redoing. Which was cool, because we could take stuff with us to go into the house. Which is great, because we have a couple of light fixtures we want him to put in said bathroom (they are ultra-cool, as they look like stylized glass UFOs), so we took those along. But there was room in the car for more.
So, tired as I was of packing files, stuff from the closets and dishes, I got the grand idea to start packing non-perishable food items to take with us and put in the pantry of the new house.
Oh, the cleverness of me.
So, I put together some boxes, and dragged them into the kitchen and plunked myself down in front of the pantry and started dragging stuff out of the bottom shelf, which is where I keep the dried staples. You know, like grains (except rice, that has its own special place) and pasta and things like that.
Oh, yeah, and beans. Dried beans live there.
Lots of them.
Package after package of dried beans began to emerge from the depths of the bottom pantry shelf. Beans that had not seen the light of day since Methuselah walked the earth. (Okay, so maybe they weren't that old. Maybe they had been hidden only since Jesus walked on water to the amazement of his friends and neighbors.)
And not just any old kind of beans, but a plethora of beans from cuisines spanning the globe lived in that pantry in a veritable United Nations of Leguminous Vegetables.
Well, it is true that I found some old standard United States favorites, like pinto beans, black beans and plain brown lentils.
But I also found French black beluga lentils and green lentils as well as the lovely Indian salmon-colored masoor dal, which as we know, are brown lentils split and stripped naked.
Also hailing from India were toor dal–yellow split peas. Urad dal, both split and whole. Kali Channa, otherwise known as black chickpeas, white chickpeas which I didn't even know we had, or I would have used them for the channa masala, and moong dal.
Then there were the three packages of azuki beans, which are used in both Japanese and Chinese cuisines. Behind them were stuffed a couple of pounds of French flageolet, looking pale and lovely next to the dusky Italian borlotti. Louisiana red beans and Italian cannellini beans were crammed beside the Caribbean's beloved pigeon peas.
I am never going to buy a dried bean or lentil or dal or legume ever again. Ever.
Never, ever, ever.
And then, when that was done, out came the grains. Bulgar, brown rice, wild rice, corn. Quinoa. Posole. Pounds of posole, which I bought because I figured that I wouldn't be able to buy it in Athens.
And after that, I found the stash of rice noodles. Thick, thin, narrow, wide, and all sizes in between. And the bean thread noodles. And the rice wrappers.
And behind them, was one more package of lentils.
As if I needed more.
As I shoved all of this bounty into boxes, I reflected on my hoarding behavior and realized something about myself.
I must be stopped.
At all costs.
Because if I ever cook all of these beans, the air will not be fit to breathe in my house. There is not enough Beano in the world to save Zak and I from ourselves.
With that realization, I decided that after we get settled into the new house, I will institute a policy of making one new bean dish a week until we are rid of this uncanny surfeit of legumes. I will invite friends over and we will eat beans until there are no more.
So stay tuned for the further adventures of the Bean Babe and her faithful sidekick in the kitchen, Beano the Magnificent as they endeavor to rid the pantry of an overabundance of healthy and flavorful legumes without gassing the entire small town of Athens, Ohio into oblivion.
Of course, the obvious question that arises is what will the Bean Babe do when she runs out of beans?
The answer is elementary: go out and buy some more.
11 Comments
RSS feed for comments on this post.
Sorry, the comment form is closed at this time.
Powered by WordPress. Graphics by Zak Kramer.
Design update by Daniel Trout.
Entries and comments feeds.