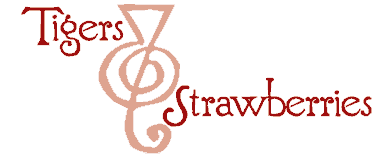 Cook Local, Eat Global

Really fresh and really local: strawberries from our first harvest last year. They were completely superior to the ones available in the grocery store in every respect.
Is it just me, or have the strawberries you get in the grocery store become prettier and less flavorful over the past few years?
They are large, they are red, they are shapely and fragrant, but the fresh strawberries that are flooding the stores here in Ohio, which are predominately grown in southern California, have little to no taste and are a bit on the crisp side, which is great when we are talking about apples, but not so enticing when it is a strawberry I have nearly broken a tooth on.
Last spring is when I noticed that they all smelled really, really good–like sunripened strawberries still in the field. Which is what seduced me into buying a pint of them.
That one pint scented my entire car (a Subaru Forester), which is not small, meaning that little pint of gigantic strawberries was either endowed with a great deal of natural sugars and flavor, or it was made by the Yankee Candle Company. (Which I call Stanky Candle, because walking past one of thier stores with its melange of overly-fragranced candles is a sort of olfactory purgative for me.)
When I got home, I ripped open the clear clamshell package and rinsed off a berry. The sweet scent poured out of the fruit and I all but drooled down my chest in anticipation.
However, when I bit into the overly crisp, but lovely crimson fruit, I was distinctly underwhelmed.
Actually, I was deflated.
It tasted vaguely like watered down, barely sweetened strawberry flavored Kool-Aid.
I thought it was an anomaly.
I tried another berry.
I was wrong.
They were horrible, and they could very well have been made by Stanky Candle, for they were insipid to the point of pointlessness.
Yet, the next day when I went to the store, they were all but sold out.
Which led me to believe that either I was a freak of nature and just couldn't taste the berries, or everyone else was getting duped along with me, or, everyone else happened to like crappy plastic flavorless berries that just happen to look and smell good.
Which led me to believe that the berries were bred to smell and look good, and ship well, but that the genetics for taste were somehow left out of the equation. Which works pretty well, if you think about it–once the grocery store has your money, what are you going to do about it? It isn't like the strawberries are rotten, they are just not good. But they aren't something you are going to get a refund on, right?
Zak agreed with me that they tasted like, well, nothing, really, and that maybe I wasn't just being paranoid about agribusiness trying to take over the food world and inundate us with worthless food items wrapped up in pretty packages with bright colors and nice smells in order to trick us into buying them. This article in the New York Times confirms my suspicions that flavor has been sacrificed by commercial breeders in pursuit of a better looking berry. It is all a big hoax, a sham, those "seasonal" California strawberries, all tarted up in scarlet and smelling good, tricking consumers into thinking that is what a strawberry is about.
And we fall for it, because we don't taste before we buy.
Well, that was the last pint of commercial berries I have bought, and I felt better for it. Besides, we had our own strawberry bed that produced a huge crop that year, such that for several weeks, we ate strawberries for breakfast every day. After the experience of going out into our front yard and eating fresh sunwarmed berries first thing in the morning, neither of us had the stomach to tolerate substandard faux-fresh fruit anymore.
So, this year, even though we don't have a strawberry patch in the new house (yet), I will not buy any strawberries until the season for local berries starts here in May and June. There is just no point, because a pretty berry without flavor is just not worth the dirt it was grown in.
5 Comments
RSS feed for comments on this post.
Sorry, the comment form is closed at this time.
Powered by WordPress. Graphics by Zak Kramer.
Design update by Daniel Trout.
Entries and comments feeds.