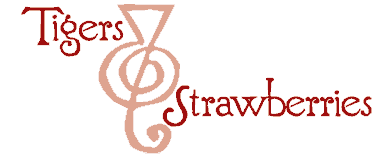 Cook Local, Eat Global
Kate, the fine author of one of my daily must-reads, The Accidental Hedonist, recently posted a link to a column by Mark Morford decrying the "food" and atmosphere that is found in the typical gigantic American supermarket. A reader responded with this quote: "What does republican have to do with this rant – albeit his point is an excellent one, why politicize it? The dems have taken lots of money from the Safeway/Vons/Albertsons of the world. Starbucks – the Safeway of the coffee industry – is all Dem. So not sure why you have to politicize this. Get over it."
Kate's thoughtful response links to another blog, which is all about US governmental food policy, written by Parke Wilde, a food economist.
My response, which is hopefully just as thoughtful, though it is also ironic is this:
Food is already politicized. The personal is political. If you don't like that stop eating. If you don't like what a blogger has to say about it, don't read that blog entry. (Notice I did not say "stop reading," though it was tempting as it would have had parallel sentence construction going, and I do like the elegance of that. However, I would never, ever, under any circumstances advocate that any being of any sort stop reading.)
And just to sort of top off my food and politics theme yesterday, Zak sent me a link to an article stating that the US Government, (at the recommendation of The National Acadamy of Sciences) might be changing the rules on how WIC operates in order to bring it closer to modern healthy nutritional guidelines.
What is WIC?
The acronym stands for Women, Infants and Children; it is a governmentally funded voucher program with which low income mothers can obtain nutritious food for themselves (particularly if they are nursing mothers), their babies and toddlers. Vouchers are provided for milk, juice, baby formula, eggs, cheese, cereals and dried beans. The proposed changes will provide vouchers for fresh fruits and vegetables–nutritionally superior foods which few low income families can afford–while also allowing for various calcium-rich foods such as yogurt, tofu and soy beverages to be purchased instead of whole milk. The new guidelines would also provide for the consumption of less cholesterol in the form of dairy products and eggs, in an effort to curb rising obesity rates among children.
The number of children who are touched by WIC is incredible. For a program that costs a bit over five billion dollars a year, it feeds over 8 million human beings in our country, most of them children. One half of all infants in our country and one quarter of all kids between the ages of one to four years are fed in part, through the WIC voucher system.
Any person with empathy can see how important this program is to low-income families with kids. But just in case a reader doesn't get it, let me make this bunch of political statistics personal:
Fourteen years ago, my daughter was one of those kids.
Nearly sixteen years ago, when I was pregnant with her, my husband lost his job, and I was unemployed and unemployable, in part, because minimum wage employers don't like to hire a visibly pregnant woman. (Of course, they didn't say that when they didn't hire me, that would be discrimination, but the truth was they didn't want to hire me and then lose me in six months when I gave birth, or even worse than that, have me get injured on the job and then sue them.)
With no income coming in and the savings account gone, we definately qualified as "low income."
It killed me to accept charity. But my mother-in-law rightly pointed out that I had been working and paying taxes since I was seventeen, and one of the things my tax dollars paid for was helping to take care of those who were the most vulnerable in our society–pregnant women, babies and toddlers. So, I signed up for WIC, and ended up on medical assistance for my baby's birth. I actually got very good medical care, but I learned quite quickly, how badly some women who use WIC vouchers or food stamps can get treated.
I also learned how nicely some of those women can get treated. I discovered that race matters when you are poor–grocery store clerks tended to be nicer to me than they were to black women using the exact same vouchers. I discovered that how you dress matters–I still dressed nicely, and looked more "middle-class," and saw that white women who were not dressed as well as I was tended to get treated badly by store clerks.
I also learned that the taxes that I pay every year go towards something that matters more than Homeland Security.
It goes toward helping ensure that mothers and children have a chance at being healthy.
So, when I read that article yesterday, I was happy to know that the WIC guidelines were going to change and grow with our nutritional understanding which has amassed over the past thirty years.
However, something niggled in the back of my mind and worried me, and for a few minutes, I couldn't figure out what it was.
And then I remembered.
The budget.
Under President Bush's new proposed budget, WIC is going to undergo drastic cutbacks.
The Center on Budget and Policy Priorities reports that the 2006 federal budget proposed by President Bush, targets WIC and other programs which are aimed at low income mothers and children for drastic cuts by 2010. For example, projected cuts to WIC show that by 2010, 670,000 fewer women and children will be able to be served by the program.
Yet, the US Census Bureau reports that the number of children under 18 who are in poverty is rising: from 2002-2003, the percentage of children in poverty rose from 16.7 percent to 17.6 percent.
Those 670,000 children are not faceless, nameless statistics. They are babies just like my daughter was. They are people. And they deserve to be fed.
It is very well that WIC's policy on what constitutes nutritious food may be changing to reflect changing nutritional guidelines, but without a budget, what good will this do? If there is no money to feed these children, what does it matter? Is this what compassionate conservatism is about?
The political is personal, and food and nutrition are political issues.
And it behooves those of us who care about food, who can write passionately and eloquently about the seductive flavor of a truffle, or the joy of baking a loaf of bread, to be educated about how our food is affected by governmental policy. It behooves us to not only speak to the needs of the wealthy few who can afford truffles, but also to write about the plight of those whose hunger is for nothing more exotic than a full belly and a hope for the future of their children.
The personal is political, and the political is personal. Don't ever forget that.
My daughter and millions of others like her will thank you for remembering.

6 Comments
RSS feed for comments on this post.
Sorry, the comment form is closed at this time.
Powered by WordPress. Graphics by Zak Kramer.
Design update by Daniel Trout.
Entries and comments feeds.