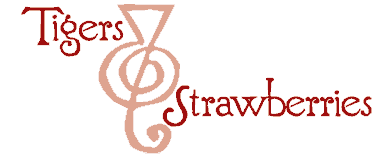 Cook Local, Eat Global

The ingredients for my lemon pasta primavera. Everything except the lemon is locally grown.
It all begins at the farmer's market Saturday morning.
The sun was bright, the air was warm and breezy, and the parking lot upon which the tents and awnings had been staked was filled with a teeming throng of shoppers, people-watchers, buskers and strollers. Kids laughed and babies squealed, grandmothers sniffed huge bouquets of flowers and fathers gave tastes of honey to their children, while mothers stood around, shading their babies from the sun, and discussing which type of cloth diaper system they favored.
Music from South American flutes trilled and soared over the waterfall of language and the galloping rhythym of calloused hands thumping the goathide skin of a djembe put a dance in the steps of young and old as the river of people ebbed and flowed through the market.
Stepping boldly into the fray, Zak and I began our weekly excursion, with no thought in our minds except procuring foodstuffs for a dinner to go with the promised Strawberry Rose ice cream that night.
First, I stopped at Canaan Valley Farms, and picked up a frozen chicken breast, and passed the time of day with the dear farmer whose chicken is so delicious.
Let me tell you about his chicken.
The meat is firm and velvety to the touch, not slimy and mushy. Even Bell and Evans organically raised free range poultry has a rubbery texture that slithers under my fingertips as I cut it up for cooking. This usually comes from the addition of water in the form of injected saline that is part of standard poultry packing these days. It plumps the meat and makes for a higher price for the buyer, who is paying for extra water, and it supposedly tenderizes the bird. What it does is it makes the meat slimy and unpalatable to the point where I usually wear latex gloves when I work with chicken.
This is not the case with the truly fresh, truly pasture fed birds that I get at the farmer's market. They are a pleasure to bone out and cut up. There is no slick residue left on my hands and touching the meat and skin doesn't make my skin crawl.
It is an honest prelude to the succulent moistness of the meat and the truly light and fresh flavor it delivers to every dish I have cooked in it. So far I have used it in Thai Spicy Basil Chicken, Chicken with Bitter Melon and now, I planned on using it in whatever I cooked for Saturday's dinner.
Moving on, I decided on making a version of Pasta Primavera with shiitake, chicken and asparagus, with a cream sauce based in lemon.
Pasta Primavera is meant to be cooked with springtime vegetables, and is a celebration of the sweet green things after a winter of dried and canned foods. I figured that since I could always get the shittake and I knew exactly where to get pencil-thin asparagus, that I could add whatever baby spring vegetables I happened to find. Tiny carrots or scallions or maybe morels, if anyone had any for sale.
I headed for Art and Peggy Gish's awning, for they are purveyors of very fine tiny asparagus that has the freshest flavor imaginable. As I sauntered up the table, I spied not only the asparagus, but quarts of freshly picked sugar snap peas! Plump lime green pods sat in little baskets, thier skins stretched tightly over the pearly peas within, they shimmered faintly in the sunlight.
Grinning like a possum at Art, I indicated the peas and asparagus. "A quart of the peas and two pounds of asparagus, please," I said. He smiled and busied himself with weighing out the produce while visions of sugar snap peas in pasta primavera danced in my head.
At my final stop, Athens Hills CSA/Green Edge Gardens, I picked up salad greens, microgreens, and a lovely bunch of basil. The snappy licorice-edged green basil scent wafted up from my bags as we headed back to the car, and drove back home.
Later that day, I began work on the pasta primavera, which went something like this:
Lemon Pasta Primavera
Ingredients:
Olive oil as needed for saute
1/2 pound pencil thin asparagus spears, bottoms trimmed and cut into 1″ lengths
1/2 pound sugar snap peas, strung and rinsed
1 small red onion, peeled, cut in half and thinly sliced
1/4 pound fresh shiitake mushrooms, stems removed, caps thinly sliced
1 1/2 chicken breasts, skinned boned and cut into thin strips about 1″ long and 1/4″ wide
1/4 cup flour
1/4 teaspoon. turmeric
salt and pepper to taste
3 small heads fresh hardneck garlic (or four fat cloves of regular softneck garlic), peeled and minced
1/4 cup sherry or dry white wine
1/4-1/2 cup chicken broth or stock
Juice of two lemons
2-3 drops lemon oil (optional)
1/2 cup heavy cream
1 1/2 pounds of pasta, cooked al dente
zest from two lemons
Handful of fresh basil leaves, cut into chiffonade
Method:
In a large saute pan, heat a small amount of olive oil. Add asparagus, snap peas and sliced purple onions, and stir fry until colors deepen and vegetables tenderize slightly. Remove from heat immediately and place in a bowl, and set aside.

Saute the vegetables very lightly for this dish. You want to retain the fresh colors, flavors and aroma of them as much as possible.

Add enough oil to pan in order to saute the mushrooms and chicken. Heat up and add mushrooms. Mix flour, turmeric and salt and pepper, then toss chicken strips in this mixture. Add to pan and stir fry until chicken begins to brown and some flour begins to stick to the bottom of the pan and brown. Add the garlic and cook until quite fragrant, stirring constantly: about two minutes.
Deglaze pan with sherry or wine. Scrape up all the browned bits. As the wine reduces and the pan becomes nearly dry again, add the broth or stock and reduce, continually stirring and scraping the browned bits at the bottom of the pan.
Add the lemon juice and lemon oil, then the cream. Reduce until it coats the back of a spoon.
Add reserved vegetables to sauce, toss with cooked pasta of your choice.
Remove from heat and garnish with lemon zest and basil.

The little bit of turmeric I use in the flour mixture used to coat the chicken pieces gives the sauce a slight yellowish tint, which conveys the visual appeal of the lemon juice and oil in the dish.

Notes:
This recipe serves a small army of people, or six to eight folks, especially if you have a nice salad to go with it and a great dessert.
This is great with penne rigante. I learned from cooking Chinese food to always match the shapes of meat and vegetables that I cut in a dish–when I cook Italian style pasta, I follow the Chinese aesthetic of putting similar sized and shaped pasta with the sauce ingredients. I think it looks prettier this way.
Lemon is not traditional in pasta primavera, as I recall. Actually, I am not sure of primavera is a traditional sauce in the first place, as Italian foods are not my speciality, but, I do know that spring vegetables are great in pasta, and I love lemon cream sauces created by reduction. So, somewhere in my mind the two fused and become a part of my standard springtime pasta feasts.
The lemon oil that I use is pure lemon oil made by Boyajian. It is not necessary, but it really pumps up the lemon flavor a great deal. It is made of the essential oil that is present in the lemon zest.

Baby artichokes might be nice in this. Rapini might also be good. Fresh, shelled garden peas are nice, but I like the sugar snaps even better. Fennel might taste nice.
Chive flowers would be an outstanding garnish. However, I don't have any chives to use for this purpose.
Nasturtium blossoms look nice in this dish, too.
3 Comments
RSS feed for comments on this post.
Barbara, your posts only make me more and more excited to move to Athens.

I can't wait to meet you at the Farmer's Market!

–Courtney

Comment by Anonymous — June 15, 2005 #

I look forward to meeting you at the market, too, Courtney!

If you like peanut butter cookies, I can introduce you to the maker of the Peanut Butter Slammers–the best PB cookies in the world. Two big soft, chewy PB cookies with PB buttercream in the middle! Out of this world–I am addicted!

Comment by Barbara Fisher — June 16, 2005 #

Mmmmm,

I'd love a peanut butter slammer and some organic milk and and…

Comment by Casey — June 16, 2005 #
Sorry, the comment form is closed at this time.
Powered by WordPress. Graphics by Zak Kramer.
Design update by Daniel Trout.
Entries and comments feeds.