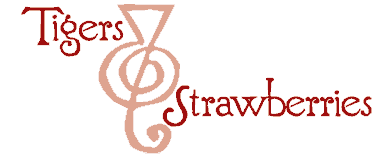 Cook Local, Eat Global
So, after the weekly trip to the Farmer's Market, I came back and scanned the New York Times online edition and found an article on the ongoing Smithsonian Folklife Festival.
And suddenly, I am regretting that I no longer live close to Washington.
This year, for the first time in its 39-year history, the Folklife Festival will include an entire program entitled "Food Culture USA" which will feature recent immigrants and famous chefs doing cooking demonstrations, as well as talks from wild mushroom foragers, members of a Tanzanian coffee growing co-op, and artisan cheesemakers. The theme of the food program will revolve around sustainability issues, the innovations brought by immigrants and the roles of chefs and home cooks in shaping American food.
I am seriously bummed not to be there, as this is just the sort of thing that I am always thinking about, talking about and writing about.
But, as much as I regret not being able to attend, I am just as happy to know that the event is happening, and is getting a lot of publicity. It means that the things that matter to me are becoming part of the consciuosness of others, and that makes me feel like my blathering is worthwhile.
So–if you are anywhere near Washington DC, the festival started June 23 and is going on until July 5 on the Mall.
If you attend, have fun, take pictures, and think of me.
2 Comments
RSS feed for comments on this post.
Hi Barbara – I'm hoping to go tomorrow! I've lived her for ages and I've never been before. When I saw that food was one of the themes this year, I decided I had to check it out. Depending on how it goes, I may try to go next weekend as well.

Have fun at the festival!

–Barbara

Comment by Anonymous — June 26, 2005 #
Sorry, the comment form is closed at this time.
Powered by WordPress. Graphics by Zak Kramer.
Design update by Daniel Trout.
Entries and comments feeds.