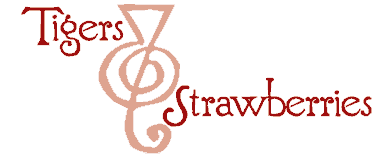 Cook Local, Eat Global
Well, as noted previously, in the post entitled, Am I Blue? my father's stated opinion on blueberries is that they are his least favorite berry of all time. My mother simply said, "I hate them."
Which is all fine and dandy, except for the fact that I had baked a big batch of Blueberry Crumb Scones instead of birthday cake for my Dad.
I heard from them today on the issue.
I was told, "Those scones were damned good."
Apparently so. Dad has had three of them and Mom has had two. That leaves three for them to fight over.
Apparently, neither of them had ever had such flavorful, tart blueberries, and to be honest, they'd not had exemplary scones, either. In fact, I am not certain that my mother had ever had any kind of scone, and Dad only had one once, a long time ago and he said it was "kind of dry."
So.
The upshot of it all is that I do not have to bake a birthday cake.
Though, I did say that they should have lied to me and said they'd hated them so I would be honor-bound to bake a cake anyway.
I guess I should be grateful to have honest parents.
And now, I am off to throw some rice in the rice cooker, braise some ma po tofu and stir fry some bok choi so we can have dinner.
No Comments yet
RSS feed for comments on this post.
Sorry, the comment form is closed at this time.
Powered by WordPress. Graphics by Zak Kramer.
Design update by Daniel Trout.
Entries and comments feeds.