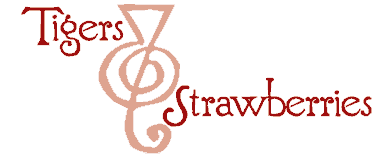 Cook Local, Eat Global

Alice Waters, chef owner of Chez Panisse in Berkley, doyenne of the New California Cuisine with its emphasis on fresh, local ingredients, and an outspoken proponent of sustainable agriculture, grew a vegetable garden on the National Mall as part of her presentations at the Folklife Festival which just ended on July 4th.
I knew she was presenting, but I had no idea that she had planned to grow an organic garden on the bone-dry sward in the center of Washington. Apparently, there were some issues in the production of the garden, but eventually, they panned out and she was able to serve Senators, agriculture department secretaries and other Important Government Officials (tm, patent pending) meals in the honeysuckle-strewn gazebo next to the kitchen garden that were made from produce grown right there in downtown Washington.
Apparently, she has been trying for ten years to get an organic kitchen garden started on the White House grounds, as a means to raise awareness among American citizens of sustainable agriculture while getting our presidents into the idea that local food is good food. This garden on the Mall is as close as she has managed to get, but she wasted no time while in Washington whining–she not only spoke to the public, but to every politico she could corner on her ideas of how to get kids to eat healthier as a means to fight obesity, and how to get Americans more involved in the production of local, fresh foods.
One thing that she trumpeted while in Washington was her pilot program that has transformed the school lunch program at Martin Luther King Jr. Middle School in Berkeley. She calls it, "The Edible Schoolyard," and it basically involves kitchen gardens on school grounds that the children tend from seed to harvest. The produce that results from this garden is then prepared by the students in the school kitchen, and made into lunches that are a far cry from the grey "mystery meat" and cardboard pizza drek that most American kids are served in school cafeterias.
It is a fascinating program, which can teach kids botany, biology, nutrition, ecology, math, cookery and economics all in one go, and Waters seeks to spread it across the country.
Similar programs are the new trend on college campuses, which seek to lure students with organic foods. University administrators and food service companies are seeing that students are more ecologically aware and informed about the health and economic benefits of organic foods, and so are beginning the process of offering more organic, sustainable foods on campus.
Yale University has the Sustainable Food Project, also started four years ago by Waters when her daughter Emily started attending the Berkley College there. There are gardens, a composting project and a cafeteria that features food grown in the gardens supplemented by locally produced grass fed meats and free trade coffee. The food is so good there, students who are not enrolled at the Berkley college try to sneak in, and there are rumblings among the students to spread the sustainable menu to all the other cafeterias on campus.
The popularity of these two projects started by Waters means that similar projects may crop up in other parts of the country. All it would take are some dedicated individuals to study Waters' methods, and figure out how to impliment them in their own local areas.
It is certainly something to think about.
8 Comments
RSS feed for comments on this post.
Sorry, the comment form is closed at this time.
Powered by WordPress. Graphics by Zak Kramer.
Design update by Daniel Trout.
Entries and comments feeds.