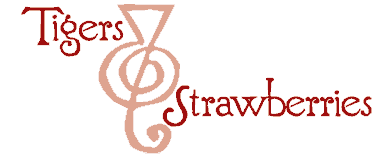 Cook Local, Eat Global
So, I had delicious leftover pinto beans.
And I found tomatillos at the market.
A farmer had a bunch of poblanos and Anaheim chiles.
And avocados are in season. (Well, not here in Ohio–they are never in season here. But they are all over the grocery stores in various stages of wonderful.)
What does all of this mean?
Well, it may mean nothing to some people, but what it means to me is it is time to cook me up a batch of salsa verde and then drag out the tortilla press and comal and get cracking on the tortilla making, because it is enchiladas time.
But first, lets talk about enchiladas a little bit, because there is something I want to make clear here.
Enchiladas suck to make just for two people, especially if you mean to do all the stuff from scratch. Well, not all the stuff. I still don't make my own cheese, but I do make the salsa, the tortillas and the shredded meat filling, as well as refried beans, so that is a hell of a lot of effort for just two people to have dinner.
The alternative is to use jarred salsa, premade tortillas and just cook the meat and beans (I refuse to used canned beans–they are foul), but then, neither Zak nor I like the enchiladas and will not eat much of them.
My solution: call up friends and order them to come to my house and eat Mexican food.
Okay, not order, but ask. It is nicer if you ask.
Though, I suspect that if I did call up friends and say, "Get your a– on over here, we are having us some enchiladas," they'd probably pile into the car and come anyway, no matter that I was being rude.
So, that is what I did. Actually, I originally invited Dan, who is on his own while Heather is in Lebanon, but by the time he got there and I was looking at the pile of beans I was mashing, I handed him the phone and asked him to call Bry and Judi up and extend our warmest wishes that they arrive for dinner at some point in the near future.
Which they did, even though Judi has just had oral surgery this week. Which is fine–enchiladas and beans are soft.
Bry and Dan and Zak lended hands to the operation, and Judi kept the cats out of our hair and eventually, we had a fine dinner to share, with only -enough- leftovers for one more meal, as opposed to say, enough leftovers to feed the Mongol hordes. (But would the Mongol hordes have liked enchiladas? That is a question for the ages….)
My enchiladas verde begin with salsa verde, surprisingly enough. The basis for said sauce are tomatillas and green chile peppers.
Tomatillos are odd little fruits. For all that thier Spanish name means, "little tomato," the Physalis ixocarpa is not related to tomatoes at all. As you can see in the illustration the little fruits (usually not much bigger than a small plum) are enclosed with a papery husk. On the plant, the husks look like little Chinese lanterns, dangling down from languid stems. The plants sprawl if given no support–in tomato cages, however, the prolific crop of fruits looks like a harvest of tiny lanterns set out for a festival or wedding banquet.
After you peel off the husks, you have to wash them in warm water–they exude a sticky resinous juice that is unpleasant to have on your fingers, as it makes them stick together and to other stuff. The juice isn't harmful, just annoying.
Most people say that you "must" cook tomatillos, but that is not my experience. I have made a salsa cruda out of them raw for years. I chop them up with fresh mint and cilantro, purple onions, lime zest, lime juice and chiles, and use that with grilled meats or as a dip, and people have a hard time identifying the main ingredients. Raw, the tart juice takes on a pineapple flavor and the texture is somewhat like a crisp apple crossed with a green grape. It is quite pleasant.
But, salsa cruda aside, verde sauce is always cooked. The first recipe that I used was from Rick Bayless, who advocates roasting the chiles, and peeling off the burned skins, and then boiling the tomatillos. This is the standard method of making the sauce, and it makes a very good, tart, spicy, balanced sauce.
But one day, when I didn't feel like building a charcoal fire and I only had an electric stove, I decided to roast the chiles under the broiler. And as I set them on a rack over a baking pan, I looked at the onions, garlic and tomatillos, and looked at the pan. And on a whim, I threw those in the bottom of the pan, under the rack, and poured some olive oil over the onions and garlic to keep them moist.
It was an inspired choice. The roasting caramelized the sugars in the tomatillos, onions and garlic and gave a depth to their flavor that is hard to match with any other method. In addition, the juices to the tomatillos gathered in the bottom of the roasting pan and thickened to a dark syrup, enhancing the flavor of the finished sauce further and also reducing the need for much in the way of thickening to give it body.
Most interestingly, I was able to remove the skins of the tomatillos; instead of chopping them up, I let them cool until I could handle them, picked them up from the roasting pan, held the fruits over the saucepan, and gently squeezed the pulp and juice out of the skin into the pot. The roasting had already started the process of cooking down the fruits, and eliminated the step of chopping them and the need to watch the pot over the fire for as long of a period of time.
Ever since that time, I have made my verde sauce by the roasting method and it makes a delicious pan of enchiladas. I usually make them with pork shoulder or butt that I have braised and then shredded, but yesterday, it turned out what had been in the freezer was an English roast from Bluescreek Farm's Belgian Blue cattle. I was worried that the beef would be too strong a flavor for the sauce, but it turned out just fine. The way to make either the shredded beef or pork is simple–I have never written the recipe down–I just do it.
You brown the meat in a pot with olive oil or bacon drippings, and then add thinly sliced onions and brown them as well. Then, you add minced up garlic, roasted red pepper, chipotle en adobo and maybe a fresh chile or two as well as a couple of bay leaves. If you have some fresh thyme or Mexican oregano, that goes in as well. Then, I deglaze with either beer or sherry, and when the alcohol boils off, I add a can of Muir Glen Fire Roasted Crushed Tomatoes. Then some beef broth or stock and I cook it until it is falling apart tender. Last night, to save time, I did this in the pressure cooker–it took about forty minutes of full pressure cooking, and twenty minutes off heat for the pressure to release naturally for the meat to become sweetly tender little shreds full of flavor.
I saved the liquid and used some of it in frying the beans when they got a bit dry. The rest of it went into the freezer to become the basis of soup or chili or beans or red rice at a later date. It would be a crime to throw out so much good tasting liquid! (The old farm girl in me never dies, she just saves every last scrap of food and turns it into something else–I have a whole passel of chicken bones in my freezer awaiting a cool autumn day so I can make up a pot of stock.)
The next time I make tortillas or anything with masa, I will be sure and record it photographically. By the time tortilla making and enchilada rolling came about last night, we had four sets of hands in the kitchen working together and no hands to work the camera. If you know how to make them, fresh tortillas make these enchiladas better. If not–the ones from the store aren't so bad. If you don't know how to make them and want to try–Diana Kennedy will walk you through the process in her excellent My Mexican Kitchen, or you can follow the recipe on the side of the masa harina bag.
Whatever you do–don't be afraid to try to work with masa–it really isn't so hard as all of that–it just takes time and effort. It is only dough, after all, and it isn't even that finicky of a dough to work with. Pie crust is much harder, believe me–I could make tortillas before I could make good pie dough, and I grew up with the latter, not the former. If I can do it, so can you.

Enchiladas Verde
Ingredients for the Salsa Verde
2-3 pounds ripe tomatillos
3 small onions
6 garlic cloves
4 Anaheim chiles, roasted and skins removed
3 poblano chiles, roasted and skins removed
1 cup chicken broth
1 tablespoon cornstarch dissolved in two tablespoons cold water
ground cumin to taste
salt and pepper to taste
fresh cilantro, minced as a garnish
Method:
Preheat broiler.
Peel off papery husks of tomatillos, wash in warm water. Dry thoroughly and place in a rimmed baking sheet or pan. Cut the root and stem ends off the onions and halve across the equator of the bulbs. Lay cut side down on the baking pan, and cluster the unpeeled garlic cloves around the onions. Drizzle onions and garlic with olive oil.
Place baking pan under broiler and broil until tomatillos are browned and collapsing, with thick juice escaping into the pan, the garlic is golden and the onion skins are browned and the flesh is transluscent.
While tomatillos, garlic and onions cook, remove and discard stems from chiles and seeds. Chop up roughly.
When tomatillos, garlic and onions are done, remove pan and cool on wire rack. When cool enough to handle, squeeze garlic pulp from skins into 2 quart saucepan. Add chiles. Chop onions roughly and add to saucepan. Squeeze pulp from tomatillo skins into the saucepan. Pour out juices accumulated on pan, scraping it all into the saucepan with a rubber spatula if needed.
Add chicken broth and bring to a simmer over low heat. When it is time to assemble enchiladas, thicken if needed with cornstarch slurry. After it is thick, remove it from the heat.
Ingredients for Enchiladas Verde:
shredded pork, beef or chicken
shredded sharp white cheddar and jack cheese
corn tortillas, fresh or storebought
verde sauce
canola oil spray
Method:
Spray canola oil spray over surface of baking pan. Pour a ladle full of sauce into pan and swirl around to coat bottom.
If you use freshly made tortillas, use them hot from the griddle. Fill with about a tablespoon or so of meat and cheese (here you can add shreds of scallion or onion or minced cilantro, but we didn't do any of this last night) and either roll them into thick cigar shapes, or fold them over into half moon shapes. (Or, you can stack them into piles of three tortillas with meat and cheese between each stack. )
If you use store bought tortillas, you have to warm them in order to make them pliable enough to roll. Heat up a cast iron pan or griddle, and put the tortillas into the pan, one by one, and swish them around in the pan to heat up. (I use tongs for this operation.) You will see them visibly soften after about twenty seconds or so. Flip it over and do the second side about ten seconds, and then roll up an enchilada quickly before the tortilla cools down and stiffens again.
It is easiest if you have one person cooking or heating the tortillas and one person rolling them.
After the pan is full, pour enough salsa verde over the tops to keep them from drying out, but not enough to drown them. You want to be able to taste the corn, the meat and cheese, too. Sprinkle with shredded cheese on top and bake in a 375 degree oven for about twenty minutes, or until all the cheese is bubbly and melty and everything smells good.
Garnish with minced cilantro, if desired.
Serve with home-made refried beans, freshly made quacamole and sour cream.
Posted by Barbara on July 8, 2005 in Recipes: Almost Vegetarian, Vegetarian and Vegan, Recipes: Bread, Pasta, Grains, Recipes: Fruits and Vegetables, Recipes: Meat, Poultry and Fish, Recipes: Mexican/Native American/ Latin American/Caribb, Recipes: Original | 7 Comments
7 Comments
RSS feed for comments on this post.
Sorry, the comment form is closed at this time.
Powered by WordPress. Graphics by Zak Kramer.
Design update by Daniel Trout.
Entries and comments feeds.