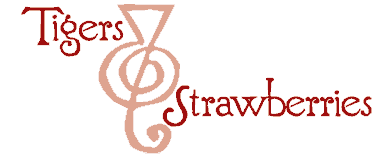 Cook Local, Eat Global
Family Meals Good for Kids
That may seem like a "well, duh!" sort of declaration, but apparently lots of researchers have been studying the idea that families who dine together produce healthier, happier, more successful children.
This research supports the conclusion that family meals are important to close familal communication and bonding and leads kids to model the behavior (and eating habits) of their parents.
The Columbus Dispatch reports on the recent studies linking family meals with lowered rates of drug use and higher grade point averages; however the story also notes that only 52% of US families eat dinner together regularly, even though three quarters of respondants felt that it was important to have family meals.
The June/July 2005 Eating Well Magazine claims that only one third of American families eat together regularly, however, many benefits await the lucky kids who do eat with their parents seven or more times weekly.

"With pressures on parents to churn out high-achieving kids by loading them up with extracurriculars, says Doherty, opting out of these activities in favor of family dinner "means going against the norm." In fact, national surveys suggest that only about a third of American families usually eat dinner together.
Ironically, family meals might do more for children's well-being and achievement than any soccer program or French-immersion class. When Doherty's colleagues at the university's Center for Adolescent Health and Development surveyed 4,746 Minneapolis/St. Paul middle school and high school students for Project EAT (Eating Among Teens), they found that the kids who sat down to meals most often with their families—seven or more times weekly—tended to have higher grade-point averages and were more well-adjusted in general than those who ate the fewest family meals (two or fewer per week). They were less likely to feel depressed or suicidal, to smoke cigarettes or use alcohol or marijuana—even when the researchers factored out issues like race, family structure and social class. "Family meals were a potentially protective factor in these kids' lives almost across the board," declares epidemiologist and study co-author Diane Neumark-Sztainer.
What's more, children who eat regular meals with their families also eat more healthfully, according to Project EAT and other studies—in general, taking in more fruits and vegetables and calcium-rich foods, fewer soft drinks and snack foods. They may also have a lower risk of disordered eating: Neumark-Sztainer and her colleagues noted fewer reports of extreme weight-loss diets or binge eating in kids whose families placed a high priority on regular family meals. "The associations were especially strong among girls," she noted."
So what is the moral of these two stories?

If you have kids, eat with them. Preferably cook with them. Stop with the bazillions of after-school hyperfocused extracurricular activities, and sit your butts down for at least one meal a day together. Your kids will turn out better for it, and who knows?

Maybe you will turn out better for it, too.

(I am betting that you will.)

The Restaurants of New Orleans
When I was cooking the nam sod on Saturday night, Bry informed me that Cafe du Monde is still standing in New Orleans, which lifted my spirits a bit. I've never been there, but I do love their chicory coffee and have made beignet more than once to have with said caffeinated gloriousness; the knowledge that the font of coffee and fried dough goodness was yet standing made my heart soar. Other landmarks of the French Quarter are yet extant, though of course, damaged, probably because the Quarter stands on fairly high ground.

I've been waiting to hear news of the other famed restaurants of the city, and picked up a couple of leads here and there. In the past day, however, I have come across news stories specific to the fate of some of the jewels in the crown of a great food city.

At Decanter magazine's website, I learned that "New Orleans restaurateurs fear for future of culinary 'Jewel of the South'" With a headline like that, one expects misery and pessimism, but on the whole, the chefs and restaurant owners of New Orleans plan to rebuild. Susan Spicer, of Bayona, probably lost everything in her restaurant including an 8,000 bottle wine collection in the attic. However, she resolved to make certain that the culinary heritage of the region is not lost.

"I have no idea what the future holds for restaurants down there. But I believe that somehow we will band together to keep the food culture alive and well, even if it means feeding emergency, rescue and construction workers on po' boys and red beans for a year or so."
You go, woman. That's a perfect example of the spirit of the South: tenacious and tough, yet gracious and giving, all at the same time.
Decanter also reports that culinary professionals around the US are putting together fundraisers and job information for the displaced restaurant workers of New Orleans.
This morning's New York Times featured an article entitled, "Crawfish Etouffe Goes into Exile."
While the expected dire statistics are quoted liberally (nearly 10 percent of the labor force worked in the 3,400 restaurants that once fed the city), the overall tone of the piece is one of hope and optimism.
"We have been instructed by the matriarchs that we will rebuild," Brad Brennan, of the family that owns the famed Commander's Palace and eight other restaurants, said from his office at Commander's Palace Las Vegas. "There was no hesitation."
The matriarchs are Mr. Brennan's aunt, Ella Brennan, and his mother, Dottie Brennan, who was evacuated to Houston, where the family also has a restaurant.
Mr. Brennan said it was too soon to know the extent of the damage, but all of the 800 employees of the Brennan restaurants were accounted for.
John T. Edge, southern food historian, author and founder of the Southern Foodways Alliance, has been working hard to compile lists of chefs and other members of the alliance who are accounted for. In addition the alliance has partnered with the James Beard Foundation and Open Table, a restaurant service, to contact restauranteurs around the US in order to create a job bank for those put out of work by Katrina. (A link to the job bank is on the home page of the James Beard Foundation website.)
I know the media has really focused on the worst aspects of Katrina: the death, destruction, lawlessness and looting. The scope of the tragedy is terrible, and words cannot really convey them effectively, so it makes sense that the reporters return to these horrific aspects of the ever-unfolding story of Hurricane Katrina. But, at the same time, it is nice to see not only the worst in humanity being brought out by this tragedy, but also the best wualities of human nature also coming to the fore.
Restaurant people are good folks. When you work together in the close confines of a kitchen nearly every day for over eight hours a day with folks, they become your family. You bond with them in ways that you don't bond with coworkers in other professions, and so when something happens, bad or good, you all share in that fortune. This naturally extends to other restauranteurs; in a lot of ways, we are seeing proof that the restauranteurs in the US are one huge family, who give aid and support to each other.
That story made my day.
Eating People Made Cows Mad?
Now, you knew I couldn't do another installment of Food in the News without having something about BSE in here, it being my favorite political hobbyhorse, (hobbycow?) to ride. And really, if it weren't for the fact that there seems to be a new story about BSE coming out every week or so, I wouldn't include it here. But there is always new information coming out and who am I to withhold information?
The Washington Post reported last week that there is a new theory of how BSE came into existence back in the 1980's, and it is a doozy. They picked up the story from the British medical journal, The Lancet, which reported that BSE may have arisen from the practice of feeding British cattle meal ground from bones which had been contaminated by human remains of victims of a human variant of the disease.
Yeah, basically, it may have come about because somebody unknowingly fed some cows Soylent Green and it went all wrong. (Of course, if you take into account the fact that cows don't naturally munch on bones and that maybe they shouldn't have been eating any bones, much less human bones in the first place, well, you know what I am going to say. It was all a dumb idea in the first place.)
The gist of it is this: back in the 1960's and 70's some brilliant person in the UK decided to give cows feed made partially from bones. But there weren't enough bones hanging around in the UK to feed all the cows, so they sent to India to get some more. In India, it is customary to dispose of human remains in the sacred Ganges river. It is also customary for members of the lower castes to make money by collecting bones and animal remains from around the banks of said river to sell for use in fertilizer and animal feed production.
In those decades, apparently lots of bones, bone bits and remains were shipped to the UK from India to be used in cattle feed. A couple of British scientists think that it is possible that human remains of victims of the human form of transmissible spongiform encephalopathy, Creutzfeldt-Jakob disease, may have been mixed in there and thus was eaten by the cows and then led to the rise of BSE, which then was passed on by feeding blood and bone meal from infected cows to other cows.
I am not sure about this theory. It is possible, but CJD is a fairly rare disease; scrappie, the form of the disease that infects sheep is much more common, so I find it more likely that it was diseased sheep remains ground into cattle feed which started the whole Mad Cow ball rolling.
But, it has a kind of science-fiction/horror symmetry that is alluring. Human bodies infected with a human disease are fed to cows who develop a bovine form of the disease, which is then fed to humans who develop a variant on the first disease which started it all.
But whatever started it, I can say this:
If people just recognized that cows are vegetarians and shouldn't be eating meat or bones, we wouldn't be in this mess, now would we?
Okay, and just because I find this story to be too weird to ignore:
Willy Wonka's Nightmare: Nazis Planned to Make Chocolate Bombs
I found this one on slashfood, and it was too freaky to pass up.
ABC News reported yesterday that, newly released files from MI5 reveal that the Nazis had plans to make grenades disguised as chocolate bars. (Talk about a lot of bang for your buck.)
These devices were to be made of steel that was then coated in real chocolate, and would be detonated when an end was broken off.
They also had plans for exploding "Smedley's English Red Plums in Heavy Syrup."
No one apparently knows if any of these explosive confections were ever made, however.
Which is just as well, since I am having visions of some Nazi chocolatier cum mad-bomber cooking up insidious delectables a la the film, "Chocolat."
Only instead of seducing people into throwing off the shackles of conventional behavior and the status quo, these confections would cause widespread death and mayhem.
Like Willy Wonka in jackboots or something.
With Oompa-Loompas doing song and dance numbers a la Mel Brooks' "Springtime for Hitler" from The Producers.
Okay, I am going to step away from the keyboard for a while and not think of chocolate-making Nazis.
It is hurting my head.
7 Comments
RSS feed for comments on this post.
Sorry, the comment form is closed at this time.
Powered by WordPress. Graphics by Zak Kramer.
Design update by Daniel Trout.
Entries and comments feeds.