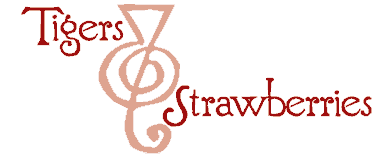 Cook Local, Eat Global
Late summer used to be one of the saddest times of year for me.
In the middle of the orgiastic harvest, when the fields are knee-deep in ripe tomatoes, when melons are heavy on the vine, and are so sweet that you can smell them from two rows away, when corn and beans and squash are ready by the bushel to be picked and preserved, I would have to go back to school.
As soon as the apples start to ripen, and my Grandpa would trade out some of his tomatoes for the first baskets of McIntoshes from a neighbor's orchard, and it was time to make gallons of applesauce and can it for winter, I'd be stuck in a classroom.
And it wasn't even that I disliked school.
I was one of those mutant children who loved it.
But it was horrible, having to leave Grandma and Grandpa's house and trudge back to the city, do my back to school clothes shopping, buy up notebooks and pencils and pens, and then sit in a stuffy hot classroom and know that back on the farm all sorts of interesting things were happening. Grandma would be canning tomatoes, or pickling beets or making corn relish, and there I would be, declining Latin verbs or memorizing the periodic table of the elements.
And the weather wouldn't even have the good grace to cool down; no, the late August, early September classrooms were always beastly hot, and the sun was always out, and the sky was always blue, and I -knew- that miles away, there were apples fresh from the tree or melon straight off the vine, cool and full of icy sweet juice, and I was nowhere near them.
That is what I always think about when I see the first McIntosh apples of the season, and now I smile–the dying of summer is no longer so depressing to me as once it was. The turning of seasons is a glad thing, a sweet dance of time which we all must take part in.
Now, McIntosh apples remind me of the first time I convinced Zak to taste one, fresh from the tree at the local orchard. He had sworn for years that he didn't like apples, but it turned out that he had only had ones from the grocery store in Miami, Florida before. Miami is the place to go to eat citrus or tropical fruit, but not so much apples. But he had only had Red Delicious–a fruit which is certainly red, but I think that their deliciousness is debatable.
I had just bought a basket of McIntoshes and several gallons of fresh cider from Lynd's Fruit Farm in Pataskala, Ohio, and unable to wait until we were home, had bitten into one. The skin snapped beneath my teeth, and the floriforous juice trickled into my mouth, and its scent filled the air. Of course I moaned, being as I am not inhibited about expressing my appreciation for incredible flavors.
"Sounds like it is pretty good," he said. "Smells pretty good, too."
"Try a bite?" I said, handing him the apple casually. I declined to make any Eve jokes as he took the apple and bit into it while holding the steering wheel in the other hand.
I never got that apple back. Which was okay–there were plenty more where that one came from.
So late August and early September now are joyful times for me–times when the first apples come ripe and I can indulge my passion for fried apples.
Fried apples are an Appalachian dish, and they aren't supposed to be very healthy. The original version I grew up with was sliced apples cooked in either butter or a bit of bacon fat, to which a good bit of sugar and some cinnamon was added. The only other things permissible ingredients were a pinch or two of some other apple pie spices like nutmeg or cloves, and that was it.
You melt the butter or bacon grease in a saucepan or frying pan, and add some thinly sliced apples. Once they start bubbling and hissing a bit, you add sugar, which draws out the apple juices, and you turn the fire down. Then, as they begin to soften and "cook down," or release their juices, you add a little bit of cinnamon, and then cook until they are glazed with butter, reduced juice and melted sugar.
They are delicious on biscuits, on the side of pork chops, with breakfast sausage, or next to fried chicken.
I like them with waffles.
Now, I am not going to give you a waffle recipe here. I am still working at perfecting one–the ones I had this Sunday had the scrapings of a vanilla bean and some cardamom in them, and they tasted divine, but the texture was still not right. I wanted them to be crisper on the outside and lighter on the inside. I heard tell that a bit of cornstarch with the flour will help with that, so the next time I pull out that waffle iron, and I'm going to give that a try.
When I have gotten really good at this waffle thing, I will post the recipe.
But, until then, let me give you my lighter on the butter and sugar version of fried apples to which you can add dried fruit and nuts as you like.
I like these with waffles, or mixed in with steel-cut oats or with french toast or on top of pancakes. McIntosh apples fall apart when cooked, so if you make these, only use one MacIntosh and use an apple that cooks firmer for the rest of them. I used two Ginger Golds and one McIntosh, and the batch turned out perfectly. The Ginger Golds kept their shape, and were nice and tart with a tangy flavor that is quite distinctive. The McIntosh fell apart and thickened the glaze, and added its flowery essence to the mixture.
I use apple cider to make up for the lack of sugar–it adds moisture and natural apple sweetness without all of the sugar that the traditional dish required.
Gingery Fried Apples and Cranberries
Ingredients:
1 1/2 teaspoons butter
1 MacIntosh apple, peeled, cored and sliced thinly
2 Ginger Gold apples, peeled, cored and sliced thinly
1 tablespoon crystallized ginger, minced
1 teaspoon sugar
1/2 cup fresh apple cider
1/4 cup dried cranberries
1/4 teaspoon powdered ginger
1/8 teaspoon cinnamon
Method:
Melt butter in a saucepan and add apples and ginger, and bring to a simmer, stirring gently. Sprinkle sugar over the apples, and cook stirring frequently, until a bit of juice begins to cook out of the apples.
Add cider, cranberries and spices and cook, stirring now and then, until the apples are soft and some of them have broken down into a thick sauce. Make certain to allow most of the cider to boil away, and allow the cranberries to plump and soften somewhat.
Serve immediately, while still quite hot.
Notes:
Sliced almonds are good added just as the cider is almost boiled away. Golden raisins are also a good addition.
For a sinful topping for french toast, add a tablespoon or so of cream cheese and a teaspoon of Irish Cream liquor.
A shot of rum is also delicious.
11 Comments
RSS feed for comments on this post.
Sorry, the comment form is closed at this time.
Powered by WordPress. Graphics by Zak Kramer.
Design update by Daniel Trout.
Entries and comments feeds.