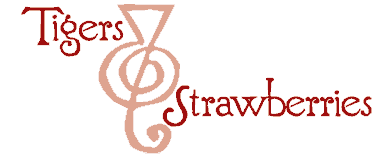 Cook Local, Eat Global
Most people get cake to celebrate a birthday.
Not Zak.
He wanted waffles and bacon.
And, because I am a good wife, that is what I got up early this morning and made for himself, his Dad and Grandpa.
Oh, and I had some, too. (And I made fried apples, because I insist that everyone eat a fruit or a vegetable of some sort at every meal.)
Yes, I recycled this photograph from an earlier post about waffles, but that is because, while I used a new and improved waffle recipe, the breakfasts looked entirely the same.
They just tasted vastly different.
I found the ultimate waffle recipe–that is, if you don't want to make yeast-raised waffles, which is an entirely different animal than what most of us think of as waffles.
So, here is a link to the article and recipe that I used, though I changed the flavorings a bit (I used double strength vanilla extract and added the scrapings of vanilla bean and a pinch of cardamom–surprise, surprise).
It was originally printed in Fine Cooking Magazine, which is my favorite cooking magazine and is the only one to which I subscribe. Pam Anderson, (not Pamela Anderson–I doubt she cooks much) the genius who came up with this recipe, has never failed me–her recipes always work as advertised. She uses cornstarch in order to help crisp up the waffles, and does the intelligent thing of using the sugar to stabilize the eggwhite foam which also helps make the waffles light and fluffy.
Since the article and recipe (you have to click on the "next" at the bottom of the article to get to the recipe) are beautifully illustrated, I decided to just cook this morning and not bother with detailed photographs.
It was all done pre-coffee, after all.
So–if you have a waffle iron, copy this recipe and enjoy–and write back to let me know how it went.
I am going off with the birthday boy to enjoy the rest of our day.
More on Zak's birthday pie, later.
5 Comments
RSS feed for comments on this post.
Sorry, the comment form is closed at this time.
Powered by WordPress. Graphics by Zak Kramer.
Design update by Daniel Trout.
Entries and comments feeds.