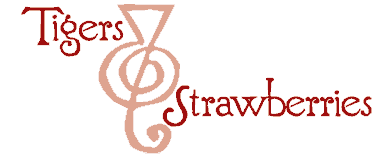 Cook Local, Eat Global
I know it isn't weekend cat blogging time, but I have some not so good news about Zak's beloved girl cat, Minnaloushe.
She is at the vet hospital right now; she has Feline Hepatic Lipidosis, commonly known as "Fatty Liver Syndrome."
It happens when a cat stops eating for whatever reason; when they do this, and their bodies resort to metabolizing fat to survive, the liver ends up with fat deposited in its tissues. For whatever reason, cats are not efficient at metabolizing body fat, so it tends to build up in the liver and cause liver failure.
We have lost a cat in the past to this, over a decade ago, before vets knew much about it and how to treat it.
It is, however, treatable, and since we caught it so early, Minna has a good chance to pull through. What we have to do is force-feed her and give her IV fluids until her body stops metabolizing itself to survive. At that point, the liver damage is reversable. It just means that we may end up feeding her either through a stomach tube, or forcing food from a syringe into her mouth, for six or eight weeks.
I just thought I should let my readers know. For one thing, lots of you are cat lovers and know how Zak and Morganna and I dote on our kitties, and you would understand. For another thing, I don't know how much time I will be able to devote to the blog if we are going to be running a kitty convalescence center in addition to getting our kitchen redone and keeping all and sundry fed and happy.
I will still finish "Those Darned Chemicals," though, and I have lots of other stuff planned, including a new installment of "The Chinese Cookbook Project." So, stay tuned and wish us all luck.
Thanks.
5 Comments
RSS feed for comments on this post.
Sorry, the comment form is closed at this time.
Powered by WordPress. Graphics by Zak Kramer.
Design update by Daniel Trout.
Entries and comments feeds.