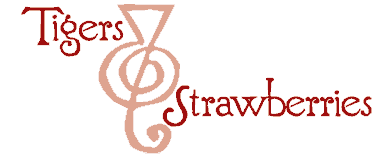 Cook Local, Eat Global
I wanted to share the good news: Minnaloushe's liver enzyme counts are back to normal levels. This fast reversal came about because we caught her anorexic behavior in time to provide aggressive treatement (force-feeding) and whatever it was that started the lack of interest in food is no longer an issue, as she has been eating both soft and dry food in large amounts, twice a day. She is also drinking water well, and there is no sign of permanent kidney or liver damage.
We brought her home today; we have to isolate her for a while in order to monitor her eating, drinking and output; we will probably keep her isolated from the other cats until she has regained her weight. She seems much more herself–Zak is up in the room where we are keeping her, playing flute for her. (She loves his flute music–the shakuhachi that she is pictured with there–a Japanese end-blown bamboo flute–is one of her favorites. She likes to sit on his lap or wrapped around his shoulders while he plays.)
So that is good news! Look for part IV of "Those Darned Chemicals" later tonight; Part V, which should just be the last of the annotated list of the troublesome food additives will come either tomorrow or the next day.
Thank you all for your support and concern–I am just glad that we don't have to force feed her for weeks on end.
3 Comments
RSS feed for comments on this post.
Oh, I'm so glad. Much huggage and good wishes to your little dear.

Kris

I may have spoken too soon. She won't eat for us, though she apparently ate perfectly well for the vet and the vet techs.

Sigh. I may have gotten my hopes up too high.

But, at least she is home.

Comment by Barbara Fisher — October 12, 2005 #
Sorry, the comment form is closed at this time.
Powered by WordPress. Graphics by Zak Kramer.
Design update by Daniel Trout.
Entries and comments feeds.