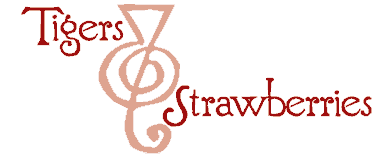 Cook Local, Eat Global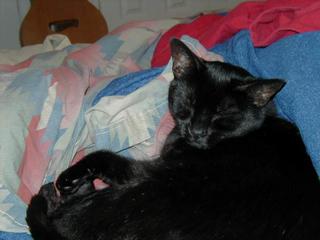 Minna went back to the hospital for a day on Thursday, and we picked her back up on Friday; she had stopped eating again.
The doctor determined it was likely the oral antibiotic making her nauseous, so he took her off of it, and started giving her appetite stimulants.
She is back to eating again, hard food only–and she is more active, stubbornly pushing herself to walk around. She hates being confined to one room, though, and cries piteously when one of us leaves and closes the door.
But she is really too weak to let out to roam unsupervised. She tries to clamber, climb and jump, and she fell off the couch last night, and barely landed on her feet, the poor thing.
Here are pictures of her from better times. Above, she is curled up in a ball on our bed–our cats are the excuse we give for sometimes not making the bed, because during the day, the curl up, sometimes together in piles, and sleep. Minna and Grimmy always sleep curled up alone, but the boys sleep in groups. I hate to disturb sleeping cats, so sometimes–the bed never gets made.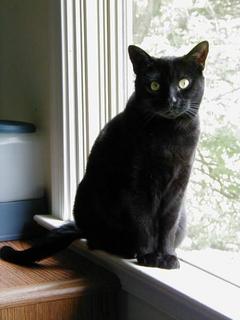 The second picture is from Maryland–Minna is looking out the window, which is one of her favorite pastimes. That was our office window, and there were always birds in that tree there, and she would sit for hours and watch them.
She could also see her friend, Liriel, when she was outside, from that vantage point, and just looking at the dog would make her start purring and rubbing the window.
And when Liriel came in, Minna would run to her, rub and purr, and groom the dog, which freaked Liriel out a bit, but she accepted it with good grace, and would sometimes groom Minna back, which was always a funny and endearing sight.
I don't think Minna would want us to post pictures of her now, as she isn't at her best. She, like most cats, has a sense of vanity to her, I think, and would not want to appear in public except at her most elegant.
So, that is the news from here. I have to go to the farmer's market and then make a batch of brownies and cookies to take to a friends' house. Zak will stay home with Minna and nurse her along today, though.
6 Comments
RSS feed for comments on this post.
Sorry, the comment form is closed at this time.
Powered by WordPress. Graphics by Zak Kramer.
Design update by Daniel Trout.
Entries and comments feeds.