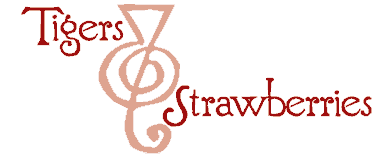 Cook Local, Eat Global
It is my birthday.
I am forty years old today.
And what better way to celebrate than to enter a blogging event: my very first Sugar High Friday?
This one is hosted by Kelli at Lovescool, where she asks us to turn to the dark side–of chocolate, I mean. She asks that we do something new and different with what is a common baking ingredient: dark chocolate.
Well, that is right up my alley–I don't bake often (those of you who have followed my pie adventures are probably shaking your head and saying, "liar, liar, pants on fire," but bear with me) but when I do, I like to do the unexpected.
Like making an apple pie with hardly any sugar.
Or putting duck sauce in cookies.
Or icing delicate vanilla cakes with rosewater.
So, what to do, what to do?
I didn't really feel like baking on my birthday, but neither did I feel like making fudge, so, what could I come up with that is simple, but infinitely malleable?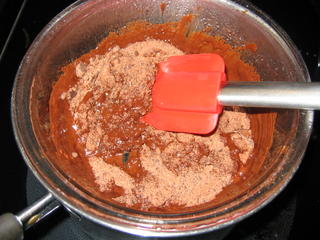 Truffles, of course.
But not just any truffles.
Russet Divinity and Dark Mystery Truffles.
What are truffles?
At their simplest, truffles are a French confections made of a cream-based ganache, sometimes flavored with liquors, spices or fruits and either dipped in tempered chocolate, or rolled in cocoa, powdered sugar or ground nuts. They are named after their resemblance to the coveted and delicious underground fungus which is so much a part of French cookery.
The next question is–what is ganache?
According to my beloved Larousse Gastronomique, ganache is an emulsified mixture of chocolate and heavy cream, sometimes enriched with egg yolks and butter, which was invented around 1850 at the Patisserie Siraudin in Paris. It is used to fill, frost or glaze cakes and pasteries, and is the basis for chocolate truffles, a confection which became a Christmas tradition in France.
Now that we know what I am talking about, let's talk about how to make them.
First of all, pick out a good chocolate. Since Kelli stipulated dark chocolate, the choices are narrowed down a bit–dark chocolates have no milk added to them, and not nearly as much sugar as is found in milk chocolates. Two types of dark chocolate are excellent for truffle making– semi-sweet and bittersweet. Semi sweet has more sugar and nearly always less cocoa butter than bittersweet; this affects the flavor of your truffle, especially if you do not add any sugar to the mixture. (And I never do add sugar.)
Couveture is the best quality chocolate, with a high percentage of both chocolate liquor (pure, roasted ground chocolate beans) and added cocoa butter (the fat extracted from the cocoa bean). Many brands of couveture have more than 70 percent cocoa solids in them, which makes for a richer, more nuanced chocolate flavor.
Couveture is what is best to use for tempering and dipping confections; it has superior flavor, gloss, color and snap; for truffles, one can use couveture, but it isn't necessary.
I used what I had around the house–Scharffen-Berger Bittersweet, which is 70 percent cacao, and Scharffen-Berger Semi-sweet, which is 62 percent cacao. Usually, I make my Aztec Gold brownies with a mixture of these two chocolates, using more of the bittersweet. (This is pre-Hershey buyout Scharffen-Berger. I don't know if the quality is still the same as it was when I bought this chocolate.)
Today, I did a fifty-fifty mixture of the two, in large part, because I know that neither Zak nor Morganna particularly love really dark chocolate.
Truffles are really simple. There are two ways to make them. Both require that you chop the chocolate finely before beginning–but I never chop the chocolate. Chopping chocolate with a chef's knife is seriously messy business–I don't care what they show you in the movie, "Chocolat." Instead, I usually grate it, either by hand with a box grater or in a food processor. The food processor is faster and safer–my family didn't call box graters "knucklebusters" for nothing.
Once is it chopped, you either melt the chocolate in a glass bowl over a hot water bath or you let it sit in a glass bowl and pour boiling cream over it, and mix them together. The heat of the cream melts the chocolate and it emulsifies. Or, in if you melt your chocolate in the beginning, you can bring the cream to a boil, cool it slightly, and stir it into your already melted chocolate.
In either case, you must do two things lest you ruin your chocolate. One–you must not get water in your chocolate, or it will seize up and refuse to melt or cooperate. And two–if you are going to use any liquor to flavor your truffles, (rum is a favorite), you must wait until the cream and chocolate are emulsified before adding it, lest you end up with seized up, hard crunchy nasty chocolate.
So far, it sounds like I am doing a standard truffle–I have spent so much time talking chocolate, I haven't really gotten to the creative twist that makes these truffles Russet Divinities and Dark Mysteries. All we have gotten to is a bunch of nattering about cocoa solid percentages, and dire warnings about chocolate with seizures.
Well, be patient–I am getting to that.
In the opening photograph, you can see my ingredients laid out–including two glasses of some sort of liquid and two powders.
Those are the secret special ingredients that make my truffles into Divinities and Mysteries.
I essentially made one batch of ganache and after the cream and chocolate were emulsified, I scooped one half of the ganache into a second clean, warmed glass bowl and then added the secret ingredients with a steady hand and a swift wrist.
Into the ganacheI had designated to become Russet Divinities, I stirred one tablespoon of ground chipotle chile and one scant tablespoon of Kalua and a few drops of double-strength Penzey's vanilla extract. The rest of the ganache became a Dark Mystery with the addition of a tablespoon of Chambord, one teaspoon of finely ground mixed white and black peppercorns, and a couple of drops of Boyajian Natural Raspberry Flavoring.
Then, both bowls were covered tightly with plastic wrap and taken downstairs to chill enough to firm up down in the Sub-Zero downstairs, which is much colder than the upstairs, rather crowded refrigerator.
Once that was done, and the ganache was cooled to a nice solid, it was a simple matter of shaping and coating them.
Simple, but messy that is.
Morganna helped, and while fussing about the amount of velvety chocolate goo that was swiftly coating her palms, said, "Why the hell didn't they show them making these in 'Chocolat?'" The answer, of course, is self-evident–while some may find the idea of Juliet Binoche coated in sticky chocolate erotic, many others would be turned off by the messiness of the entire process. So, instead we saw lots of shots of her stirring melted couveture languidly to the beat of the soundtrack, or chastely dipping creme centers or wrapping already made chocolates and tying them with golden ribbons.
However, her tune changed after she tasted them, particularly the spicy little "Russet Divinities."
"Mom," she asked as she licked paprika-spiced cocoa from her fingers. "Can we open a chocolaterie?" She popped another Russet Divinity into the bowl bowl that held the mixture of smoked Spanish paprika and American-style cocoa. "It would be fun, and I bet we could make a killing on truffles alone, especially at Christmastime."
As I rolled the last bit of ganache between my chocolate-slicked palms, I considered the possibility. I have to admit that it is tempting. One silly pipe-dream my Aunt Judy (the person who popped the first truffle in my mouth when I was a child) and I had for many years was of opening a combination patisserie-chocolaterie together, and selling dainty desserts and confections to those who had the taste for such fine things but no patience or will to make them on their own.
I will consider it. Athens doesn't have a place that makes really stellar confections, and it would be very fun to make up new and different combinations to flavor truffles.
I bet you are wondering how they turned out?
They are an awfully good birthday present, I must say that. Not only are my hands soft and delightfully scented from having been coated with cocoa butter, but tje lingering flavor of chiles, coffee, raspberry and black pepper are haunting.
We all preferred the Russet Divinities, for what it is worth. In large part, that is because we all like chile peppers over raspberries. However, I think that if I added some raspberry puree to the mixture, and a bit more black pepper, the Dark Mysteries will catch up to the Russet Divinities in flavor.
All in all–it was a successful experiment, and here is the recipe:
Russet Divinities and Dark Mysteries
Ingredients:
8 ounces premium dark chocolate
5 liquid ounces heavy cream
Russet Divinity Flavoring:
1/2 tablespoon ground chipotle chile
1 scant tablespoon Kalua
3 drops Penzey's double strength vanilla extract
1/4 cup smoked Spanish paprika
1/4 cup non-Dutch process cocoa
Dark Mystery Flavoring:
1 teaspoon finely ground mixture of black and white peppercorns
1 tablespoon Chambord
3 drops Boyajian natural raspberry flavoring
1/3 cup Dutch process cocoa
Method:
Finely grate chocolate in a food processor. Put it into a perfectly dry glass bowl, and set bowl over a pot of simmering water, making certain that water does not touch the bottom of the bowl, and does not get inside the bowl. Stir often until it is melted and turn the heat off, but leave the bowl over the water as you wait for the cream to boil.
Bring cream to a boil in a separate pan. When it boils bring it off heat, and swirl it in the pan for about a minute or two to cool it slightly. Keeping chocolate over the water (though if the chocolate is still liquid, you do not need heat under the pan of water–the steam will be enough to keep it liquid), slowly pour the cream into the chocolate in three stages, stirring all the while. Make certain to completely incorporate the cream after each stage, before adding more. (Some people use a whisk for this, but I use a silicon scraper–whisks cool the chocolate down too much and make it more finicky to play with for my nerves.)
After cream and chocolate are emulsified, scrape half of it into another glass bowl that has been warmed in the microwave or over another pot of water.
Into each bowl of ganache, add the dry flavoring (chile pepper or peppercorns) first, stirring until incorporated, then the liquid ingriedients. (Add the vanilla to the Kalua and the raspberry flavoring to the Chambord before pouring them into the chocolate.) Pour the liquor in a steady stream, while stirring constantly until it is fully incorporated into the emulsion.
Immediately cover tightly with plastic wrap and refrigerate for about an hour and a half, or until it solidifies.
For the Russet Divinities, mix together the cocoa and paprika in a small bowl and put the dutch cocoa in a separate bowl.
Using a small melon-baller, portion out half-teaspoon or so bits of ganache–it is easiest if one person does this, while the other digs the ganache out of the melon scoop with a finger, and carefully rolls it a few times between her palms until it is mostly round. Do not get OCD about it–the lumps are part of their charm.
Put each truffle separately into the appropriate bowl of coating, and swirl the bowl around a few times to coat it. It is easiest if the scooping person does this, because they do not have chocolate all over her their hands.
Set truffles into candy cups. Store in a tightly covered container in the refrigerator, unless you keep your house very cold.
Enjoy.
Note: I have to give credit to Sarah Patton for the name, "Russet Divinity." She used to teasingly call me that back in college, because I had red hair.
12 Comments
RSS feed for comments on this post.
Sorry, the comment form is closed at this time.
Powered by WordPress. Graphics by Zak Kramer.
Design update by Daniel Trout.
Entries and comments feeds.