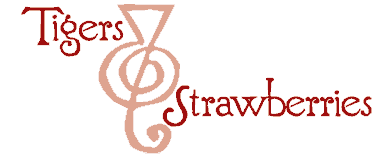 Cook Local, Eat Global
We still miss Minnaloushe; nothing will change that except time and work. And no one will replace her in our hearts, especially not Zak's. She was a wonderful little cat.
But, I have been doing better for days–the kitchen excitement and the writing has kept me from moping excessively, except that yesterday, we got a card from MedVet–a sympathy card.
I have gotten sympathy cards before from vets, and once again, I am impressed with the vets and techs who work at MedVet–their personal notes were so sweet and touching, that I choked up.
But what made me cry is that they sent us inked paw-prints from Minna to remember her by. I was in my office, which is right off the kitchen, and started bawling like a baby, and had to grab up the mail and go scurrying upstairs to hide from the workmen, because I hate to cry in front of people.
Besides, upstairs was where all of our other cats were, and I could hold them and pet them and be comforted by them.
Upstairs is also where little Ari is.
The little spriggan, ragamuffin kitten above–that is Ari–the Lioness. She can sit in the palm of my hand, but fears neither man nor beast.
How she came to our house so soon is this: Tuesday, we had to go to Columbus to order a ventilator hood for the new stove, and while we were there, we resolved to visit our old vet in Pataskala, and tell her about Minna. And, as Zak said, "To look at the kittens. Just in case. I don't want a cat, but just in case."
Dr, Schwab was very sad to hear about Minna, but knowing us as she did, she said, "Come, come to the back–here is a cat who was dropped off just now, and you will be the first to see her."
Zak had been saying he wanted a tortoiseshell cat for years, and back in the exam room was a lovely female tortoiseshell, and her kittens. She looked up at us with a peacefully accepting look, and purred when we petted her. Zak was besotted, and named her Dandelion on the spot.
We will pick her up in about three weeks, after they have fed her up and gotten her back on her feet. The poor thing is underweight from feeding her babies and not being provided with adequate nutrition, and she looks like she is only nine months old herself.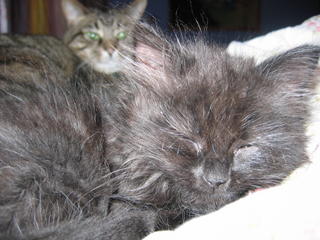 But Dandelion doesn't explain Ari, does it?
Ari was there, too–and she came galloping up to us and jumped right into our hearts.
So, she came home right away.
And she is a wild little thing.
As you can see to the right, Grimalkin was not happy at first–see her balefully glare over Ari's shoulder while the kitten peacefully sleeps?
Well, yesterday, I caught Grimmy playing with her, so I know Grimmy is getting over it. All of the boys love Ari, and play with her and sleep next to her, and Gummitch washes her from head to toe and treats her like the baby she is.
Grimalkin is still not happy with having to stay upstairs while the work goes apace with the kitchen, but she will get over it.
For more cat blogging–check out
Kiri as a baby at Eatstuff. (Clare at Eatstuff hosts every week and will have many more links to more kitties.)
Glinda in a kitty sling at Anne's Food.
Kittens and an umbrella at Masak-Masak
The handsome, striped Tigger at Look, Hunny I Cooked.
The newly named Bowser at A Cat in the Kitchen.
Lovely Trina at Indy Food.
Maneki Neko at Le carnats de submarie.
9 Comments
RSS feed for comments on this post.
Sorry, the comment form is closed at this time.
Powered by WordPress. Graphics by Zak Kramer.
Design update by Daniel Trout.
Entries and comments feeds.