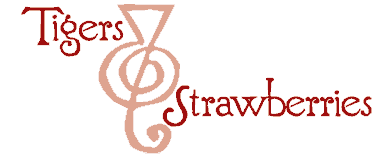 Cook Local, Eat Global
Morganna thinks that I should give this recipe a more dramatic name–something like, "Falling Down the Stairs Chicken," or "Accident-Prone Chicken."
No, the chicken didn't fall down the stairs, but Morganna did, on her way to dinner, whereupon she cracked the back of her head on a step and bled a lot and was in a lot of pain.
So, we learned a few things:
One–peroxide is great at getting blood out of hair.
Two–my ability to diagnose a concussion is still operative. (No, she doesn't have a concussion–we took her to the ER to make sure.)
Three–this chicken is really just as good cold as it was when it first came out of the wok.
We discovered the third, because we didn't get to eat until I had cleaned Morganna's head bump up and got the bleeding to slow down, and I checked her eye tracking and pupil dialation rates. By the time we sat down, the chicken was pretty well cold, but it tasted mighty fine anyway, and even Morganna ate some of it, along with a full bowl of rice. (An encouraging sign–nausea is a symptom of a concussion.)
After dinner, we all trooped off to the ER, where we spent a delightful evening waiting around to be ignored. Finally, the doctor came in and confirmed my suspicion that she probably didn't have a concussion, then they cleaned her up again and sent us on our way with some peroxide and neosporin.
But, back to the chicken.
As you might be able to tell from the title of this post, I adapted this recipe from Pei Mei's Home Style Chinese Cooking, though I made a few changes.
First of all, I exchanged the cucumber that was supposed to be diced and stir-fried for a kohlrabi. For one thing, I had kohlrabi and I didn't have a cucumber; for another thing, neither Morganna nor Zak will touch a cucumber under any circumstances. I figured that while kohlrabi doesn't taste like a cuke, it will have a similar enough texture and color that it would work well in the recipe.
I also used both purple and red peppers in the recipe, because that is what I had–it originally called for two red bell peppers, and what I had was one red one and one purple one, so I figured that was what I was going to use. I also substituted a very small leek for the scallion–again–because that is what was on hand. (I also added some baby bok choi because I wanted some greens and felt too lazy to do two stir fries for one meal.)
I also used chicken breast meat because–can you guess? That is what was thawed out. The original recipe called for 1/2 of a chicken, boned and then cut into 1/2 inch dice. I figured I could bone out a breast and dice it just as well.
The only difference in the sauce was that I used a tiny bit of Shao Hsing wine in addition to the ingredients Pei Mei specified; I used it primarily to deglaze the bottom of the wok after a bit of the soy sauce and cornstarch that I used to marinate the chicken stuck to the bottom and browned.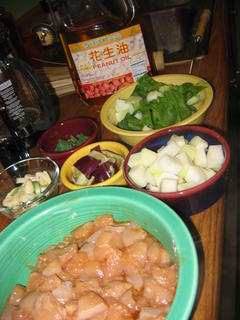 Technique wise–I changed the entire thing. She called for frying the chicken and vegetables in three cups of oil for fifteen seconds before draining out the oil and stir frying the scallions and garlic, then adding the chicken and veg back in and adding the sauce ingredients.
As I noted in my previous post, I do not do that whole oil-blanching thing. That is something that is done in restaurants, where you can have a wok or a fryolater full of oil in order to just dunk some foodstuffs in it for a few seconds. At home–it is too much work for too little benefit, and you end up with food that is really too oily to be very healthy. I just stir fried the ingredients in a standardized order–the aromatics first, then the chicken, then the vegetables, then the sauce mixture and the garnish, and it was done.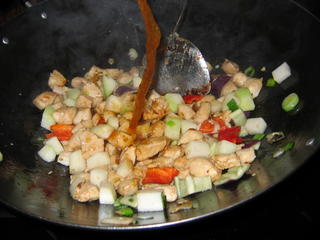 I am pretty sure this is a Taiwanese recipe, though neither Pei Mei, nor her co-author, Angela Cheng, who is her daughter, make mention of this. I just think so because of the prominent use of the sweet bean paste as an ingredient–I have read that Taiwanese dishes are noted for their use of sweet bean sauce or paste. Some dishes from Beijing also make use of this ingredient, so it could be of northern derivation as well.
Wherever it comes from, it is a thoroughly delightful dish, and one that I will cook again in the future. It is easy, with an elegantly simple sauce that has a very pleasing flavor and appealing color.
In the recipe below, I am giving the ingredients and techniques as I made it tonight, though in parenthesis, I am giving the ingredients used by Pei Mei in her original dish. I won't go into the actual original method, however, because I cannot imagine anyone wanting to heat up three cups of oil just to fry something for fifteen seconds, then drain it out and stir fry the rest of the dish. It just seems–like a waste of time and materials to me.
Although I am keeping the more accurate title, "Chicken with Sweet Soybean Paste," I think I will always remember this dish as "Falling Down the Stairs Chicken."
Maybe I should have named it "Family Crisis Chicken" for its ability to withstand whatever small household emergency crops up right before dinner.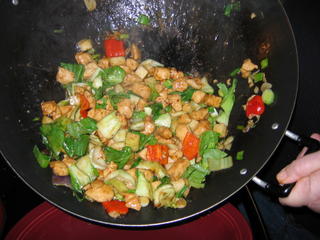 Pei Mei's Chicken with Sweet Soybean Paste
Ingredients:
1 whole boneless skinless chicken breast, cut into 1/2 inch dice (1/2 chicken)
1 tablespoon thin soy sauce
1 1/2 tablespoons cornstarch
1 1/2 tablespoons sweet soybean paste
2 1/2 teaspoons sugar (2 teaspoons sugar)
1 teaspoon sesame oil
1/2 tablespoon thin soy sauce
2 tablespoons chicken broth (water)
3 tablespoons peanut oil
3 garlic cloves, thinly sliced
1 small leek or large scallion, thinly sliced, white and light green parts only
1 tablespoon Shao Hsing wine (not in original)
1 medium kohlrabi, peeled and cut into 1/2 inch dice (1 medium cucumber, diced)
2 small sweet peppers, cut into 1/2 inch squares
3 baby bok choi, cut into 1/2 inch slices (not in original)
1 small leek or scallion, dark green parts, thinly sliced
Method:
Toss chicken with soy sauce and cornstarch until liberally coated. Marinate for at least twenty minutes.
Mix sweet soybean paste, sugar, sesame oil, soy sauce and chicken broth in a small container, set aside.
Heat wok. When it smokes, add peanut oil, and heat until it ripples. Add garlic and leek or scallion, and stir fry for ten to fifteen seconds. Add chicken all in one layer, and allow to sit undistirbed on the bottom of the wok for about thirty-five to forty seconds, or until you can smell the meat begin to brown. Stir fry, scraping chicken off the bottom of the wok and tossing it vigorously, until most of the chicken is opaque.
Drizzle wine into pan, and scrape browned bits from it. Add kohlrabi to pan and stir fry for about a minute. Add sweet peppers, and continue stir frying for thirty seconds. Add sauce ingredients and bring to a boil, then add bok choi and stir and fry just until the leaves begin to go limp. Add sliced leek or scallion tops and serve immediately.
Or, alternatively, allow to cool to room temperature while you deal with whatever family crisis happens just as you bring the dish to the table, and eat it over warm rice. It will still taste good anyway–I promise.
10 Comments
RSS feed for comments on this post.
Sorry, the comment form is closed at this time.
Powered by WordPress. Graphics by Zak Kramer.
Design update by Daniel Trout.
Entries and comments feeds.