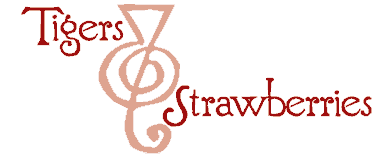 Cook Local, Eat Global
So you notice that this post is naked.
No, not that way–there are no pictures.
There are two good reasons for this.
While I was cooking dinner last night and Morganna was poised to record it all with the camera, she got through photographing the ingredients and poof! The rechargable batteries went dead, and that was that.
And–when I tried to upload at least those photographs this morning, Blogger was having none of that. After three tries, I gave up and decided to have an all-nude-review of a recipe today, and to heck with it.
I would have written about this last night, but my computer was busy being taken apart and put back together. Yes, I now have a new computer desk, one made of wood, even, so it has a keyboard drawer that works. It isn't held on with duct tape, prayers and baling twine anymore. That is, to misquote Martha, "A good thing."
So, now that we have established that my post is unillustrated, and I have a desk that works, lets talk about dinner last night.
It all started as I was looking through some of my out of print Chinese cookbooks, looking for recipes I could do at some point in the future, particularly when I write about each book. I think that my write ups for "The Chinese Cookbook Project" will be more fun if I did a recipe or two from each book, rather like I did that one recipe from one of Fu Pei Mei's book. So, in preparation for that, I was digging through the books I had planned to highlight with a pack of post-it notes and a pen and was marking recipes that sounded fine and tasty.
And I came upon one, in one of the books–it might have been Irene Kuo's excellent Key to Chinese Cooking–for pork and some sort of green in black bean sauce. Fermented black beans tend to make everything taste good; they have an overabundance of compounds in them that give the savory flavor that the Japanese call "umami." And since I have a nice cannister of them on my counter, I thought, "Why not?"
I also had another pound of gai lan still in the refrigerator that needed to be eaten. And I had a pair of small but thick boneless pork loin chops in the freezer. I knew that by themselves, that wouldn't be enough for three people for dinner, even with lots of rice, but I also knew that Zak and Morganna could pick up some pressed tofu at the Asian market, after he picked her up from school, and I had some fantastically sweet carrots from the farmer's market that would go quite well with it all.
So, out of the freezer came the pork, and I explained to Zak where to find the spiced dry (pressed) tofu at the market and the game was afoot.
Did I use the Irene Kuo recipe? Well, no, not so much, because by the time I had decided to do pork and gai lan, I had moved on to another book, and when I went back through all of the bookmarks, I couldn't find the recipe. Maybe it was a phantom–maybe the idea came out of my own head and I just thought I had seen it in one of my books.
Maybe, just maybe, I am losing what is left of my mind. I just turned forty and senility is already plucking at my sleeve. Great.
Maybe, just maybe, I am over-reacting, because it didn't matter if I didn't have a recipe. While I cannot show you how prettily the dish turned out, I can tell you that it ended up tasting quite delicious–I used a lot of garlic which mellowed out the sharpness of the larger gai lan stems, and the fermented black beans added a dark mysteriousness to the sauce which was nothing more than soy sauce, chicken broth and Shaoxing wine with a final kiss of sesame oil. Garlic also pairs perfectly with pork; Zak and I are of the opinion that the sharpness of ginger is a better partner to beef, while the rounder heat of garlic goes with the sweetness of pork. I will still use a bit of garlic in a beef dish and a bit of ginger with pork, but always in smaller amounts.
Zak and Morganna appeared fresh from the store, and starving, right after I had given up and put all of my cookbooks fairly neatly away in their new shelves upstairs. Zak plopped two packages of tofu in front of me–one, the proper one, and the other a spicy extra firm marinated tofu by the same company. Fascinating. I set that one aside (look for a new tofu recipe next week), and took up the proper one, and after being implored by Morganna's beseeching eyes, I started making dinner.
"Spicy or not spicy, Morganna?"
"Spicy," she said decisively. "We've had mostly mild food this week."
"Need to heat up your chi?" I asked as I dug in the freezer for the Sichuan peppercorns and the ripe jalapeno chiles.
Morganna looked up from rinsing the gai lan. "Yep."
We worked together in silence; she peeled garlic, I sliced an onion, she measured out the fermented salted black beans and mashed them with the back of a spoon, I cut the large stalks of gai lan into diagonal slices. Jasmine rice bubbled away in the rice cooker, perfuming the air with its hunger-inducing sweet fragrance.
Our stomachs growled.
Morganna patiently shook the frying pan into which we had poured a few of the Sichuan peppercorns, waiting until their flowery scent wafted up. She took them from the heat and poured them into the stone mortar to cool before she ground them into a fine, reddish-brown powder. By that time I had sliced the carrots into thin diagonal ovals, and was working on the pork. The tender meat was more difficult to cut fully thawed than it would have been if I had gotten to it when it was still half-frozen, but the extremely sharp edge of little cleaver took care of that, and I still ended up with thin morsels of pork. Thinner slices cook faster, and they also give the illusion of an abundance of meat in a dish.
One of the new things I did that I know was influenced by my re-reading of Irene Kuo was that I marinated the pork not only in cornstarch and Shaoxing wine, but also in sugar. This accomplishes two things–it flavors and tenderizes the meat, but also, when the sugar hits the hot wok with the pork, it caramelizes and forms a delectable coating on the pork, and on the wok, which is then deglazed by a good slosh of soy sauce and wine. I really think that adding the sugar to the marinade and not the sauce really made a difference with the sauce in this dish–it was so good, Morganna and I wanted to drink it from a spoon.
It cooked as usual–heat the faithful cast iron wok, add the oil, heat some more, and then in went the aromatics–a tiny pinch of the Sichuan peppercorns, and the sliced onion. I cooked the onion until it turned quite golden, and then added the sliced garlic, ginger and chile. I also think that thoroughly cooking the onions until they soften and begin to caramelize before adding other ingredients added another layer of depth to the sauce's flavor. I know I have gotten that way about cooking onions from my experiences with Indian foods, but now, I cook onions darker in everything I cook. No more cooking them just until they are transluescent for me–they seem too water and insipid in flavor.
So, no matter if I am cooking Chinese, Thai, Italian, Mexican or French–I cook my onions until a color of one shade or another blooms on them, and the flavors are so much better–and it is a debt I owe to Indian cookery.
I haven't come up with a fun name for this dish yet–maybe I should ask my readers to name it. When I asked Zak and Morganna they said, "Just call it good."
So, for now, that is what we are calling it:
Good Pork Tofu and Gai Lan
Ingredients:
2 small, but thickly cut pork loin chops, sliced into 1″ X 1/2″ slices
1 1/2 tablespoons Shaoxing wine, or sherry
1 tablespoon cornstarch
1 teaspoon brown or raw sugar
3 tablespoons peanut oil
1 medium onion, peeled and thinly sliced
1 heaping tablespoon fermented black beans, mashed
5 cloves garlic, peeled and sliced thinly
1/2″ cube fresh ginger, peeled and thinly sliced
2 red jalapeno chiles, thinly sliced on the diagonal
1 tablespoon Sichuan peppercorns, stems removed
1 8 ounce package thick cut dry spiced tofu, cut on the diagonal into thin slices
1-2 tablespoons thin soy sauce
1 tablespoon Shaoxing wine
1 pound gai lan, washed and trimmed
4 small carrots, peeled and sliced into 1/4″ thick diagonal slices
1/4 cup chicken broth
1/4 teaspoon sesame oil
Method:
Mix together pork slices, wine, cornstarch and sugar and set aside to marinate for at least twenty minutes. (You can do this while you prepare all the other ingredients for cooking.)
Toast the Sichuan peppercorns by putting them in a heavy-bottomed skillet and shaking it back and forth over high heat until they release a nice, strong, flowery-spicy scent. Pour them into a mortar, and after they are cool enough to touch, grind them up into a nice reddish brown powder.
To prepare the gai lan–trim the bottom bit of the stalks where it was cut from the roots, and discard. After washing, dry thoroughly in a salad spinner. Cut off large leaves, and then cut them into 3-4″ lengths. Cut off any thick stems–thicker than 1/2″ or so–and if the peel is very tough, peel them. Then cut these thick stems diagonally into slices about as thick as your carrot slices. Put your carrot slices and gai lan stem slices together in a bowl, and put the leaves and thinner stem pieces together in a bowl.
Heat up your wok, when it releases its breath in a wisp of white smoke, then add peanut oil and allow it to heat for a minute, until it shimmers from the convection currents. Add onion, and stir and fry until they wilt. Add a pinch of the powdered Sichuan peppercorn, and keep stir frying until the onion turns distinctly golden.
Add the ginger, garlic, chile and black beans all at once, and stir and fry until the whole is very fragrant. (At this point is usually when the stomach starts to growl–I swear that nothing is better than the smell of garlic, onions and fermented black beans cooking.) This should take about one minute.
Add the meat, reserving any liquid marinade that isn't clinging to the meat. Spread the meat into a single layer on the bottom of the wok, and let it sit, undisturbed until you can smell it browning–because of the sugar in the marinade this is faster than usual. At that point, start stirring and frying. Add tofu, and keep stirring and frying until most of the pink is gone from the meat. Add the extra marinade, if there is any, the soy sauce and the Shaoxing, and if there is any browned bits in the bottom of the wok, scrape them up.
Add the gai lan stem slices and the carrot, and stir and fry for about a minute or two. Spread the gai lan leaves over all, and add the chicken broth, then stir vigorously but carefully. The idea is to get the already cooked stuff up on top of the gai lan and get it down into the wok where the leaves will wilt into a velvety-sweet texture and be coated by the sauce. Add another pinch of Sichuan peppercorns and stir madly until the leaves begin wilting.
Once the leaves have wilted sufficiently, pull the wok from the heat, and stir in the sesame oil, then put into a warmed serving dish.
Sprinkle with a very generous pinch of the ground Sichuan peppercorns, and serve with steamed rice.
I am really sorry that I have no pictures of this dish–however–as I am informed that I will be making it again, I figure I can post photographs next time.

No Comments yet
RSS feed for comments on this post.
Sorry, the comment form is closed at this time.
Powered by WordPress. Graphics by Zak Kramer.
Design update by Daniel Trout.
Entries and comments feeds.