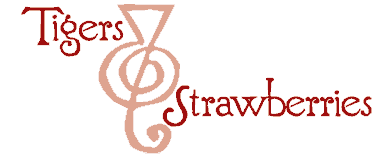 Cook Local, Eat Global
That's a rhetorical question.
I really don't know the answer.
But I do know this–there are a whole bunch of them.
Big ones.
Small ones.
Thick ones.
Thin ones.
This one has a shiny car,
This one has a cookie star,
What a lot of 'zines there are!
(Okay, Dr. Seuss, I am truly sorry for bunging up your brilliant poetry. But the number of food magazines has boggled my mind, and so I plead temporary insanity.)
For reasons which I cannot now disclose, I have been haunting bookstores, newstands and grocery stores, picking up food magazines, and reading them.
And I have come to a few conclusions.
One–just as soon as I think I have found all the food magazines that there are in the United States, I find one or two more I have never heard of. And I sigh, and pick those up, too.
Two–They fall into several categories, of which there are three main ones. Food & Lifestyle magazines appear to be the largest category; these are the publications that not only talk about food, but also travel, place settings, alcoholic beverages, music and entertainment. In addition to beguiling the reader with beautiful food and recipes, they try to sell an image–a fantasty of a way of life the reader can aspire to. (I tend to get irritated by these magazines eventually.) Straight up Food and Cooking Magazines are the ones I tend to like the most, though there is one particular title that I am sure is my own personal kryptonite. When I look at it, I get weak in the knees, nausea strikes, and dizziness nearly overwhelms me. But most of this category I really like and they tend to be the ones I go out of my way to read every month. The third category, which is Everything Else, is a concatenation of speciatly magazines which cover one food-related topic, health-related cooking magazines, seasonal magazines and journals which cover food and culture.
Three–There is bound to be at least one or two food magazines that appeal to every foodie in the world. I don't know this for certain, but the odds are with me. With fifty-plus titles in English, a double handful of which originating outside the US, there is bound to be something for everyone.
Four–There is bound to be at least one or two food magazines that make any given foodie want to hurl. If my theory that there is bound to be one or two magazines that will appeal to any given foodie, the opposite is likely to be the case.
So–I pose a question to my readers–what food magazines do you read? Which ones do you particularly like?
And which ones do you utterly abhor?
And finally, why?
18 Comments
RSS feed for comments on this post.
Sorry, the comment form is closed at this time.
Powered by WordPress. Graphics by Zak Kramer.
Design update by Daniel Trout.
Entries and comments feeds.