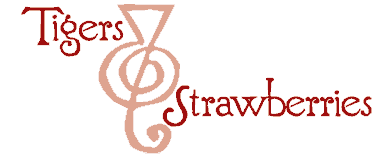 Cook Local, Eat Global

Okay folks, Zak says it is time.
No, not time to sweep the floor and scrub the carpets. (Though it wouldn't hurt if I did that, too.)
No, my 'net-competent and wizardly husband tells me that Thanksgiving is a good time to move my blog to tigersandstrawberries.com.
Regular readers will recall that we tried to do that this summer with great failure–we lost all of the pictures–and so the blog came back here.
But, Zak has a handle on things, and is dead set on packing up the blog and moving it tonight, tomorrow and the next day, while I am cooking in preparation for our Thanksgiving on Saturday, and he is sitting around not doing anything else.
So, if you come by in the next few days and you see no blog, a weird blog, some strange gobbledy-gook instead of words–fear not! It is only Zak breaking things and then fixing them again. So, intead of looking hither and yon, high and low and around and about like Lennier and Gummitch are doing in that picture–just sit tight, and get back with me on Sunday, when I will post and tell you all about my Thanksgiving turkey and the Four Directions Dressing which is based on cornbread, cranberries, black walnuts, wild rice and chiles–all Native American ingredients.
And there will be a post about sweet potato pie, and many other wonderful and delightful good things, sometime in the near future, if the Internet Gods are willing and the creek don't rise.
And if you cannot find me here–type in tigersandstrawberries.com and see what happens.
And if you find me there–then change your bookmarks, and hold on to your hats, because phase II of all the changes will be about to begin. (That would be us changing blog software–which Zak swears to me will be utterly transparent to readers, and will only matter to me…but we will see.)
Wish us luck!
Oh, and for those of you who are enjoying turkey and football tomorrow–Happy Thanksgiving!
See you on Sunday!
(Or, if the Internet Gods will not be appeased, likely on Monday.)
6 Comments
RSS feed for comments on this post.
Sorry, the comment form is closed at this time.
Powered by WordPress. Graphics by Zak Kramer.
Design update by Daniel Trout.
Entries and comments feeds.