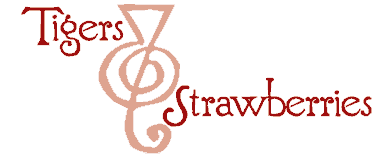 Cook Local, Eat Global
One of the best things about having many cats in a house this big is that, no matter what I am doing or where I am, I have at least one companion.
Sometimes, two.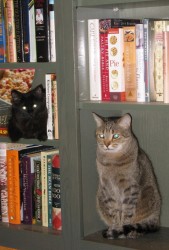 For example, here are Springheel Jack and Tatterdemalion (Jack is the big one), sitting in my kitchen bookshelves, watching me do the dishes.
They like these bookshelves because they are not full yet, so they have lots of nooks and crannies they can take over as their own. Which is good. That way, they can sit in the kitchen, be a part of the action, yet not be underfoot and in the way.
Though, I am not certain what I will do when those shelves inevitably begin to fill with cookbooks.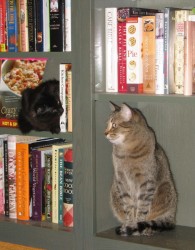 As is inevitable with cats, however, their attention wanders. Apparently, it is not that interesting to watch me load the dishwasher, so their thoughts stray, and they discover new sources of fascination, much closer at hand–or paw.
Each other.
(Of course, while you watch the feline antics, you also get a gander at some of my cookbooks–particularly my baking books, some of the French books, and some general purpose cookbooks.
All of the Chinese Cookbook Project books are upstairs in the teaching kitchen–and a couple of shelves above Tatter is my collection of cookbooks from the rest of Asia–Thailand, Korea, Japan, India and Burma.
And so, Tatter reaches out to touch someone, (namely, Jack) and the games are about to begin. Seconds after this photograph was shot, she flew out of the bookshelves and raced down the hall, with Jack hot on her heels.
For such graceful creatures, cats running sound like a herd of small elephants on the hardwood.
For more Weekend Cat Blogging action, visit Claire and Kiri at Eatstuff.
6 Comments
RSS feed for comments on this post.
Sorry, the comment form is closed at this time.
Powered by WordPress. Graphics by Zak Kramer.
Design update by Daniel Trout.
Entries and comments feeds.