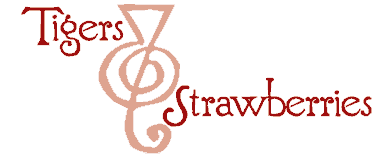 Cook Local, Eat Global
This is just letting folks know that I had a post, a long one, with lots of links, all ready to go last night, and the server we host Tigers & Strawberries on decided to go down just as I was posting. Which means that the site was down for an unspecified length of time last night, which is a pain, but it also means that the post went to Lost and Unfound in Internet Land.
So, no post until I post about the handmade tortellini I am making today.
And thank you to the folks who emailed in concern last night–no, all is well, I am still here. Reports of my demise are premature, to say the least!
2 Comments
RSS feed for comments on this post.
Heh, just went through hell myself. I would have chosen your problem. Details are in a little post from today at MH.

This whole internet thing is pretty darned fragile. Makes me crazy.

Biggles

Comment by Dr. Biggles — April 4, 2006 #

Glad you are back – knew you would be:)

Comment by Maureen — April 4, 2006 #
Sorry, the comment form is closed at this time.
Powered by WordPress. Graphics by Zak Kramer.
Design update by Daniel Trout.
Entries and comments feeds.