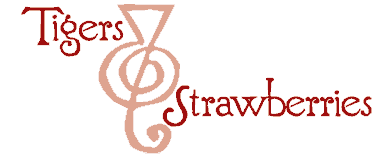 Cook Local, Eat Global
Now we come to the second part of the round-up for this month's The Spice is Right event: "It's Too Darned Hot!"

Elizabeth, my good friend in Canada who writes Blog From Our Kitchen, had a conundrum about this month's entry. She couldn't decide which recipe to showcase, since most everything she and her husband cook has chiles in it. But, luckily for us, she settled on this jewel-like salad, a beautiful entry filled with colors and flavors. Her Orange Fennel Salad is dressed simply with cider vinegar, honey, olive oil and dried, crushed toasted chiles, but it is the perfect foil for the fruits and vegetables within. The final kiss of perfection is the use of the clean, fresh flavor of mint leaves; I imagine that the haunting flavor of mint floats above all the stronger flavors and brings a breath of chill to the heat of the chile-kissed salad dressing. Great one, Elizabeth!

I adore learning about other cultures and foodways, and that is the best part of this event. We have so many participants from all around the world that we all get a chance to take a peek into not only each other's kitchens, but we also get a taste of the folklore of everyone's home region. Vaishali, the author of Happy Burp, though she lives in Dusseldorf, Germany, hails from India, and not only does she give us great recipes featuring chiles, but she tells us a bit about their more esoteric powers as well. But, magick aside, let's talk about those chiles and how she pairs them up for this event with yogurt. Hot and cold, wed together perfectly in her Mirchicha Chatka, a dish that sounds like two of my Indian food loves: green chutney and raita, made to marry and produce an offspring that is the perfect blending of the two opposites. The next time I make Indian food, Vaishali–I am making this dish and I hope to get lots of appreciative happy burps from my family in return!
I am not surprised to hear from Rokh, the author of Tham Jiak for this event, for indeed, she does live in Malaysia, where the climate is hot and the chiles are hotter. And what does she bring us from that paradise of sun, surf and heat? Nothing less than the national condiment, the universal elixer, the pride of the Malaysian kitchen: Sambal Chilli. A scarlet, chunky paste of chiles, shallots, sugar, garlic, tamarind and lime, this condiment is used in the kitchen and at the table, and keeps for a month unrefrigerated in Malaysia. I suspect in Ohio, where we complain if it gets near 90 degrees, it lasts a little longer, that is, if it doesn't get used up before then, which it likely would in our house. Thank you for sharing such a treasure, Rokh!
How can we Westerners fail to learn about spices now that we have so many great teachers from India, writing from their kitchens? Let me introduce Annita, who writes My Treasure…My Pleasure from her kitchen in Kerala, and who, like all of the other Indian food bloggers I have had the pleasure of reading, is generous with her recipes, instruction and writing. For her first entry into The Spice is Right, she gives us something few of us Indian food fans in the US have seen: Unda-Chammanthi. What's that? Well, they are a healthy breakfast of steamed rice flour and coconut cakes dipped in a sauce/chutney made from the holy trinity of chile, shallots and curry leaves. Doesn't that sound like an eye-opener in the morning? Much better than cold cereal, I think. Thank you, Annita, and I hope to see your goodies here again next month!
Indira is a woman after my own heart. Not only is she the great writer and photographer behind Mahanandi, but she is fearless in pairing chile with chocolate, and that just cannot help but futher endear her to me. Look at how pretty her Chocolate~Chilli~Pecan Mini Cakes are, and imagine the taste! Dark chocolate, pecans and chile–I am telling you, one of these days, I am going to show up at Indira's kitchen door next to her lovely cat Kittaya, because I caught a whiff of something good on the air and followed it until I found her! I can't wait to try this recipe out in my own kitchen, and I highly suggest y'all give it a whirl, too. Thank you, Indira, for another wonderful inspiration.

Now, y'all know I love chocolate, but what you may not know is that I also love okra. Yes, I do, but only when it is cooked in certain ways, one of which is the way Mandira, the author of Ahaar, cooks it. That is, she makes Stir-fry Okra, Chillies & Shallots, which is to say, she doesn't boil it until it is slimy, and she gives it a great setting among all those strong flavors. Chiles make everything better, but shallots and mustard seeds improve everything even more. I think the only thing that is missing is garlic, and I don't reckon it would hurt to throw some of that in there, too. But this is a fine entry for another first-timer, and I really hope, Mandira, that you come back with some more beautiful recipes like this one–it is a keeper!

One of the things I just love about this event is how much I get to learn about cuisines from other countries. This time around, it looks like I am lucky enough to learn a lot about traditional regional Indian specialties from bloggers who are living there, or who are from there and are now living elsewhere. Archana fits into the latter category; from India, she is now living and blogging Spicyana in the US. She drops in at the Spice is Right to tell us about a South Indian specialty called Porotta, a kind of layered flatbread that apparently takes years to master. It is a street food in India, but Archana presents an easier way for home cooks to make a similar dish, which she calls Chilly Crepes . This way, if you are far from South India and are longing for a taste of home–you need no longer pine and sigh. Try out this gorgeous recipe, and set your spirit free. (Look how pretty the picture is!) Thank you, Archana–I hope you come back with more great recipes like this one!
How about a recipe for green beans done Indonesian style? Isis, who blogs from France at Yambalaya, sends us a recipe for Sambal Goreng Boontjes, a dish that uses the firepower of the Indonesian condiment, sambal olek. Basically, it is green beans stir fried with onions, garlic and sambal in coconut oil. How, oh how, can that possibly be anything but tasty? I mean, really? And, as if that was not enough, Isis sends us a photograph of her pretty chile pepper plants, growing happily and healthily in her yard. Thank you so much Isis–I hope to see an entry from you for Fresh and Local! (You cannot get more local than growing your own veggies, you know!)
One of the best things about Indian food is how regional it is. Regional variations are to me, the spice of life. Pavani, who now lives and blogs Cook's Hideout from New Jersey, shares with us an Andhra recipe called Kandhi Pachadi (Toor dal Chutney). It is a simple dish, filled with the goodness of toor dal, chiles, garlic and cumin, and is meant to be served with tart dishes cooked with tamarind. The fire of the chiles heats up the palate, and the cool acidity of the tamarind dishes chills the tongue, making the diner brave for more chiles a few seconds later. Thank you for bringing this sweet little dish to us, Pavani–I look forward to hearing more from you in the future!
Oooh! Fusion fun alert! Fusion fun on the horizon! Danielle, the kind and creative blogger of Habeas Brulee has presented a fusion cuisine original for our delectation this month: Roasted Red Pepper Chipotle Egg Rolls with Tzatziki Dipping Sauce. It's crunchy. Its spicy and sweet and Mexican and Chinese. And its cooling and soft, and…Greek. Yes, Greek. And she mixes all of this together and it sounds fantabulous. Just fantastic. You have to go read her recipe and see it for yourself. So, go click the link and stop reading my blatherings and take a look at her primer on the two ways of wrapping eggrolls while you are at it! (BTW–I do it the second way. I do the same for spring rolls as well. It is easier and faster, says the woman who used to work in a Chinese restaurant and so has wrapped many a roll in her day.)
And with that, we come to the end of part two. Look for part three of the round-up sometime tomorrow, probably in the morning, posted bright and early, before we take to the road in our rented mini-van for a week of heat, humidity and good Indian food. (Akbar, here we come!)
8 Comments
RSS feed for comments on this post.
Sorry, the comment form is closed at this time.
Powered by WordPress. Graphics by Zak Kramer.
Design update by Daniel Trout.
Entries and comments feeds.