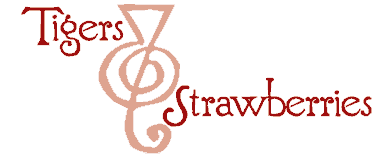 Cook Local, Eat Global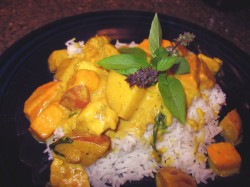 The history of Thai curry making is a subject that is still being written. There are many theories as to the origins of Thai curries, but no one knows if one or all of them are true; I suspect that the development of Thai curries has had a great many influences, and that there is no one point of origin that can be pinned down.
Many people are of the opinion that Thai curries were a development of Indian curries; at one time, I believed such a thing myself. But now, as I do more research, and taste more Indian and Thai foods, I have become a bit more skeptical on that point. The flavors of Indian curries, both of the south and the north, are substantially different than the curries of Thailand, to the point that while I -do- believe that the two dishes are related, I no longer believe that the progression of curry from India to Thailand took place in as linear and direct a form as once I did.
What I -do- think happened is that the Thai had already started making coconut-milk based stews, long before the Arab and Indian traders began bringing dried spices to their shores. And these stews, which some say originated among the Mon, the original inhabitants of Thailand, Cambodia and Burma, then had new ingredients added to them when these traders brought forth their wares. When the chile pepper was brought in the 16th century by the Portuguese, it became part of the seasoning pastes used to flavor these stews, which came to be known as kaeng, or curries.
The use of fresh herbs, of shrimp paste and of fish sauce in Thai curries are part of what distinguishes them from Indian curries. Also, the Indians use a much wider array of dried spices, ground into powders; they too, make curry pastes out of fresh ingredients such as chiles, ginger, garlic and onion, but the range of fresh "wet" ingredients used by the Indians to flavor their curries is more limited.
In Thailand, herbs such as cilantro, or Thai basi, are used, and in the case of cilantro, not just the leaves are used, but also the stems and roots.Kaffir lime leaves and zest, lemongrass stalks, greater and lesser galangal rhizomes, fresh turmeric rhizomes, shallots, fresh or roaste, and the usual ginger, garlic, chiles and onions, are all utilized in varying proportions and combinations to flavor curry pastes. Sometimes, a small amount of dried spices, such as white peppercorns, coriander, cumin and cardamom, are used, but the proportion is very tiny when compared to the amounts of dry spices used in Indian curries.
So, then–we see that Thai and Indian curries are two very different beasties, with distinctive flavors that are not easily confused.
But what of this Thai-named Thai-Indian curry: Kaeng Kari Gai? Where is it from? What is it like?
I found the recipe for it in Su-Mei Yu's excellent cookbook, Cracking the Coconut. Yu, of Chinese descent but raised in Thailand, said that this particular curry was a favorite of her family when she was growing up, and she gives a recipe for the curry paste and a curry using it, but she does not really state if it is a Thai innovation using commercial Indian curry powder, if it was a creation of her family's cook, if it is traditional, or if it is a modern fusion.
All I know is this: it tastes very, very good.
It makes a vibrant yellow curry that is fragrant with both wet Thai ingredients and dry Indian spices, that is rich in coconut milk and redolent with the sweetness of mango and the tart edge of lemon.
I changed the recipe considerably, I have to admit, in part because I fitted it to the ingredients I had, in part because I didn't want to use packaged curry powder because it contained a considerable amount of black pepper, to which I am allergic, and because I felt like it. I cooked Yu's recipe to my own taste–which is what I am told all good Thai cooks do.
Besides–I wanted to really go for a good fusion between India and Thailand–I wanted to put ingredients in that would recall the Indian subcontinent, while the curry itself still rang with the song of Thailand. When Yu mentioned that this curry is sometimes made with pineapple in it; I knew I didn't have any pineapple sitting in the fridge, but I had just bought some very ripe, sweet-smelling mangoes. Mangoes always make me think of India, so in addition to the new potatoes and the last of the sweet potatoes I stored over winter, I decided to add a mango for added sweetness and a lush, fruity texture and flavor.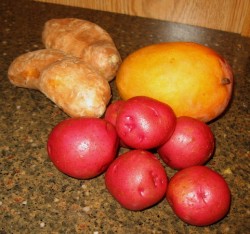 You will notice that the curry paste includes an unusual set of ingredients: oven roasted garlic, shallots and ginger. The roasting of these ingredients–which I suspect was done in the coals of a banked fire in earlier times–is meant to tame their harshness and bring out their sweet natures. I think it also recalls the deep browning process that these ingredients undergo in the making of Indian curries.
There are also some very distinctly Thai ingredients in the curry paste, but fewer than I am used to. There is no galangal, but there is lemongrass and shrimp paste. No cilantro stems or roots, but there is fresh turmeric. (There is also dried turmeric, which I added as part of my home-made mixture of "curry powder;" this combination of both fresh and dried turmeric resulted in a beautiful brilliant saffron-yellow color for the curry, as well as a nearly indescribable fresh, antiseptic flavor that is characteristic of turmeric.) The heat comes from fresh Thai bird chiles, all red, orange or yellow to help boost the yellow color of the curry.
Yu did not specify the use of any acidic component; however, to my taste the curry was flat without it. So, at the end, I added the juice of one lemon to perk up the flavors and make them dance on the palate. She also did not garnish with an herb, but instead used deeply browned, crispy shallot pieces at the end as a textural and flavor contrast. However, since I had used my last two shallots for the curry paste, I decided to use some of my very exuberantly growing Thai basil plants. Thier sharp, anise-like flavor deeply complimented the richness of the coconut-milk based curry, and gave a further Thai fillip to a dish that straddles two cultures.
So, how did it taste?
Quite good, although, Zak was uncertain. He said that it was the least distinctive of the Thai curries that I have made and that he has tasted all through his growing up years. And, that is probably because of the large amount of Indian spices that it contains; I can only imagine that using commercial curry powder instead of making my own, would contribute further to that "generic" curry flavor that Zak mildly complained of. However, though he said it was less distinctive, he ate two plates full of it, with jasmine rice as did Morganna and myself. Her verdict was an unreserved "It's tasty," while I found it to be quite good, especially with the sweet potatoes and mangoes blending well into the whole.
I could definately see making this as a vegetable-based curry by adding summer squash chunks, and red sweet bell pepper, and leaving out the chicken altogether. Or, it could be replaced by extra firm tofu with no problem.
Ingredients:
2 heads garlic
2 large shallots
1″ cube fresh ginger
1 tablespoon peanut or coconut oil (melt the coconut oil)
1 tablespoon coriander seeds
1/2 teaspoon cumin seeds
1/2 teaspoon white peppercorns or grains of paradise
1/2 teaspoon fenugreek seeds
5 whole cloves
1/4 teaspoon cardamom seeds (removed from pod)
1/4 teaspoon fennel seeds
1/4 teaspoon ground cinnamon
2 teaspoons ground turmeric
1 teaspoon sea or kosher salt
10 fresh Thai bird chiles, red, orange or yellow, stemmed
2 stalks lemongrass, outer leaves and hard, dried bits removed, cut into thin slices
2″ chunk fresh turmeric, peeled and sliced (or 2 teaspoons ground turmeric powder)
1 teaspoon fermented shrimp paste
Method:
Preheat oven to 400 degrees F. Remove the loose papery outer husks from the garlic heads and the shallots (leave one layer of tight papery husk to the shallots), then cut off the pointed tops, exposing the flesh of the garlic and shallots. Place upright in a square of foil big enough to wrap loosely up and around the garlic and shallots, and place ginger piece in with them. Drizzle with the oil, and wrap loosely in the foil, then place in glass baking dish. Place in ovena nd roast for 30-40 minutes, or until everything is soft, toasty, brown and smelling very good.
While garlic, shallots and ginger are roasting, in a heavy-bottomed pan over medium heat, toast the coriander seeds until they are fragrant. Put into the grinding jar of Sumeet or spice grinder or mortar. Do the same with the cumin, the cloves, the fenugreek, fennel seeds and the cardamom.
Place all the other ingredients into jar of Sumeet or grinder When garlic, shallots and ginger are fully roasted, remove from oven and allow to cool until they can be handled safely. Squeeze flesh of garlic and shallots from the papery husks into grinder jar, and peel ginge rand slice into grinder jar.
Process all together into a thick, brilliant yellow and somewhat fluid paste. Set aside until it is to be used, or seal into a tight-lidded jar and refrigerate for up to a week until it is to be used.
Note: If you want to use commercial curry powder instead of all of the spices, leave out the fenugreek, cloves, cardamom, fennel, cinnamon and 2 teaspoons ground turmeric and instead use 1/2-1 tablespoon of curry powder.
Ingredients:
1 tablespoon coconut oil or coconut cream from the top of the coconut milk cans
1 medium yellow onion, peeled and thinly sliced
1 batch Kaeng Kari paste
2 cans Mae Ploy brand coconut milk
1 tablespoon palm or raw sugar
fish sauce to taste (I used about four tablespoons, I think)
3/4 pound red new potatoes, well scrubbed and cut into 4ths or 8ths, depending on the side of the potato
1/2 pound sweet potatoes, peeled, halved longwise and cut into 1/2 thick slices
1 whole boneless, skinless chicken breast, cut into 1/2″ cubes
1 fresh mango, peeled and cut int 1/2″ cubes
juice of 1 lemon
1 cup fresh Thai basil leaves
3-5 Thai bird chiles, red or yellow, or 1 green Indian chile, sliced thinly–optional
Method:
In a heavy-bottomed, wide mouthed pan, heat coconut oil or cream on medium heat. Add yellow onion, and cook, stirring, until it becomes golden brown in color. Add curry paste, and cook, stirring, until it is very fragrant–about two minutes.
Add coconut milk and sugar and stir until well combined. Taste. Add fish sauce to taste, balancing flavor between the spices, the chile heat, sweetness and salt.
When it tastes right, bring to a rapid simmer, and add potatoes. Cover, and cook until potatoes are very nearly done. Add sweet potatoes, stir, and allow to cook for about two more minutes. Add chicken pieces, and stir, then cover.
Cook until the chicken is just done and the sweet potatoes are softened, but still firm enough to hold their shape and the potatoes are done. This should take at the most, ten minutes.
Add the mango, stir in. Add the lemon juice and basil leaves, stir and allow to cook one minute longer to wilt the basil leaves.
If desired, you may sprinkle thinly sliced chiles over the top of the dish–it is a fairly mild curry, so you may want that extra jolt of heat at the end.
7 Comments
RSS feed for comments on this post.
Sorry, the comment form is closed at this time.
Powered by WordPress. Graphics by Zak Kramer.
Design update by Daniel Trout.
Entries and comments feeds.