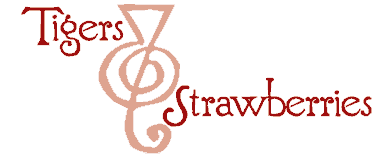 Cook Local, Eat Global
Indira, the talented writer of the popular Indian food blog, Mahanandi, has a one time food blog event going on this August to celebrate the independence of India from British colonial rule. It's called the Food Parade on Independence Day, and the idea is a great one meant to celebrate the wonderful variation of the regional cuisines of India.
Check out her post for the specific rules of the event, and get in that kitchen and start cooking up a celebration.
Also at Mahanandi, is a lovely photo essay of her trip to New Vrindaban, a holy site dedicated to Krishna located on 500 acres near Wheeling, West Virginia. The photographs of the temples and the swans and peacocks are lovely, as are her descriptions of the peaceful aura that the place possesses.
I have always meant to go there, and haven't yet made it. I remember hearing about it as a child (it was decried from the pulpits of a few churches I attended as a place of heathenry–I remember getting very angry at one minister and standing up and renouncing him, telling him that God comes to all people, not just to Christians, and it doesn't matter to God if he is called God or Krishna–my strongly stated opinion started a bit of a fracas), and always wanting to see it.
Someday, I think we will have to take a trip and go there.
More later!
3 Comments
RSS feed for comments on this post.
Barbara, thanks for writing a post about the event. I greatly appreciate it.

New Vrindaban is really a beautiful place, you can go there just for the specatacular scenery.

I've never heard of New Vrindaban, but after imagining you as a child scolding your minister about it I had to look it up! Thanks for the tip, it looks like a lovely place, and I hope the Food Parade is a smashing success.

Comment by risingsunofnihon — August 9, 2006 #

Dear Indira,

Your website about finest indian cuisines is something that one can't find words for a complete compliment –
its really something beyond a compliment of words.

Why don't you try & start a college for culinary skills in vizag/hyderabad???

surely it would be a wonderful idea -needless to add life will never be the same on the dining tables again…should you start one.

profound regards
prasad lbv

Comment by L B V PRASAD — April 10, 2007 #
Sorry, the comment form is closed at this time.
Powered by WordPress. Graphics by Zak Kramer.
Design update by Daniel Trout.
Entries and comments feeds.