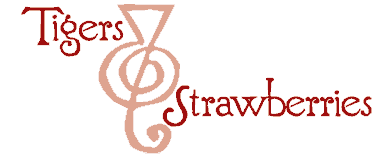 Cook Local, Eat Global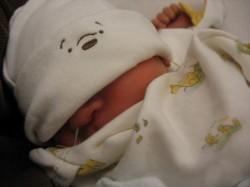 Zak caught this shot last night when we visited Kat; the mother of the baby in the crib next to Kat's was learning how to evaluate her son's oxygen intake while he fed from a bottle by observing his facial skin tone, and so the nurse had brightened the overhead lights.
Kat doesn't care for bright lights, so Zak, who was holding her on his lap, pulled the brim of her little hat over her eyes so she could go on snoozing unfazed by the brilliance.
And since she looked so cute, he took a picture.
As for how Kat is doing–she is gaining some weight–her cheeks have rounded out and her abdomen is a good centimeter larger.
She is still having troubles feeding from a nipple, however.
She has the rooting reflex, and while she is completely disinterested in a pacifier, she sucks quite strongly and capably on my fingers, and I can tell when she does it that her tongue, lower gum and jaw are all in the right position to nurse effectively.
However, when she is put to the breast, she cannot coordinate the three things that must happen simultaneously: sucking, swallowing and breathing. Her attempts to nurse, once she gets a semi-effective latch on, go like this: suck, suck suck, pause, breathe, breathe, breathe, swallow, swallow. This gets her very little milk, and the first time she tried it–yesterday, she got SO frustrated she started to cry. Today, she was more patient, and tried for longer, but, as is typical of many preemies, she ended up getting tired and just going to sleep without getting much in the way of food.
She was worse on the bottle yesterday–Zak tried to feed her and she sucked really hard, like she had at the breast, and since bottles spurt milk more easily, she got a huge mouthful of milk, which choked her. She choked like this twice, and was quite scared by it, and then clamped her mouth shut and refused to try again.
So, she is still being tube-fed. But, we are very slowly still trying to work with her to get the nipple-feeding to work; I am confident that she will get it eventually. It is just going to take her time.
In other news, she is awake more often and has been interacting more and more with us. We'll try to get a good picture of her with her eyes open as they are very pretty, but she really doesn't like the flash much.
And as for us–we are now in a Residence Inn, which has a kitchen in it. Wonder of wonders! I'll start cooking us some good food starting tomorrow. It is amazing how tiring restaurant food can get, no matter if it is good, bad or indifferent, when that is all one has to eat. I much prefer my own food to anyone else's, so I am glad that I am feeling well enough to be able to cook for us at least some of the time.
And yes, I am healing nicely. My energy level still fluctuates, but I am still doing the breastpump and am in danger of filling up the refrigerator and freezer at the NICU with milk for Kat. I think that my body is convinced that I gave birth not to one preemie but a small island nation of them, because of all the milk it is producing!
Thank goodness for good breastpumps is all I have to say!
More news later, and maybe some pictures of my home-away-from-home dinners soon.
12 Comments
RSS feed for comments on this post.
Sorry, the comment form is closed at this time.
Powered by WordPress. Graphics by Zak Kramer.
Design update by Daniel Trout.
Entries and comments feeds.