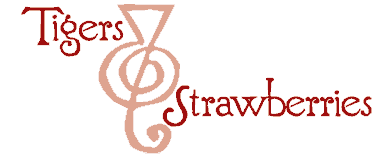 Cook Local, Eat Global
This is just a quick note to let folks know that all is basically well here, and I have a post that I have been working on for more than twenty-four hours.
Not that it is that large or complex a piece of writing, but that it is crazy around here.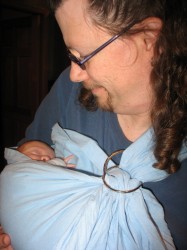 Kat is fine. As you can see. (Zak has really gotten into the idea of babywearing and has started collecting slings and carriers so he can keep Kat close and still do stuff all day.) She now weighs seven pounds six ounces; she has gained three ounces in the past three days. She is sleeping less at night, but we are working on that issue with diligence and care.
The kitties are all fine, as are Zak and I.
It is just that the house seems to be falling apart. First, the washing machine broke. Then, it soaked through the carpet in the utility room, rotting it. Then, while I was clearing all of the stuff from the utility room in order to allow the workmen to clear out the dead washer, the carpet and the ugly cabinetry in preparation for the new laminate flooring, wire shelving and new washing machine that will be happening next week, I heard one of the housecleaning ladies yell for me with a note of panic in her voice. (God bless my Mom-in-Law, Tessa, who gave us the gift of housecleaning for Kat's first year of life.)
I ran to the bathroom, which is the main one, and the one Morganna uses, and saw the lady backed into a corner of shower, surrounded with shattered glass from the shower door. It was absolutely horrifying.It was safety glass, but she was in there in her sock feet. She started to take a step toward me while abjectly apologizing–and I firmly told her to stay put. She thought I was mad at her. I wasn't. I was terrified that she had been hurt or that she would cut open her foot if she moved.
So, one of her cleaning crew came up behind me and I told her to run and get her shoes, only to be met with a blank stare and a "huh?"
"Go get her shoes, now!"
Luckily, the shoes were fetched, and put on with no cutting or bleeding.
I am just glad that Morganna wasn't in there when it happened, showering.
So, we need to replace the shower door.
Along with the washer.
I hope that nothing else breaks anytime soon, is all.
And yes, someday soon, I will finally post the roundup to the Spice is Right IV: Back to School that I was going to post on the day I went into labor and delivered Kat.
4 Comments
RSS feed for comments on this post.
Sorry, the comment form is closed at this time.
Powered by WordPress. Graphics by Zak Kramer.
Design update by Daniel Trout.
Entries and comments feeds.