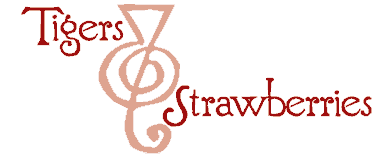 Cook Local, Eat Global
Avid reader Bomboniera sent me an article by Michael Pollan from the January 28th issue of the NY Times entitled, "Unhappy Meals." Unfortunately, one has to pay to read it on the Times site as it has already been archived , however, it is available on Pollan's site for free.
I wanted to point folks over to the article, which, while it is long, is quite worth reading, because Pollan makes several points that I hope more Americans try and take to heart.
The essay starts out thusly: "Eat food. Not too much. Mostly plants."
I can hear the "duhs" already when people read the sentence, "Eat food." What else would a person eat?
Well, what Pollan is talking about is he wants folks to eat more fresh, whole foods that our great grandmothers would have recognized as food, not the highly-processed, instant, fast-food industry's frankfood offerings.
I cannot agree more on that point.
Later, he enlarges his recommendations to nine rules for good eating, but before he gets there, he indicts the entire system of scientific reductionism in the study of human nutrition and health. He also makes the point that I have been harping on for years, that the dietary requirements of each human are highly individual because of their genetic heritage. As omnivores, humans have adapted to live in nearly every environment here on earth and as such, individual populations have different abilities to digest different forms of food in a healthy fashion.
Northern Europeans developed the ability to digest cow's milk through adulthood, unlike most other humans who lack the enzymes necessary to digest milk after childhood, while the peoples of the Arctic Circle can thrive on high-fat and protein diets filled with whale blubber and seal flesh, but very little in the way of green vegetables. Asians can stay slender on high-carb diets that include a great deal of rice and vegetables, while many Americans will grow fat if fed a great deal of carbohydrates.
He also encourages us to enjoy our food and stop treating it like fuel. He is of the belief, and he may be quite correct, that that the stress of worrying over what to eat inflicts as much damage as eating poorly does. He cites the French, who eat a lot of saturated fats and drink a good deal of wine, as an example of people who manage to eat smaller portions than Americans because they eat smaller portions more slowly in the context of a social setting, instead of wolfing food down solo, as a means to simply fuel the body. In addition, he notes that eating from a cultural tradition seems to help diners get the sort of truly varied diet that it seems we humans evolved to eat.
I don't want to go over all nine of Pollan's "rules" here; for that, you can click on the link above.
But, I do want to point out one factor in healthy eating that he ignored: humans do not only need to eat food, mostly plants and not too much in order to live well.
We must also move.
Humans did not evolve to be as sedentary as most Americans are these days, and the fact that most of us sit in front of desks and drive our cars everywhere does not help us out in the health department.
In my experience, so long as I am physically active, I have much more leeway in what sorts of foods and amounts I can ingest without harm to myself. In addition, I find that I feel better and I tend to enjoy my food more when I am genuinely hungry because I have worked up a true appetite by moving my body in ways in which it was meant to move.
So, I would amend Pollan's opening statement to read: "Eat food. Not too much. Mostly plants. Move around. Enjoy yourself."
With those four extra words in two short sentences, I think that Pollan's philosophy is made complete.
11 Comments
RSS feed for comments on this post.
Sorry, the comment form is closed at this time.
Powered by WordPress. Graphics by Zak Kramer.
Design update by Daniel Trout.
Entries and comments feeds.