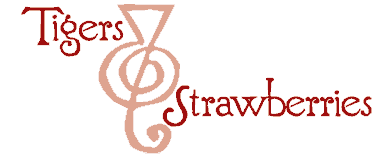 Cook Local, Eat Global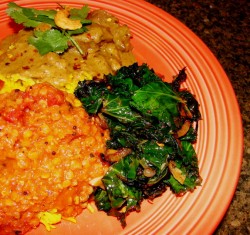 When I reviewed Monisha Bharadwaj's excellent book India's Vegetarian Cooking: A Regional Guide, I wanted to be certain to try a recipe from each of the broad geographic areas covered in the book. So, I presented recipes from the north, the east and the west, and now, it comes time to present one from the south.
As with the other recipes I cooked from her book, I am very pleased with the way it turned out, though, in truth, her cooking instructions are a little more vague than I tend to like. When I have presented the recipes here, I have given more specific methods to guide new cooks along easily. However, I do not think that my small criticism should deter any cook from reading and cooking from this book. So far, none of the four dishes I have cooked from it have been less than delicious–and as far as I am concerned, that is what matters most when I evaluate a cookbook.
This recipe, also called tomato kholombo, is from the coastal southern state of Goa, and it is very easy to do. It is a little more involved than the other recipes I presented due to the fact that it requires more spices, all to be toasted and ground before the lentils and tomatoes are cooked together, but it is still worth it to try. All of the ingredients are easily found at any Indian grocery, and if one decides to jump into cooking a great deal of Indian food on a regular basis as I have, then these ingredients are good pantry staples.
I did alter this recipe somewhat, as is my wont. First of all, I did not use fresh tomatoes, as it is not the season for them, and I refuse to eat those plastic-like flavorless abominations that masquerade as tomatoes in the produce section of the grocery store. Instead, I used a can of Muir Glen Organic Fire Roasted Diced tomatoes to excellent effect. The fire-roasted ones boosted the already smoky flavor from the toasted spices that really tasted good. Good enough that when I make this again in the summer with real, fresh tomatoes, I may roast them on the grill before putting them into the lentils.
Secondly, I replaced the black peppercorns in the spice mixture, called kholombo powder, with two black cardamom seeds. As regular readers know, I have developed an unfortunate allergy to black pepper, which has calmed down somewhat now that I am no longer pregnant. However, I still try to avoid significant amounts of black pepper in my food. I used black cardamom instead specifically because it has a very deep smoky flavor of its own, which I rightly surmised would add to the musky, smokiness of the dish.
And finally, I added a teaspoon of paprika to the lentils to give them a better color. The photograph in the book showed them as a deep red, probably from all of the fresh tomatoes. The canned tomatoes weren't quite as pretty, so I decided to use some paprika for coloring–which is a common practice in the cookery of northern India. But I didn't use just any paprika, but instead, used smoked Spanish paprika–which once more, boosted the smoky flavor, spiralling it over the top.
I definitely consider the paprika to be an optional ingredient, and I suggest that everyone else use the black peppercorns in the kholombo powder, but I think that in every season but the summer and fall, when fresh tomatoes are in full swing, the canned tomatoes are the best option.
So, how did it turn out?
Sour, from the tamarind, spicy from the kholombo, musky from the curry leaves, tangy from the tomatoes, creamy from the lentils, and smoky from all sorts of different ingredients. It was delicious, and may become a favorite version of dal in this house, replacing my many variants of masoor and mung dal tarka mixtures that I make as the default house dal recipe. (Well, not completely replacing it. I think that Morganna may stage a mutiny if I were to do such a thing as replace her beloved dal tarka utterly. But I am emboldened to start cooking many different versions of dal now that I previously had ignored in favor of my beloved standby dish.)
At any rate–here are the recipes both for the kolombo powder and the lentils. Please let me know if you try and enjoy them.
And be assured that over the summer when every sort of vegetable is coming in fresh and local, that I will be returning to the recipes in this book and trying many more of them–I am enthralled with the differences in the regional cooking styles of India, especially when it comes to vegetable, dairy and grain recipes.
Ingredients for Kholombo Powder:
1 tablespoon sunflower or canola oil
2 tablespoons split gram lentils (channa dal)
2 teaspoons coriander seeds
8 curry leaves
2 teaspoons cumin seeds
4 cloves
1 teaspoon black peppercorns (I used 2 whole black cardamom seeds here)
3/4″ stick of cinnamon
3 tablespoons dried, shredded (unsweetened!) coconut
Method:
Heat the oil in a heavy frying pan and fry the channa dal until they darken slightly. Reduce the heat ad add all of the rest of the ingredients except the coconut, and fry for another minute. Add the coconut and continue frying, stirring until the coconut has turned brown and everything smells rich and good.
Remove pan from heat, scrape the contents of it into a plate and allow it to cool. Grind to a powder in a blender or spice grinder, and store in an airtight jar in a cool, dark place. Use within three months.
Ingredients for Tomato Kholombo:
1 cup masoor dal (split red lentils), picked over, rinsed and drained
2 cups water
salt to taste
1 teaspoon tamarind concentrate, diluted in 4 teaspoons water
1 14 ounce can Muir Glen Fire Roasted Diced Tomatoes
1 teaspoon kholombo powder
2 tablespoons sunflower or canola oil
1/2 teaspoon black mustard seeds
4 dried red chilies seeded (optional–I didn't seed mine) and crumbled
pinch asafoetida
12 curry leaves
1 teaspoon paprika or Spanish smoked paprika (optional)
Method:
Put lentils and water into a heavy-bottomed saucepan. Bring to a boil, turn down heat and simmer until lentils are just softened, but not completely broken down into a puree–about thirty minutes. Salt to taste.
Add tamarind, tomatoes and kholombo powder and simmer for about five minutes.
Heat the oil in a small frying pan, and add the mustard seeds. Cook, stirring continually. After they begin to pop like popcorn, add the chilies, asafoetida and curry leaves. Continue cooking, stirring, for about a minute or so, until everything is very, very fragrant and sizzling. Pour into the lentils, stir and add the paprika, if using. Serve with a rice dish of some sort.
These lentils are good the first day when they are made, but are even better when heated up a day or so later.
5 Comments
RSS feed for comments on this post.
Sorry, the comment form is closed at this time.
Powered by WordPress. Graphics by Zak Kramer.
Design update by Daniel Trout.
Entries and comments feeds.