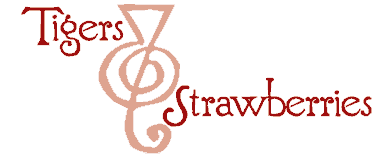 Cook Local, Eat Global
I was asked by a reader to contemplate what I would like to have for my final meal, if I could plan such a thing.
That is a hard one. Not that I dislike the idea of contemplating death–having faced it once or twice in my life, I am not particularly disturbed by the thought of shuffling off my mortal coil.
What is hard about this request is to narrow down which foods I would want to have as the last taste in my mouth.
I think I would want something amazingly scrummy, like Thai Chili Basil Squid–a dish which I have not made at home, since squid are thin on the ground here in Ohio, but when I am in an excellent Thai restaurant, I order it every time. It is filled with the scent of the ocean, the incendiary power of Thai bird chilies, the sweetness of shallots and garlic and the herbal song of basil leaves, all held together by the sour tears of lime.
It is a wonderful dish, so lighthearted and joyful. It is like singing "Simple Gifts" and dancing a circle dance on a sunny May morning.
That is a fine thought if my last meal was in the spring, but what if it was in winter, and the sky was grey and cold, and snow blustered in the air?
Ma Po Tofu, steamed rice and Gai Lan and Shiitake Mushrooms with Oyster Sauce would be my last meal of choice. For whatever reason, Ma Po always makes me feel comfortable and comforted, like a warm quilt wrapped around my tastebuds. And the crisp, snappy stalks and velvet leaves of the gai lan pair perfectly with the fleshy musk of the mushrooms. These vegetables, too, are a comfort on a cold winter's night, especially with a mug of smoky lapsang souchong tea.
What if my last breath were to come in October, my favorite month? What if I were to breathe my last on a morning when mist rises from grass lightly tipped with silvery frost, burned away by a golden sun blazing in an azure sky, setting the scarlet maples aflame with her brilliant rays?
Ah, then it would be simple.
A bowl of pinto beans cooked with a ham hock, onions, garlic and cumin, garnished with raw onions and cilantro, a basket of sweet cornsticks flavored with chili and cinnamon, a mess of greens cooked with bacon, onions, garlic and chili and dressed with balsamic vinegar, with fresh apple cider to drink.
And were I to go in summer, what would I want?
Nothing more than a pie made from freshly picked sour cherries wrapped in a crust of lard, butter, flour and a touch of sugar.
The truth is, I cannot decide what I would want for my last meal, in large part, because I cannot predict being able to predict when death will come. Death has always been a bit of a trickster, coming like a thief in the night, where none shall know his passing, so thinking about what I would plan to eat were I to somehow know when to expect his knock upon my door is a bit odd to me.
I suppose I could look at it this way: what would I plan to serve Death when she came calling for -our- last meal together. That makes a bit more sense, for as I was raised by southerners, I find it to be very rude to sit and eat without asking my guest to sup with me.
So, the question could be, and perhaps it would be better answered this way: what would I offer Death when he comes on his errand to fetch me?
The answer to that is simple: the best of what I can offer.
It is always foolish to slight a guest, particularly one so implacable and powerful as Death.
So, what would -you- want for your last meal?
Or, if you prefer–what would you sit down to eat with Death on your last day?
(And Bry, or Dan, or Zak, if you say, "salmon mousse," I shall toss a fish at you.
(Thank you to Hillary from Chew On That for this evening's thought-provoking post idea.)
24 Comments
RSS feed for comments on this post.
Sorry, the comment form is closed at this time.
Powered by WordPress. Graphics by Zak Kramer.
Design update by Daniel Trout.
Entries and comments feeds.