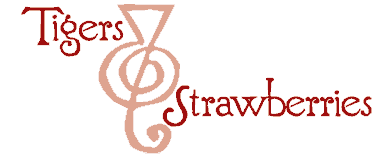 Cook Local, Eat Global
Sometimes human beings confuse me.
Okay, I will amend that. Not all humans confuse me–just most of them.
And it isn't sometimes–it's most of the time.
So, let's just start this over, shall we?
Most of the time, I find the behavior of most human beings to be quite confusing.
Take the case of the cupcake.
Cupcakes have become suddenly trendy, (okay, in truth, this trend is not that new–it has been going on for a couple of years now, but I have resisted talking about it thus far, so let's call it sudden) trendy to the point that there exists an entire blog written about nothing but cupcakes. Actually, the truth is, there was one blog written about cupcakes, but now there are lots of them. Everywhere you look someone somewhere is baking, eating, talking about, writing about and obsessing over cupcakes. There are highly successful bakeshops dedicated completely to the cupcake in major metropolitan areas
across the country.
You can even order cupcakes online to be shipped to you, you know, just in case you don't live near one of those cupcake bakeries. (And the bakeries near you don't make good cupcakes, and you are either too lazy or too baking-challenged to make your own.)
I don't know why, but there you have it. Cupcakes are the "It" dessert of the twenty-first century.
They are a cultural phenomenon.
But I haven't written about this trend, which has been going strong for about two years now, because, well, I just don't get it. And I didn't really want to be the curmudgeonly one to pop a pin in the balloon and take all the fun away.
I mean, I'm far from a cupcake hater–so before people get all het up over this little essay, let it be known now and henceforth that while I don't see what it is about cupcakes that could possibly cause all of this cultural phenomenon stuff, I am not anti-cupcake. I just don't bloody well get it.
I mean cupcakes are nice–I won't turn one down. They taste good, well–I mean, if they are made from good ingredients, they taste good. And they can be very pretty and all, but really–I don't get why someone would want to spend three dollars or more on one. Or write about them all the time–or make a wedding cake out of a mountain of them. (I especially don't get that, because they can go stale so easily–and I don't like thinking about decorating each one, then transporting them to the location of reception, and then assembling them without horrible accidents happening along the way. I mean, wedding cakes are scary enough to transport and assemble without death and destruction–can you imagine three hundred cupcakes? It gives me hives, I tell you, hives.)
But I have stayed out of the cupcake thing because I don't want people to think I don't take their passions seriously. I write about Asian food, local food and why it is important to recognize that meat comes from animals, and that if you can't deal with it, you shouldn't eat it. If other folks want to write about cupcakes all the time or make them all the time or even eat them all the time-who am I to say "Talk to the hand?" Nobody, that's who, so I just stayed a silent supporter of the cupcake fans of the world, while being quietly bemused by all of the fuss.
But as of today, my silence on the issue of cupcakes is officially broken. Why?
Because I read this New York Times piece on how parents are getting up in arms over some school systems decreeing that elementary school kids cannot bring in cupcakes for birthday parties.
That was the crumb that broke this cupcake-neutral writer's back.
It was too much. I had to say something.
In "Don't Even Think of Touching That Cupcake," author Sarah Kershaw relates that now that boards of education are cracking down on junk food sold in schools, cupcakes are in dire straits. They have been banned from some classrooms, even if they are brought in by a child to share on his or her birthday.
Wha?
Look, I am all about getting the soda and candy machines out of the hallways and the trans fats and fast food out of the lunchrooms. I understand the limitation on sending candy goodie bags for Halloween and Valentine's Day. I understand why some schools are banning kids from bringing peanut butter sandwiches from home–some other kids might be so allergic to peanuts they'd just haul off and die from accidentally getting a tiny smudge of it on their own lunches. I get that.
I even get the wisdom of cutting down on the number of sugar-laden bake sales and candy sales used to support the school choir and band, though I am not sure how to make up those funds. In fact, I am not too sure how school systems should make up the funds lacking from those candy and soda machines, but, well, that isn't what I am talking about.
I am talking about cupcakes. Brought from home. By a kid. To share. On his or her. Birthday. Dammit.
And a cupcake every now and then has never hurt anyone.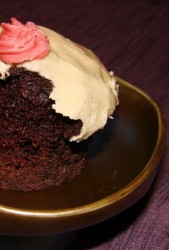 Now, don't start in with me about the obesity crisis in the US. I am well aware of it. I know, I know, that we are seeing more incidences of Type II diabetes in kids than we have ever seen it before. I know. I know. And lots of kids eat too much fast food and drink too much soda and don't have any gym classes, so they are on the less than slender side. I know.
But, look. The fat and sugar police are going too damned far here. Or at least, I think they might be. I might be wrong. But, back when I was in school, we had plenty of kids bring cupcakes on their birthday, and we ate them, and were happy, and very few of us were fat. We weren't! In fact, we sometimes had treats donated by the local ice cream place, and we ate those. Ice cream. In school.
But then, those were -treats-. They were an every-now-and-then sort of thing. We didn't eat sugary stuff every day in school. And our school lunches were not too bad–especially not in grade school. Back then, the lunch ladies actually did some cooking, and their rolls, chili, pizza and chicken soup were something to be excited about. And the mashed potatoes started out from potatoes, not from boxes–they were really tasty.
And most of us drank milk–not soda every day. Soda was a treat, too, for most of us.
Oh, and the other difference–is we had recess and gym every day. EVERY DAY. Until high school. And then we could only get out of it in our senior year, and only if we took some egghead classes like Chemistry II or Anatomy and Physiology. Like, if you wanted to get out of gym, you had better be ready to either cut apart a fetal pig and play with its innards, or huddle over a Bunsen burner doing qualitative analysis for months on end. (Needless to say, I took the egghead route: dead pigs and reagents were much more interesting than one more game of dodgeball or one more attempt to break my neck on the balance beam. I didn't just get called The Culinary Nerd for no reason, you know.)
I don't know. I just feel like yeah, we need to get the junk food out of the schools, but can't we also get the kids moving again? Get them into some physical activities–and not just afterschool sports, but stuff in school, too. That way, it won't just be the jocks who use their bodies and burn calories, but the nerds and everyone else, too. That way, there will be some balance, right?
That way, if a kid does bring some cupcakes to share with the class on her or his birthday–it won't be such a big deal. It will be a treat–not an every day event.
But maybe I am wrong. Maybe there should be a zero tolerance policy for sugary foods in our schools.
I think that being that hard line about it smacks of nutritional fundamentalism, and frankly, I think it stinks just as much as political or religious fundamentalism and is just as dangerous.
Why?
Because whatever we make sinful, and take away from our kids will become that much more attractive to them.
You watch.
We will be raising generations of kids who worship cupcakes in a way that will make the current faddish devotion to them seem quaint by comparison.
But I am not worried–too many parents are getting their panties in a wad over the proposed cupcake bans to the point that pro-cupcake language has to be added to rules disallowing sugary snacks that go before various PTAs for votes. Otherwise, they wouldn't pass.
I find that heartening, but also somewhat surreal.
And I come back to where this essay started–I find most people confusing most of the time.
All of this hullabaloo over a simple cupcake….
22 Comments
RSS feed for comments on this post.
Sorry, the comment form is closed at this time.
Powered by WordPress. Graphics by Zak Kramer.
Design update by Daniel Trout.
Entries and comments feeds.