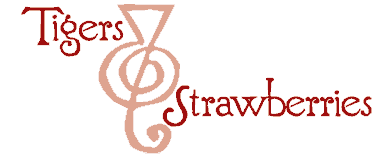 Cook Local, Eat Global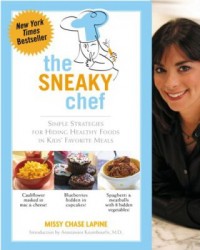 I've been watching this cookbook catfight develop over the past week, and I must say that I am heartily confused by it all.
Cookbook catfight? What cookbook catfight, you may wonder, especially if you don't read the New York Times, USA Today, The Wall Street Journal, or watch Fox News. (Don't worry–I don't watch Fox News, either. I just happened to find this story on Google.)
For those who don't want to wade through the links, I will explain here–or rather, as there is no time, I will sum up.
Former Eating Well Magazine publisher and culinary arts instructor, Missy Chase Lapine began pitching a proposal for The Sneaky Chef in February, 2006 on the topic of sneaking pureed vegetables into child-favored dishes so that parents could get picky kids to eat something healthy even if they were not aware of it. At that time, she sent her 139 page proposal, (with 42 recipes included) to Harper Collins, without the benefit of having the services of a literary agent.
Harper Collins rejected her twice; (the reason being that they already had a title which they believed was "too similar" in their catalog, chef and food activist Ann Cooper's Lunch Lessons, which, as near as I can tell from looking at it, is really nothing like Lapine's book at all) the second time just two weeks before giving a contract to Jessica Seinfeld, wife of Jerry Seinfeld, for a book on the exact same subject. The reasons given for signing Seinfeld, a neophyte writer with no publication experience or professional culinary experience, over Lapin, whose resume cites experience in both fields is because of "(Seinfeld's) name and because she was represented by one of the highest-powered literary agents: Jennifer Rudolph Walsh of William Morris Agency." (Interestingly, Jennifer Rudolph Walsh also represented plagiarist Harvard sophomore Kaavya Viswanathan, author of How Opal Mehta Got Kissed, Got Wild, and Got a Life.)
While Seinfeld worked on her book with a chef and nutritionist, Lapine found a publisher for hers, and it came out this April.
Seinfeld's book, Deceptively Delicious, came out this month, and sales have soared, especially after Oprah had the author on her show where she touted the cookbook as "genius."
Now, both books are on the New York Times bestseller list, and both titles are sold out at various bookstores across the country, including Amazon.com. (I know this is a fact because I have tried to find copies to peruse in various large bookstores around here, so I could give folks the skinny on how similar the recipes were. My search was in vain, however. Borders and Barnes and Noble are both sold out, and are urging customers to reserve copies for when the orders come in.)
Not long after Deliciously Deceptive came out, reviewers on Amazon began noting eerie similarities between the recipes of the books. Apparently, in addition to similar overall concepts, many of the recipes have similar ingredients.
Lapine also noticed the similarities, and is quoted in The Independent as saying:
"There are uncanny similarities between my book and Ms Seinfeld's," she said. "I was brave enough to put out a proposal that took five years to write, but I was naive not to use an agent when I sent it off to Harper Collins. I cannot possibly speculate about the similarities with Ms Seinfeld's book and I'm not going to accuse anyone of anything, but I suppose it's possible it's a coincidence that there are so many similarities."
The New York Times reported that executives from Perseus, Lapine's publisher, even contacted Harper Collins after an early publicity brochure showed that Seinfeld's book was to have a very similar cover to Lapine's. The brocure "…showed an illustration of a woman holding carrots behind her back, similar to a drawing on the cover of "The Sneaky Chef." Collins changed its plans for the cover…."
On the New York Times' City Room blog, Jennifer B. Lee posted a side-by-side comparison of the two books, including some of the suspiciously similar recipe descriptions.
These recipes include Seinfeld's "Green Eggs," and Lapine's "Popeye's Eggs," both verdant with pureed spinach; Seinfeld's mashed potatoes with cauliflower, and Lapine's mashed potatoes with cauliflower and zucchini; Seinfeld's grilled cheese with pureed sweet potatoes or butternut squash tucked between cheese slices, and Lapine's grilled cheese with sweet potatoes or carrots hidden between slices of cheese; or either of the author's "Peanut Butter and Jelly Muffins." (There are lots more comparisons, but you can go the City Room to see them–I don't feel like posting them all.)
Okay, so that is the gist of it.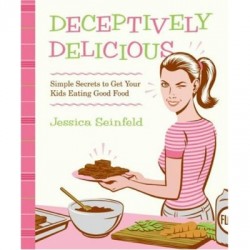 Both women are making a good amount of money from their cookbooks which feature the idea of slipping veggies to the kids when they are not looking. Seinfeld has been on the Today Show and Oprah, and her first print runs have sold out, and Lapine is branding her "Sneaky Chef" image into a series of "workshops, cooking classes, coaching programs, and demonstrations that teach families how to eat healthier." According to a post on Entrepreneur.com, Lapine has signed with a licensing firm, and a series of Sneaky Chef frozen entrees are due out soon; she has also filmed a television pilot and has received a six-figure advance on a book due out next year on the subject of sneaking vegetables into men's food. (I am sorry, but that sounds lame as hell to me. I have been good and kept my editorializing to a minimum here, but damned if that isn't a sexist book idea that panders to every sort of bad stereotype of both men and women, and it caters the the idea of trying to deal with an adult picky eater, which just annoys me.)
Lapine's publisher has made noncommittal comments about legal action, and Seinfeld and her husband have both denied charges that plagiarism of any sort occurred.
And really, I believe that is so. I agree with eGullet's Steven W. Shaw when he wrote in an excellent article in Slate that Seinfeld hasn't committed plagiarism.
Plagiarism, as he so eloquently points out, is when an author lifts entire passages from another's work and uses it in his own work, attributing it to him or herself. Seinfeld has not, to anyone's knowledge done this by creating a very similar cookbook to Lapine's.
What is actually at stake is a case of copyright infringement.
However, one has to remember that ideas cannot be copyrighted. (If that were the case, no one would be able to think anything without infringing on someone else's copyright of that thought.)
While I think it is possible that someone in the editorial department of Harper Collins may have leaked the idea of the book, and perhaps some recipes, if not to Seinfeld, but to her nutritionist/chef/ghostwriter team, I don't necessarily think it is likely. (But it is weird that little details like hiding vegetable purees in between slices of cheese in a grilled cheese sandwich are present in both books. And I do find it passing strange that two different women could come up with the utterly foul idea of putting pureed spinach into brownies.)
So, what may have happened is a case of copyright infringement.
Except here is the problem.
Recipes are not completely covered in US copyright law. According to the law, one cannot copyright a list of ingredients; the only place where copyright comes into play in a recipe is in the way in which the author writes the methodology–the "how to" part of the recipe.
From what I have gleaned from the articles here, there and everywhere, (and I had hoped to determine by actually looking at the books today, but was foiled in my attempt, thank you, Oprah!), is that the recipes, other than concept, are not really that similar. The ingredient lists are different, sometimes only by one or two ingredients, and then, the step by step portion is written to reflect the these differences, which, in essence, leads to two legally different, if nutritionally similar, recipes.
Which means, that even if copyright infringement has occurred, it was done by someone clever enough who knew how to cover the legal bases. (Which may point to someone within the publishing industry.) Because of this, I do not think that Lapine or her publisher have a chance in hell of proving any wrongdoing on Seinfeld or Harper Collins' parts.
Which is fine with me, because in the end, I agree with former Times restaurant reviewer Mimi Sheraton, who wrote an excellent essay in Slate where she cheerily declared, "a plague on both their houses."
She, like me, thinks that the idea of hiding pureed vegetables in brownies to feed to picky kids is not really going to accomplish anything. For one thing, she points out that the amounts used in the recipe will end up giving the kid about 1/12th of a serving of vegetables per brownie, and when she asked nutritionist Marion Nestle (author of What to Eat) how many vitamins and minerals would be left after cooking the vegetables, pureeing them and then baking them in a brownie so that they were cooked twice, was told essentially, that the idea was "laughable."
So there we are. The Great Cookbook Caper of 2007.
I am sure there will be more to this story, if we all just sit tight and keep paying attention to it.
Yawn.
Now I am going to curl up and read a new cookbook from a real chef: Alice Waters' The Art of Simple Food, which just came in yesterday.
33 Comments
RSS feed for comments on this post.
Sorry, the comment form is closed at this time.
Powered by WordPress. Graphics by Zak Kramer.
Design update by Daniel Trout.
Entries and comments feeds.