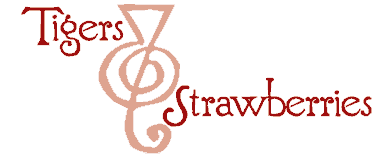 Cook Local, Eat Global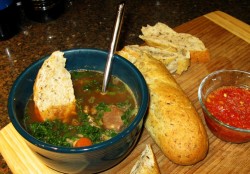 Working at Salaam has given me the opportunity to research the foods of the Middle East, North Africa, Greece, Turkey, and other countries all along the Silk Road. This is very exciting to me, because at the same time as I am researching recipes and cuisines for the restaurant, Zak is writing a novel which includes characters who lived during the time the Moors ruled Al Andalus, a time and place where Jews, Christians and Muslims lived in harmony. (Not perfect harmony, but better harmony than has been managed anywhere else since.)
Both of the main characters are into food and cooking, so Zak has been asking me questions about the foods typical of the Muslims and Jews of that time period. So, my research is doing double duty, and the goodness that gets reaped is that I get to try out new recipes and flavor combinations both at home and at work. (Have no fear–even as I become fascinated with the foods of these regions, I will not abandon my first loves–Chinese and Indian foods. On the contrary, I am just as interested in them–in no small part because the foods of both countries also feature in the culture of the Silk Road. )
A new favorite recipe I have tried is the one we had for dinner tonight–a hearty soup from the Sephardic Jewish community of Tangier. When I saw it, I knew I would have to make it, as white beans and greens are two of my favorite foods. Bean soup was a big favorite of my childhood, though instead of greens and beef, ours was always made with ham, onions, carrots and celery.
Of course, this recipe is Jewish, so there is no ham, but I didn't miss it. This soup is just too tasty.
I found the original recipe in a gorgeous little cookbook entitled, The Scent of Orange Blossoms: Sephardic Cuisine From Morocco, by Kitty Morse and Danielle Mamane. Their traditional version of the soup was made with chard–a green that was brought to Morocco from Spain by those who escaped the Inquisition by immigrating to North Africa. I would have used chard, however, I didn't have any on hand. I did have kale, so that is what went into the pot. I am sure that the frugal Jewish mammas and grandmas who originated the dish would have approved–one makes do with what one has, after all.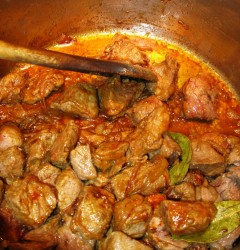 In addition, changed the methodology a bit–the recipe in the book called for just putting the beef, dried beans, spices and carrots into the pot together with water or beef broth and bringing them to a boil, then simmering them all together without browning the beef. I like the flavors that browned meat brings to soups and stews, so instead, I heated up some olive oil in the soup pot, and added a thinly sliced onion and cooked it until it browned nicely, then added the cubes of chuck roast, and cooked them until they were browned deeply on all sides. Then, I added the spices and bay leaves, and deglazed the browned bits off the bottom of the pot with a bit of Shiraz wine, and then added beef broth, the beans and carrots.
I think that the addition of onion, wine and beef broth gave the final soup broth a very meaty flavor that is beguiling and well worth the extra trouble. Cooking the spices in the hot oil with the meat also helped bring out all of the volatile oils which lend their flavor and scent to the finished dish–these are all oil-soluble, being oils–so this leads to a more intense flavor extraction than you get from simmering in water alone.
Similarly, I substituted some smoked Spanish paprika, otherwise known as pimenton, for the sweet Hungarian variety. I did this for two reasons–one, I like the former better, and two, I suspect that it is probably a little bit more authentic, being that the Sephardic Jews originally came from Spain and Portugal, not Hungary. Of course, either paprika would work to give the soup a distinct, rich reddish-brown color which is quite appetizing to see. I also added a bare pinch of cinnamon to the soup near the end of cooking–I have found that if you put just a tiny bit of cinnamon in a dish with beef in it, the aroma of the spice seems to heighten the "beefiness" if the meat.
Cumin, which is the main spice in the dish, is also a perfect pairing with beef–I love how its somewhat musty, musky scent brings out the best in the strongly flavored tougher cuts of beef such as the chuck which is used in this soup. It brings a freshness to the beef, a sort of fragrant spark that dances on the palate like dapples of sunlight over the darker shadows that are the flavors of the meat.
This soup is really a simple dish–perfect for a light winter supper, especially with the addition of bread and a salad. If you want to spice up the flavors a bit, you could always add a spoon or two of harissa–a brilliant scarlet Moroccan chile sauce redolent with cumin, garlic and lemon juice. (I'll post a recipe for it tomorrow, though you can buy it at many grocery stores and many Middle Eastern markets.)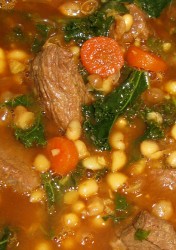 Poteje Tangirois
Ingredients:
3 tablespoons olive oil
1 onion, peeled and thinly sliced
2 pounds beef chuck, cut into small cubes
1 tablespoons freshly ground cumin seed
1 1/2 tablespoons smoked Spanish paprika or sweet Hungarian paprika
2 bay leaves
1/2 cup Shiraz or other dry red wine
8-10 cloves garlic, minced
2 cups dried navy beans, picked over, rinsed and soaked then drained
4 quarts beef stock or broth
2 large carrots, peeled and sliced
1 pound kale, large stems removed and leaves cut in thin strips
1 pinch ground cinnamon
salt to taste
1/2 cup roughly chopped fresh cilantro leaves
Method:
Heat oil in a heavy-bottomed soup pot on medium heat. Add onions, and cook, stirring until onions are dark gold. Pat beef cubes dry and add to pot, and cook, stirring, until all sides are browned and onions are dark brown. Add spices and bay leaves, and stir to combine–cook one minute or two more.
Deglaze pan with wine, then add garlic. Cook a couple more minutes, and then add beans, stock or broth, and carrots. Bring to a boil, and then turn heat down to low. Cover and simmer for two hours or until beans and beef are both tender, stirring now and then. If liquid level decreases too much, add more wine or water.
When beef and beans are tender, bring soup back to a boil and stir in greens, and the pinch of cinnamon. Taste for salt and if needed, add it.
Just before serving, stir in cilantro leaves.
4 Comments
RSS feed for comments on this post.
Sorry, the comment form is closed at this time.
Powered by WordPress. Graphics by Zak Kramer.
Design update by Daniel Trout.
Entries and comments feeds.