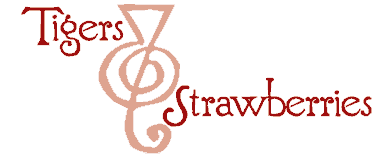 Cook Local, Eat Global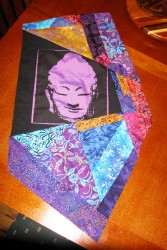 I feel bad for not having posted in a few days, although I am happy to see a mostly positive discussion coming about because of my last post.
But there is a reason, and it is a good one.
I have been working on my latest piece of fabric art, which you can see pictured to the right.
It is a gift for Zak, and when it is finished, it will be a quilted wall-hanging. No, I am not working with a pattern–I am just cutting fabric and piecing as I go. The centerpiece of it is a screenprinted Buddha from India; the rest of the fabrics are cotton Balinese batiks. It will hang at the end of our long upstairs hallway, which is painted a brilliant sky blue over the altar where the carved wooden Buddha I gave Zak for his birthday a couple of years ago sits.
I've only been working on it for a couple of days, but I am making very fast progress.
I'll post updates now and again, and when Kat's quilt comes back from the lady who is machine quilting it, I will post pictures of it, too.
Now, back to your regularly scheduled food blog!
3 Comments
RSS feed for comments on this post.
So lovely! I am a total textile-a-holic…
This is really a beautiful gift.

Comment by Diane — February 28, 2008 #

Wow, really nice, and it will look absolutely stunning against that background you described. Lovely!

Comment by Kate — February 29, 2008 #
Sorry, the comment form is closed at this time.
Powered by WordPress. Graphics by Zak Kramer.
Design update by Daniel Trout.
Entries and comments feeds.