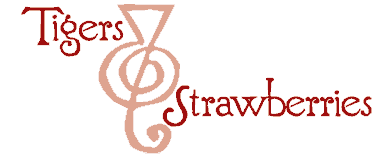 Cook Local, Eat Global
So here's the deal: Restaurant Salaam is closed for the week of Ohio University's spring break so we can do renovations, cleaning, maintenance and have a bit of rest. This is pretty standard practice here in Athens–lots of restaurants close either for the entire break or part of it, so that employees can spruce the place up, and have a vacation themselves.
It is pretty nice.
There are some possible changes coming at Salaam, but I can't talk about them now, exciting as they are. (I really, really want to blab, but I will restrain myself! It's hard, though.)
So, instead, I will show you what I finished last night.
And no, you can't eat it. (Well, I reckon you could, but I doubt it would taste very nice, and ithe chewing would be a little hard on the jaws.
This wallhanging, which I have titled, "Stargazers," is a patchwork pieced out of cotton flannel. The backing is also flannel–the same fabric as the binding and the golden triangles in the "Ohio Star" block in the center.
I finished the top of the hanging five years ago, and have waited this long to finally layer it with its backing and the cotton batting and machine quilt it. It represents the first of my quilts to be finished from beginning to end completely by myself.
The reason there was such a lag between finishing the top and the quilting was in part because right after I finished this quilt top and started another, I had a miscarriage. The quilt I started right after this was a baby quilt for the baby who wouldn't be born. Because of that sad circumstance, for years, I eschewed quilt making even though I really had enjoyed it. The association between sewing and the grief of losing a baby was too strong, and it took years for me to work my way past it.
The other reason I took forever to get around to quilting it is because I was scared I would mess it up! I finally decided to get over myself and just do it, so here it is.
It is funny, the lag time between making the top and finishing it is so great that it is almost like having a history of my piecing and sewing skills. If you look closely, you can see how inaccurate my piecing was in the beginning. This was in part, inexperience, and in part, the fact that the machine I was using didn't have a presser foot that helped me sew an accurate 1/4″ seam. All patchwork patterns allow for exact 1/4″ seams, so when they are off, the entire quilt gets out of whack. Now I know ways to ensure that, and I have a great newer machine that works much better than the old one, so my piecing is much more accurate.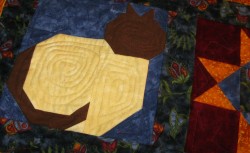 I also discovered during piecing and especially during the quilting process, that flannel is a pain in the rear end to work with. I hated it. Well, no, I love the feel and look of it, but I hated working with it–intensely. It creeps, stretches, fills the machine with linty-fuzzy-icks which make it jam, it is thick and dulls the needle quickly and it is generally behaves in an unruly and persnickety fashion. So, I had to nurse the machine through the last bits of quilting by cleaning it often and petting it and generally being sweet to it.
There is a close-up of one of the cats–you can see how it is pieced together.
My Mom's favorite cat in my childhood was a Siamese named Missy, and she still holds a fondness for them, so that is why I chose this design. I picked the Ohio Star in the center because I live in Ohio, and it is one of my favorite star patterns–stars are my favorite patchwork patterns of all time. The colors were chosen to match Mom and Dad's living room which is heavy on blues and burgundies, and to match the generally "country" style decor of their house.
So there it is–"Stargazers."
7 Comments
RSS feed for comments on this post.
Sorry, the comment form is closed at this time.
Powered by WordPress. Graphics by Zak Kramer.
Design update by Daniel Trout.
Entries and comments feeds.