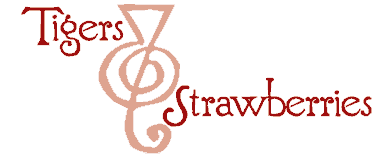 Cook Local, Eat Global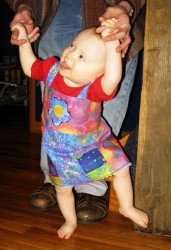 Now you see what I've been up to for the past several days.
I made this little dress for Kat by copying a dress we bought last year in a local store. It had been made by someone here in Athens, and I drafted a pattern from it to make this dress. The fabric is all scraps from the quilt I made for Kat, primarily batiks, although there are some prints, too.
It took me about eight hours, from making the pattern, to making the patchwork fabric, to making the applique and applying it, then trimming the skirt with rickrack and finally putting it all together.
I am so pleased with how it went.
Here's a close-up of the whole dress so you can see all of the colors.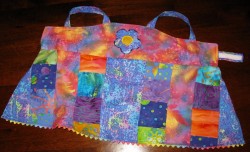 Kat loves the dress, as you can see–she started dancing and wiggling around after I helped her into it, just to make sure it fit perfectly–which it does. It also has room to grow–the velcro closure is adjustable and I left extra length in the straps so I can let them out if I need to as she grows. I wanted it to last as long as possible!
After we took it off of her, so she could put her jeans back on, she grabbed it back and hugged it and grinned hugely.
Now, I am probably going to make a top for Morganna using a similar pattern, in blacks, purples, lavenders and greys. I am going to try and do a bat applique for the front…wish me luck!
5 Comments
RSS feed for comments on this post.
Sorry, the comment form is closed at this time.
Powered by WordPress. Graphics by Zak Kramer.
Design update by Daniel Trout.
Entries and comments feeds.