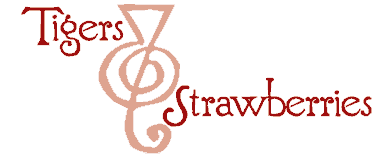 Cook Local, Eat Global
Most people consider stews to be humble affairs, meant for homey dinners wit family, but this Turkish dish of lamb stewed with garlic, onions, tomatoes and herbs, then topped with a roasted eggplant and cheese-enriched bechamel sauce is special enough to be served in at state dinners of the Ottoman Empire.
In fact, it is told that this dish was served to the visiting Empress Eugenie, wife of Napoleon III when she visited the Sultan Abdul Aziz, and some say that its name, which means either "Her Majesty's Delight," or "The Sultan's Delight" came about to commemorate her compliments to the royal chef. When she asked that he give the recipe to her own royal cook, the chef is said to have humbly refused saying that it was not written down, because he "cooked with his eyes and his nose."
Well, as far as I am concerned, any dish that is good enough for an empress and a sulta is good enough for anyone. I had gotten a taste of a version of the sauce made in a wonderful Turkish restaurant in Columbus (Cafe Shish Kebab, on Bethel Road), and it was amazingly delicious: smoky, rich, smooth and perfectly balanced. It was presented over roasted lamb, but I wanted to make it with the lamb stew, because I loved the idea of a stew fancy enough to be presented to royalty.
The original recipe I worked with is from Claudia Roden's book, Arabesque, but as is usual for me, I changed it around a good deal, adding herbs, garlic and herbs to the tomato-based stewing liquid, and adding mild and spicy chil peppers to the béchamel. I also topped the dish with toasted pine nuts, which added another level of complexity to the flavor as well giving it a hint of crunch.
While I made this dish for a dinner special, and will be doing so again, I have to admit that it was a bit of work. But it is perfect for a special dinner party where you can tell your guests the story of this seemingly plain dish's royal lineage.
Hunkar Begendi
Ingredients:
3 tablespoons olive oil
2 pounds mixed boned shoulder and leg of lamb
1 large onion, thinly sliced
6 cloves garlic, minced
1/8 teaspoon ground cinnamon
1 teaspoon dried or fresh thyme
2 bay leaves
1/8 teaspoon freshly ground black pepper
3 whole cloves
Pinch freshly ground cardamom
14 ounce can diced tomatoes
Water as needed
Salt to taste
3 pounds eggplant
6 tablespoons butter
4 tablespoons flour
1 teaspoon minced garlic
2 ¼ cups half and half or milk, warmed in a microwave
Salt and freshly ground pepper to taste
1 teaspoon Aleppo pepper flakes
½ teaspoon paprika
Pinch cayenne pepper
½ cup grated Parmesan cheese
1 cup toasted pine nuts and a generous amount of minced fresh parsley for garnish
Method:
Heat the olive oil in a heavy-bottomed pot until it is nearly smoking. Add the meat in batches and cook, stirring, until it browns. Remove from pan and set aside, then add onions, and cook, stirring, until they turn golden brown. Add the garlic, herbs and spices, and cook until the onions are a deep reddish brown. Add the lamb back to the pot, and add the tomatoes and if necessary to cover the meat, a bit of water.
Turn heat to low, and cook until the meat is tender, about an hour.
Roast the eggplant: Preheat oven to 475 degrees F. Prick eggplants all over with a fork, then lightly oil the skins. Lay on a foil lined baking sheet and put into preheated oven and cook, turning now and again, until the eggplant is soft and smoky-scented. This will take about forty-five to fifty minutes.
When cool enough to handle, peel off the skin and cut off the blossom end, then drop the flesh in chunks into a fine-meshed strainer, and chop roughly in the strainer, allowing the biter juice escape through the strainer. Mash into a puree with the back of a spoon, allowing the rest of the juice to drip out of the strainer.
Make the béchamel by melting the butter in a saucepan, and then adding the flour. Cook, stirring, for about three minutes, to get the raw flavor of the flour out. Add the garlic and keep cooking for another two minutes. Add the warmed milk and whisk thoroughly to smooth out any lumps that may form. Season to taste with the salt, pepper and spices.
Whisk in the eggplant, and cook over low heat to warm the sauce through, then whisk in the cheese, and whisk until it is melted and incorporated into the sauce.
Serve the stew ladled into warmed bowls (over rice, if you wish), with the béchamel sauce drizzled over the top. Sprinkle generously with the pine nuts and parsley. Serves 6-8 depending on if you serve it with rice or on its own.
2 Comments
RSS feed for comments on this post.
My, this sounds good! I'm going to be trying this right away, and I'll let you know if it turns out all right. 🙂

sounds like a real delicious dish. I have a special occasion coming up soon, soso it might be appropriate to prepare this one

Comment by Azriel Lider — July 5, 2008 #
Sorry, the comment form is closed at this time.
Powered by WordPress. Graphics by Zak Kramer.
Design update by Daniel Trout.
Entries and comments feeds.